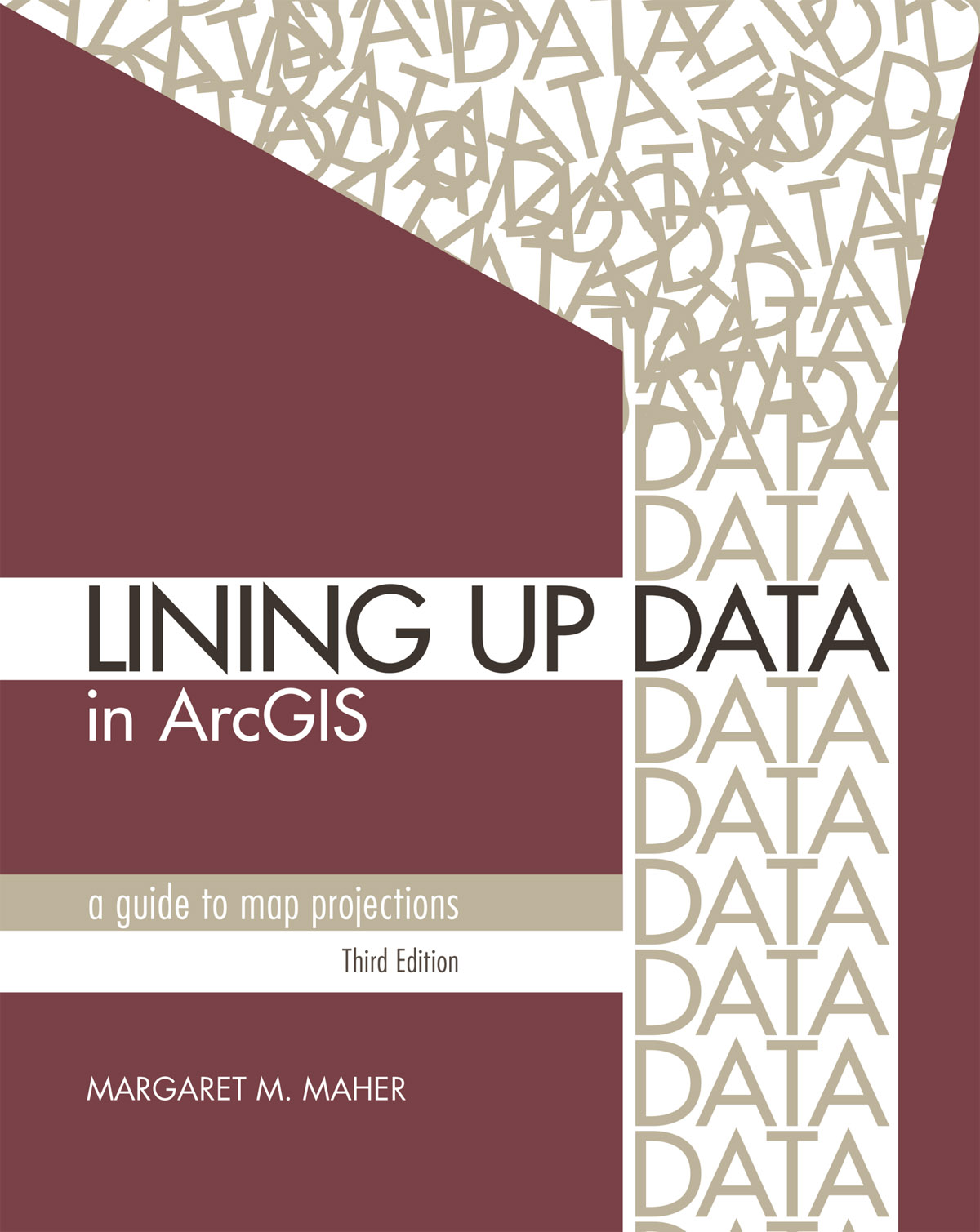 Book Covers All Aspects of How to Work with Map Projections and Coordinate Systems
Redlands, California—Esri, the global leader in location intelligence, today announced the publication of Lining Up Data in ArcGIS: A Guide to Map Projections, Third Edition.
This handy reference book helps Esri ArcGIS Desktop software users troubleshoot some of the common data misalignment problems they may encounter when creating maps and performing data analysis. Complete with full-color maps and diagrams, Lining Up Data in ArcGIS presents techniques to identify data projections and create custom projections to align data.
Lining Up Data in ArcGIS helps demystify map projections so that ArcGIS software users can create their maps accurately; perform accurate and precise analyses; and manage data they receive, whatever the source it comes from. Misalignment issues can arise when data is drawn based on associated projection information that is incorrect or incomplete, commonly leading people to say things like "My data is displaying in the ocean" and "There are streets going through buildings."
Lining Up Data in ArcGIS will show you how to fix these and other problems. The book's author is Margaret M. Maher, who has resolved more than 16,000 cases pertaining to issues associated with map projections and data conversions during her 18-year career in support services at Esri.
"This book is not intended for the geodesist, highly trained in mathematics, who has a profound understanding of map projections," Maher wrote in the preface to Lining Up Data in ArcGIS. "It is for those working in the field of geographic information systems and others in the process of making a map who, like so many others who have called me over the years for technical support, sometimes run into a problem lining up their data."
Besides covering the basics of how to work with coordinate systems and map projections, Maher addresses some of the most common issues that cause mapmakers confusion. Readers will learn, for example, how to
Identify correct geographic coordinate systems.
Identify vertical datums and perform vertical datum transformations.
Add x,y data to maps.
Resolve alignment problems reflected in common error messages and warnings.
Figure out which map projection to use for a project.
The book's third edition includes a new chapter on working with vertical coordinate systems, a topic that's critical to scientists and researchers studying climate change and rising sea levels.
The material for the book was updated for Esri ArcGIS Desktop 10.6 software while remaining compatible with ArcGIS Desktop 10.1 or later versions of the software. In addition, readers can now download the data used to create the instructions and screen shots for the book, making it easier to follow the directions exactly as described in the text.
Lining Up Data in ArcGIS: A Guide to Map Projections , Third Edition, is available in print (ISBN: 9781589485204, 272 pages, US$39.99) and as an e-book (ISBN: 9781589485235, 272 pages, US$39.99). Both editions can be obtained from most online retailers worldwide. The print edition is available for purchase at esri.com/esripress or by calling 1-800-447-9778. If outside the United States, visit esri.com/esripressorders for complete ordering options, or visit esri.com/distributors to contact your local Esri distributor. Interested retailers can contact Esri Press book distributor Ingram Publisher Services.
# # #
Press Information:
Karen Richardson, Esri
Tel.: 914-841-3180
E-mail (press only): krichardson@esri.com
General Information: media.help@esri.com