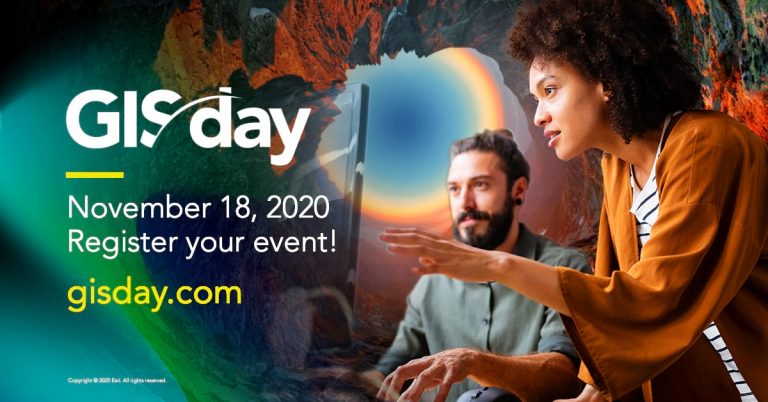 Annual Event to Take Place November 18 and Feature the Launch of GIS Day Mobile App
REDLANDS, Calif.—November 16, 2020—Esri, the global leader in location intelligence, today announced that this year's GIS Day celebration will take place on November 18, 2020. The day is an annual recognition of GIS software and unites the geospatial community in a global movement of collaboration, sharing, and education. This year's event, which will be hosted virtually by Esri, will feature the new GIS Day mobile app. Available for download from Google and Apple app stores, the app provides access to introductory information about what GIS is, as well as games, quizzes, and hands-on GIS experiences.
GIS Day brings together GIS software users from private industries, educational institutions, government agencies, and nonprofits to build a stronger understanding of the world through demonstration of real-world applications. GIS technology, which provides location intelligence, allows users to solve problems and make smarter decisions about land use, energy, water, natural hazards, biodiversity, climate, and other key issues of the twenty-first century. Most recently, GIS has been used to help public health officials and government agencies map the spread of the COVID-19 pandemic and respond to its effects.
"We are excited to recognize all the many organizations and individuals that contribute to the GIS community," said Jack Dangermond, Esri founder and president. "It has been inspiring this year to see all the things they have accomplished in these unprecedented times by using the science of mapping and analytics to make a difference in the world. By making this event virtually accessible, we hope that more people will be able to take advantage of all the educational and innovative opportunities that GIS presents."
This year, there will also be the new web page 2020 GIS Day Digital Celebration, added to the GIS Day website, that will feature on-demand content. This page will focus on the impact of GIS and be a resource for people to celebrate online with Esri or supplement their own online celebrations. The new GIS Day Digital Swag Bag page provides links to additional resources, including the mobile app, Esri Map Book, fun Zoom backdrops, and downloadable activities and coloring pages for participants to enjoy.
In addition, each GIS Day host who registers their event will receive five ArcGIS for Personal Use licenses. Individual hosts can decide how to distribute the licenses—in drawings, contests, or networking activities; as gifts to presenters or donations to nonprofits; or in other ways—to further GIS practice in their communities beyond GIS Day.
While GIS Day is observed on one day in November each year, Esri encourages people to find out more about GIS throughout the year via Esri Press books, the company's massive open online course (MOOC) program, and Learn ArcGIS resources; through courses taught at local universities or community colleges; or online at Geography.com and gisday.com.
Users can share what they are doing on GIS Day by hosting a virtual event or open house, putting together an online map gallery, holding virtual scavenger hunts, paying a visit to a school or university in person, or participating in virtual classroom activities. Register your GIS Day event today.
About Esri
Esri, the global market leader in geographic information system (GIS) software, location intelligence, and mapping helps customers unlock the full potential of data to improve operational and business results. Founded in 1969, Esri software is deployed in more than 350,000 organizations including 90 of the Fortune 100 companies, all 50 state governments, more than half of all counties (large and small), and 87 of the Forbes Top 100 Colleges in the U.S., as well as all 15 Executive Departments of the U.S. Government and dozens of independent agencies. With its pioneering commitment to geospatial information technology, Esri engineers the most advanced solutions for digital transformation, the Internet of Things (IoT), and advanced analytics. Visit us at esri.com.
Copyright © 2020 Esri. All rights reserved. Esri, the Esri globe logo, ArcGIS, The Science of Where, esri.com, and @esri.com are trademarks, service marks, or registered marks of Esri in the United States, the European Community, or certain other jurisdictions. Other companies and products or services mentioned herein may be trademarks, service marks, or registered marks of their respective mark owners.