With corporate agriculture under scrutiny for its environmental performance, innovators are looking for ways to reduce the industry's footprint—in the case of one trend, almost literally.
Inside the skyscrapers of Hong Kong and buildings worldwide, vertical farming startups are tending to trays of fruits and vegetables stacked floor to ceiling, as described in a recent Forbes article. In the space of just a handful of acres, these new farmers produce food indoors, year-round, in any climate.
Vertical farming is necessarily a high-tech endeavor. Practitioners use robots, IoT sensors, and analytics software to carefully control lighting, temperature, and water systems.
The next step for forward-thinking producers is to bring these smart systems into a single view—one that displays all facility data feeds in real time and across growing seasons.
At complex facilities such as vertical farms, location technologies like interactive indoor maps provide decision-makers with an intuitive interface to monitor daily operations and manage growth cycles.
Managing Vertical Farms in Three Dimensions
Supported by a geographic information system (GIS), indoor maps can guide agronomists, operations managers, and even robots through complex indoor environments, saving time and ensuring safety.
But location technology generates more than virtual floor plans
An indoor map of a vertical farm can show, for example, which crops are growing in different parts of a large, multistory building down to the floor and the vertical shelving unit. Operations leaders can get precise information at a glance, including where certain trays are in the growing process, or the lighting conditions on a particular shelf, or the ambient temperature in a specific grow room.
Ultimately, an indoor smart map populated with operational data could create a complete, 3D digital twin of a vertical farming facility.
Keeping Critical Systems Online
The concept of mapping an indoor farm parallels a practice emerging in more traditional industries: IT mapping. By mapping enterprise technology—from laptops and IoT devices to routers and servers—CIOs can monitor the IT heartbeat of an organization, down to specific server racks and offices.
For vertical farms that rely on digital connectivity to monitor yields, indoor maps that pinpoint when and where systems go offline can help minimize downtime and keep crops healthy.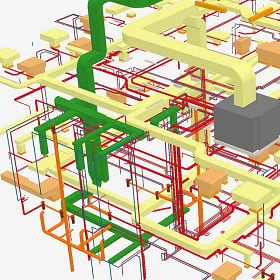 With a clear map of affected assets and departments, executives know more and can act faster to minimize damage before or when problems arise, preventing costly disruptions.
---
Optimizing for Energy Efficiency
Despite the potential of vertical farming to avoid some environmental hazards of traditional agriculture, critics note that indoor climate-control systems are energy intensive. Some facilities tout partnerships with wind and solar farms, but many still rely on energy from fossil fuels, and use more of it to produce crops than outdoor farms do.
One path for producers to reduce energy consumption is through data collection and analytics: tracking power usage by process, crop type, or grow area; testing energy-efficient lighting and temperature cycles; and assessing local shopping habits to verify whether resource-intensive crops are locally in demand.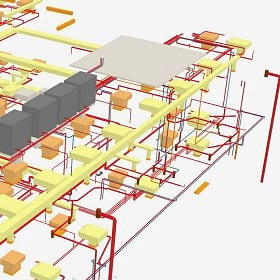 With operational data collated on an indoor map, producers can apply GIS-based spatial analytics tools to make connections between datasets, model and predict outcomes, and compare costs and returns.
---
Connecting Indoor and Outdoor Intelligence
Indoor maps support operational efficiency, but GIS delivers intelligence beyond the four walls as well. Combining indoor and outdoor perspectives helps producers understand how they can farm sustainably in their region.
For example, GIS reveals how far crops can travel before shipping becomes too costly or too emissions intensive. It can also show whether certain crops grow more easily outdoors in a given climate.
With GIS, vertical farmers can locate farms in areas with the most need, reducing reliance on long-distance transportation and making healthy food more accessible in nearby communities.
As new thinking and new technology transform farming and other industries worldwide, innovators will find advantage in knowing the geographic coordinates—or in-building locations—of every aspect of their operations.
For more on how location intelligence helps organizations meet their goals, explore this ebook.