During the Esri Partner Conference and Developer Summit ArcGIS Pro has been demo'd this week from the Nvidia Test Drive.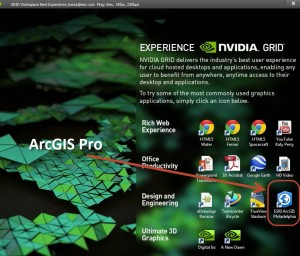 The Nvidia Test Drive virtual machines are good examples of Desktop-as-a-Service (DaaS).
In the demos ArcGIS Pro is delivered in a virtualized remote desktop that is provided by Nvidia's cloud computing infrastructure located in Oregon. The servers containing the hypervisors have on-board Nvidia GRID cards  that enable the delivery of a rich graphic intensive user experience. ArcGIS Pro's use of DirectX and OpenGL graphics library  benefits from this technology in a big way.
You can try ArcGIS Pro in a Nvidia Test Drive VM!
Use this link ->  http://www.nvidia.com/object/trygrid.html
Follow the instructions at the link to create an account and start using ArcGIS Pro in a DaaS environment. In this Desktop virtual machine ArcGIS Pro is setup to use the Philadelphia dataset which is provided by Pictometry. It's ready to use.
This  high quality, visually appealing dataset is used by the Performance Engineering team for regular performance testing of ArcGIS Pro. It's also used by virtualization vendors in their testing efforts to benchmark their VDI platforms.
Questions and interest in DaaS as a delivery mechanism for software are increasing.  We at Esri are also being asked if and how ArcGIS Pro can be delivered in a DaaS environment. To help answer that question Esri worked with Nvidia to provide this example of Pro in a DaaS environment
As the number of DaaS providers/solutions continues to increase, it's important to select those that maximize ArcGIS Pro's user experience.  Shareable GPU's, a feature in NVIDIA's Test Drive VM, is one DaaS component that should be considered critical for increased performance.
If you are at the Esri Developer Summit this week (March 10-13) stop by the Virtualization Island in the Expo Hall. We will be demo'ing it there and can discuss DaaS as a virtualization solution, how it works, and what it takes to get that great ArcGIS Pro user experience.