Drones are fun toys. They are great for flying around capturing images and videos of family events. They are excellent at capturing that scenic spot you found on vacation…but with the recent advancement in drone technology and the drop in price, you can now put that same consumer drone to work for your organization.
Drone2Map for ArcGIS takes geolocated pictures from drones of all shapes and sizes and creates professional imagery products for visualization and analysis in ArcGIS. While there are many different ways this imagery can be used in ArcGIS, let's explore these three: Land Analysis, Infrastructure Inspection, and Monitoring.
Land Analysis
Remotely sensed imagery has been used for years to perform land analysis. Traditionally these images came from satellites, airplanes, and helicopters. While large areas are able to be captured, the processing of these images are highly specialized and takes long periods of time to process. With the introduction of drones and drone processing software, micro-geographies are able to be flown, processed, and analyzed in the same day.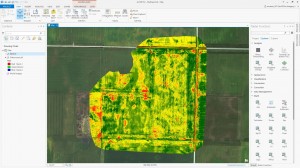 A key industry leveraging Drone2Map for ArcGIS is Agriculture. Farmers need the  ability to apply remedies to their crops immediately when a problem is detected. Waiting days or weeks for imagery to be collected and analyzed can mean an immediate loss of revenue.
Farmers can now deploy their drone and collect imagery that detects the health of their crops and see that imagery the same day it was flown. They do not need to know anything about imagery or formulas to create special imagery derived products. Drone2Map automatically detects that the camera used to collect the imagery is capable of creating imagery products to assist them in analyzing their crops. Drone2Map will automatically create a crop health map that allows farmers to visualize areas of their fields that are under performing, allowing them to apply treatments before its too late.
Infrastructure Inspection
Critical infrastructure keeps our communities running. They provide power to our cities, water to our homes, and many other amenities that we take for granted everyday. The teams that maintain the infrastructure that power these services, put themselves in harms way through routine inspections. These inspections sometimes call for teams to be put in perilous situations to ensure critical infrastructure continues to function properly.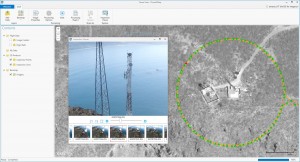 Drones offer a unique alternative to climbing towers or hanging out of the side of a hovering helicopter. Quad copters can be deployed using autonomous flight planning and control to collect images of infrastructure at angles that are too risky to get to in person.
The oblique images captured from these drones are not ideal for creating products that are draped on to a map and mashed up with other datasets. Instead these images are best visualized in a viewer that properly orients them and allows you to interact with a map. Drone2Map for ArcGIS has the capability to process oblique imagery and display this imagery in a viewer that allows you to interact with the map to quickly orient yourself around the object being inspected. Soon Drone2Map will be updated to add annotations to the images to quickly make notes about issues and share the information with others in your organization.
Monitoring
Monitoring for change is a powerful capability to make informed decisions within the time window to effect change. Many industries monitor change. Construction sites monitor development to gauge progress and inform stakeholders. Environmental agencies monitor change in vegetation to understand habitat degradation of key species.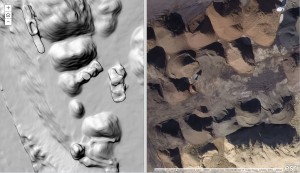 Drone2Map for ArcGIS produces 2.5D and 3D datasets that make monitoring features fast. Digital Surface Models (DSMs) provide a fast and accurate way to monitor stockpiles. Whether its gravel or wood chips, Drone2Map produces highly accurate surfaces to perform analysis.
In addition to DSMs, Drone2Map produces dense point clouds that allows for feature extraction and 3D analytics. Drone2Map coupled with ArcGIS Desktop provides a powerful platform for monitoring change through drone processing and analytical capabilities.
Visit www.esri.com/drone2map for more information!