Drone2Map for ArcGIS is the new product drone users around the world leverage to create products from raw still imagery collected by drones. Many are surprised by the variety and quality of products they are creating without being an imagery expert.
Products from Drone2Map are broken out into three Categories:
2D Mapping 
Drone2Map provides a streamlined way to turn raw drone imagery into 2D maps that are designed to work throughout the ArcGIS Platform. With a few clicks, Drone2Map turns thousands of still images into orthomosaics, digital surface models, and multispectral indices.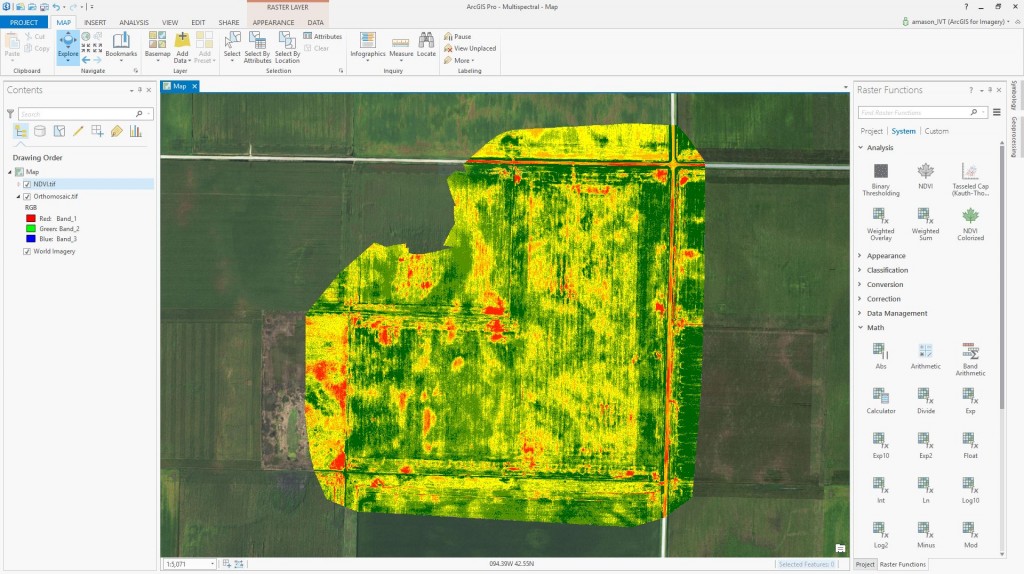 Using Drone2Map in conjunction with ArcGIS Pro, you can add orthomosaics produced from multispectral sensors and analyze crop health. The above image was collected with an eBee Ag drone from SenseFly. This sensor produces images with an infrared band that allows for unique views of the earth. Drone2Map produces orthomosaics that are ready for analysis in other ArcGIS Apps. After adding the orthomosaic to ArcGIS Pro you can quickly analyze this agriculture field to determine crop health.
3D Mapping 
Seeing the world in 3D can highlight features and aspects of the physical landscape that just can't be seen on a 2D map. Using only still imagery, Drone2Map is able to produce 3D datasets that can be used for visualization and analysis.

Drone2Map produces point clouds in a variety of formats. One of the most widely used point cloud formats produced by Drone2Map is LAS. These LAS point clouds are georeferenced and colorized to provide both analytical and visualization capabilities. By default your LAS point cloud will be rendered by elevation in ArcGIS Desktop. Using the out of the box tools, you can quickly analyze and extract features from the point cloud. In addition to point clouds, Drone2Map also produces photo realistic textured meshes. These textured meshes provide a real world visualization experience that can be used for site planning, modeling, and much more.
Inspection
Getting an up close look at assets you manage can be a difficult task. Many risk their lives everyday to inspect components of critical infrastructure. With the advancement of drone technology, you can now safely send a drone in to take pictures of these assets. This type of imagery is often referred to as oblique imagery, and is not ideal for creating products to overlay on a map. Instead this type of imagery is best viewed in its native image space with a reference to the map and features on the map.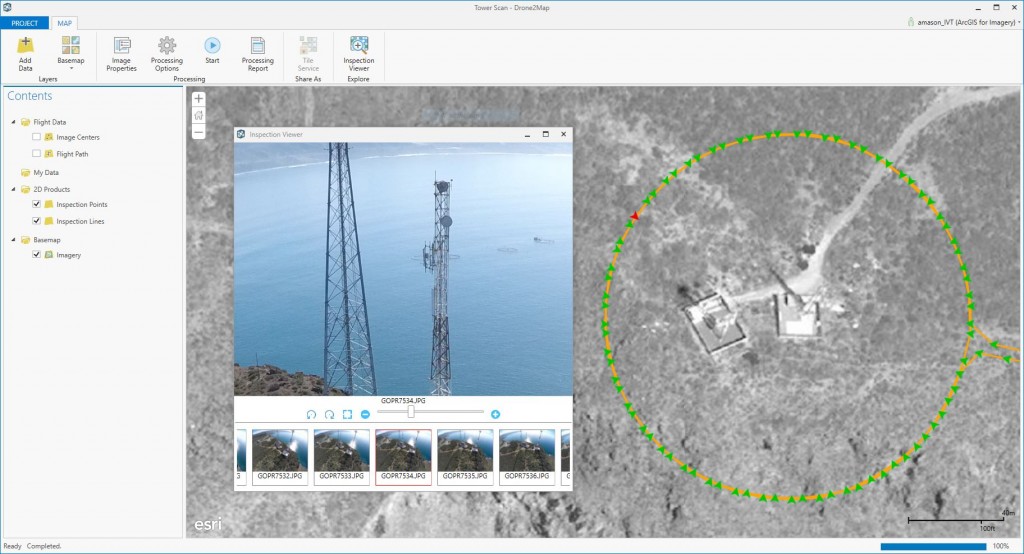 The Inspection template in Drone2Map quickly processes your drone imagery and orients each image to the object being inspected. This allows you to quickly click on the map to select a look angle instead of searching through hundreds of photos to find the angle you need.
These are just a few examples of the products Drone2Map for ArcGIS produces. We are adding more exciting new capabilities and look forward to sharing these in the first commercial release this June.
Visit www.esri.com/drone2map for more information!