ArcGIS Pro Interactive Map Wall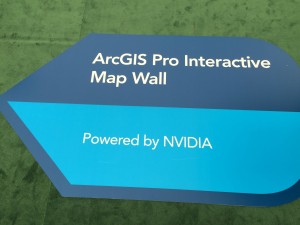 New at this year's User Conference Map Gallery will be the ArcGIS Pro Interactive Map Wall. The Map Gallery has been a long time feature of the User Conference that is dedicated to showcasing user maps. The new ArcGIS Pro Interactive Map Wall extends the format of the ArcGIS Pro map category from paper to electronic format.
What is ArcGIS Pro Interactive Map Wall?
The Map Wall is a 3×3 grid of monitors, each monitor showing ArcGIS Pro projects authored by users. The user projects use 2D and 3D data. The projects use the ArcGIS Pro Animation functionality that became available in ArcGIS Pro 1.2 to fly-through data, drawing focus and attention to interesting areas and details of the project.
Conference attendees will also be able to use Pro to interact with each user project to look at interesting features, local data and to see how each project is designed and constructed.
The users that submitted their ArcGIS Pro projects for this category also submitted paper maps which will be on display in the Map Gallery.
As with the theme and goal of the Map Gallery, the Map Wall highlights and focuses on real projects created by ArcGIS users. It shows what our users are doing with their data and how they deliver their spatial data, ideas, information and associated content with ArcGIS Pro.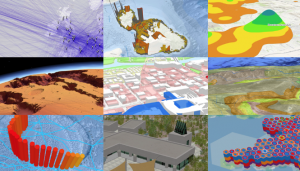 Technology behind Interactive Map Wall
The Interactive Map Wall uses the ArcGIS Pro Animation functionality to show user data and projects in a new way. The new electronic format and Animation functionally take full advantage of the incredible capabilities of the ArcGIS Pro rendering engine to provide a fluid, smooth, high-end user experience. These capabilities are available on properly configured physical and virtual desktops.
The 3×3 grid of monitors is powered by virtualization technology driven by Nvidia GRID M60 graphics cards. This is another example of successfully virtualizing the most demanding ArcGIS Pro projects.
Stop by the Map Gallery
The Map Gallery is  in the Sails Pavilion. Stop by during the Map Gallery Opening and Evening Reception, 3:30pm – 7:00pm, Monday, June 27.
Or during normal Map Gallery hours: Tuesday and Wednesday 8:00am – 6:00pm, Thursday 8:00am – 1:30pm
On Tuesday and Wednesday, from 12:00pm to 1:30pm authors will be present to explain how they developed their ArcGIS Pro projects.
If you're interested in the technology that is used to drive the ArcGIS Pro Interactive Map Wall there will be Esri and Nvidia staff present to explain every detail.