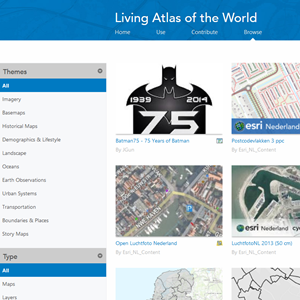 The Living Atlas of the World Web App has been updated with enhancements! In addition to the theme filter, you now have the ability to filter by item type and region, too. You'll also notice new categories and subcategories under the themes filter. Oceans is no longer a part of Landscape and is now a separate category in the Living Atlas of the World.
You can now sign-in to the app. If you are already signed-in through another tab or window the app will recognize this and sign you in to the app. The region filter will be updated based on your ArcGIS Online profile.
Items have been updated with badges that indicate the item type and if it's premium or subscriber content.
Also, the app is now part of the Living Atlas of the World website, providing you with a one stop shop for all things related to the Living Atlas. It can be accessed by clicking the Browse tab on any of the Living Atlas web pages.