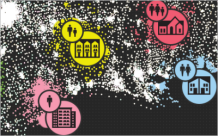 In a new Learn ArcGIS lesson, ZIP Codes are your access into learning how Americans think, feel, and live.
Get Started with Tapestry reveals demographic and socioeconomic data for any of the estimated 43,000 ZIP Codes throughout the United States. In the lesson, you will open the ZIP Lookup tool and type five numbers. Instantly, you will see color-coded information about income, age, and population density for that area.
You will also learn about the Esri Tapestry Segmentation, which classifies American neighborhoods into 67 unique market segments with names such as Savvy Suburbanites, Metro Renters, Front Porches, and College Towns. These labels describe preferences about everything from shopping habits and television channels to travel destinations and charity donations.
In this lesson, you will use Tapestry and its accompanying ZIP Lookup tool to help a recent college graduate find an apartment in Texas, a candidate study his next campaign stop in California, and a fund raiser find alumni who could help pay for a new campus building in Atlanta.
Esri's Tapestry Segmentation and the accompanying ZIP Lookup tools have received extensive media publicity. Take the 45-minute lesson to learn why.
Commenting is not enabled for this article.