While your laptops, desktops, and servers are not running ArcGIS 10.4 yet, you can get a not-so-sneak peek at the documentation for ArcGIS 10.4 right now. Last week we updated the ArcGIS for Desktop and ArcGIS for Server websites to incorporate help for the upcoming release. We recommend you view the following topics in preparation, or review the help topics in general.
Switch between 10.3 and 10.4 topics
Of course, you're not working with 10.4 yet. And even after its release, it may be some time before you're ready to upgrade. You still need quick access to documentation for ArcGIS 10.3x. The Other versions dropdown is here to help. You'll find it located just below the topic title.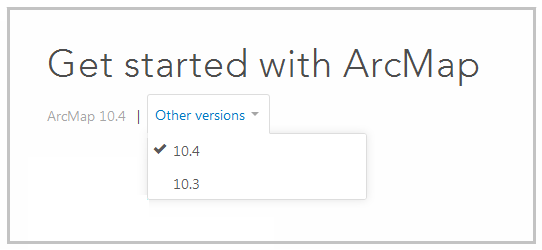 When viewing a specific help topic like What's new in ArcMap, you can use the Other versions dropdown to switch over to this topic's 10.3x counterpart. If that topic was not available at the 10.3 or 10.3.1 releases (perhaps it's about new functionality or it was added in response to user feedback), the Other versions dropdown will still appear but the switch for 10.3 will be disabled.
When you switch versions, you remain in the context of the selected version as you move around. You can browse to other topics in that tab, search, and even move to help topics under other tabs. The version resets to 10.4 when you navigate to the Home tab, open a version-agnostic page such as Pricing, or when you end your browser session.
If ArcGIS 10.4 is really far into your future, you may want to add these links to your bookmarks. They open the help with the 10.3 version selected:
Note: There are a few cases in the ArcMap documentation where what you see when you switch between 10.3 and 10.4 differs. The 10.3x ArcMap documentation includes System Requirements and Quick Start Guides for the entire ArcGIS platform and some other Esri products, even though this content is not exclusively about ArcMap. It also includes the ArcGIS License Manager Guide which is a component shared by the entire ArcGIS platform, not just ArcMap. For 10.4, the ArcMap documentation only includes the system requirements and quick start guide for ArcMap;  this information for the full ArcGIS platform is provided separately. The ArcGIS License Manager Guide is also provided separately. Here are the direct links for your reference:
Why make these changes?
Historically, we've done a poor job connecting documentation for previous releases to documentation for our most recent releases. This means you might google for information about the Buffer Tool and end up reading a topic written for ArcGIS 9.3! Much of the topic may still be valid for your version of ArcGIS, but parts have probably changed significantly over the last five releases. Of particular concern is that when you're looking at the 9.3 help topic, you can't discover and get to the latest help topics in any straightforward way. The "Other versions" dropdown begins to address this issue for ArcGIS 10.3, 10.4, and future releases. Over time, we will also add some connections between the documentation for older releases and the latest release. However, because of structural differences, versions prior to 10.3 will not be accessible via the "Other versions" dropdown.
Other changes are being made to ensure that when you use Google or Bing to search for ArcGIS information, the most recent help topics appear near the top of your search results, not the ones we published seven years ago. We began this effort with the 10.3 release when we began to use human-readable filenames and logical URL patterns for the various parts of the ArcGIS help. As noted above, for 10.4, documentation that targeted the full ArcGIS platform was moved so that it no longer exists under the ArcMap-specific folder. We also made some less noticeable URL path changes that further defined these logical patterns and structures. These URL patterns help search engines understand our content structure better; and we think they make sense to humans too!
–          ArcGIS Documentation Team
1 Documentation and resources for ArcGIS Pro, the newest app in the ArcGIS for Desktop family, can be found at http://pro.arcgis.com. The changes noted above are not applicable to the ArcGIS Pro content.
Commenting is not enabled for this article.