The wait is over – On the go data capturing in the Business Analyst (BA) Mobile App is here! Whether you are visiting a potential investment property or a location for putting a new urgent care clinic, gathering information about locations in the field is now at your fingertips.
With the Business Analyst Mobile App, you have always been able to do basic screening of locations by generating key facts, reports, and benchmark comparisons and sharing them across the Business Analyst system. With this mobile app update for iOS [Update 10/2/2017: This update is now available for Android as well.], you get added functionality of capturing location information and photos in the field and easily access them in the Business Analyst Web and Desktop Apps. Get the mobile app on iOS and Android today.

Capture Pictures, Site Attributes, and Field Observations
Open the Business Analyst Mobile App and add locations in your own project or a project shared with your office staff:
Take one or more pictures of the location such as the front and interior views of the building and access to parking.
Enter attribute values such as number of parking spaces, rent, building area, and more. Customize the list of attributes in the Business Analyst Web App. So, for example, if you need to collect information about a health care facility, configure the attributes to numbers of patient rooms, beds, and so on.
Add general notes about the location such as condition of the building, visibility from the streets, and competition information.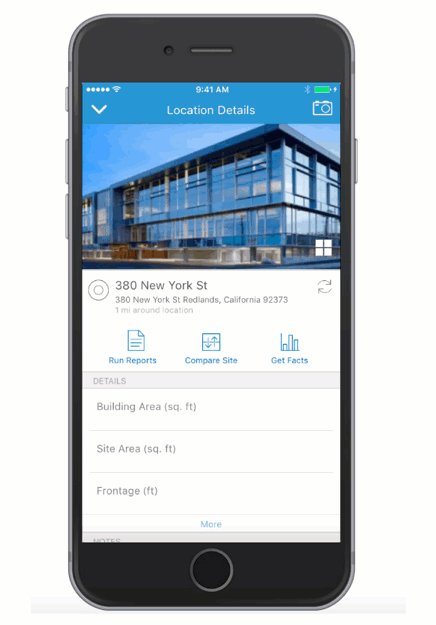 Seamlessly Sync Information to the Business Analyst Web App
Access the information captured using the BA Mobile App across the BA System. No data upload or export needed!
Collaborate more effectively with your office staff so they can easily use the collected location data in the Business Analyst Web and Desktop Apps.
Easily access your data anywhere, anytime, and across devices. Not only can you access the collected field information in the office, you can use sites and reports created in the BA Web App on the go using the BA Mobile App.
For example, let's say you are putting together a grant application for a healthier community project. You are analyzing the impact of existing and proposed new farmers market locations. You can visit these locations, use the Business Analyst Mobile App, and gather the information needed for the project such as:
Public transit accessibility
Is there adequate parking?
Is the neighborhood walkable?
General notes of the area
Then do a suitability analysis using this data in the Business Analyst Web App and provide a better data-driven justification in your grant application.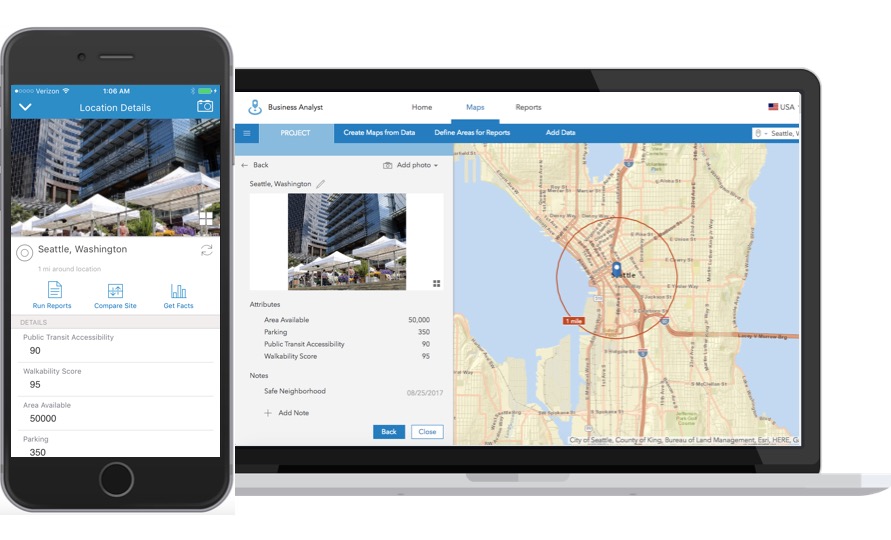 Get Market Snapshot for Locations Globally
The existing capability of accessing facts about a location continues to get better. You can easily evaluate sites or neighborhoods around the world on the go. If you are in Australia, Kenya, Croatia, Japan or 135+ countries globally, you can access demographic facts and reports and share them with your team.
Tap into a large collection of demographic facts and reports and easily share them with your team.
Get a quick market snapshot for a location or run detailed reports – Esri standard reports or your own custom reports – to assess market feasibility.
Compare two locations side by side and decide which one is more suitable for your target market.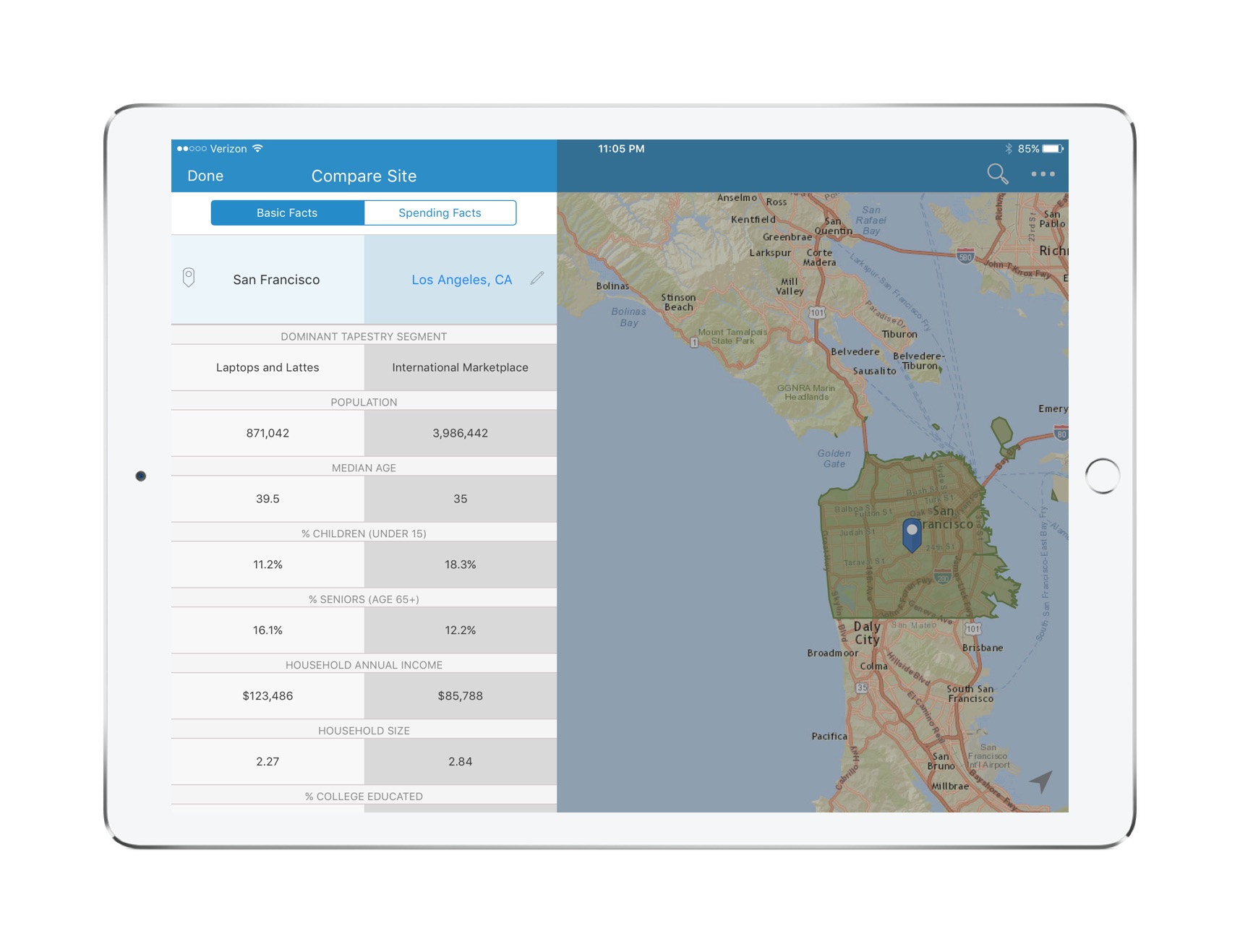 Leverage a redefined Business Analyst Mobile App and make your field visits more productive.