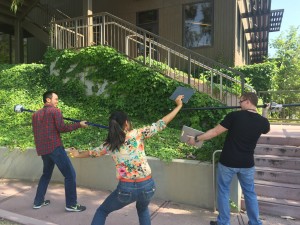 We are full speed ahead with our next big release of Collector for ArcGIS and if you haven't heard already, we are in beta right now!
Last week we shared the great work Le-Ax Water District is doing marking hydrants with the iOS beta.
Today we are celebrating the beta release of the Android platform and we are heading into summer with all 3 platforms now able to pinpoint locations on the map!
Recap of the new capabilities coming in this release:
Create a location provider so that you can connect directly to professional-grade GPS receivers and stream highly accurate positions to Collector.
Create a correction profile to accurately transform positions received from a differential correction source to the projection of your maps.
Attach important positional metadata to the point features you collect and update using GPS.
Get more information about your GPS position on the map.
Receive notifications and alerts when accuracy conditions are not met or you lose connection to your provider. (*coming soon*)
There are a series of key stability fixes that you have asked for in this release as well. If you haven't yet, please come join our beta program. We will be releasing this exciting new update this summer.
Collector Team