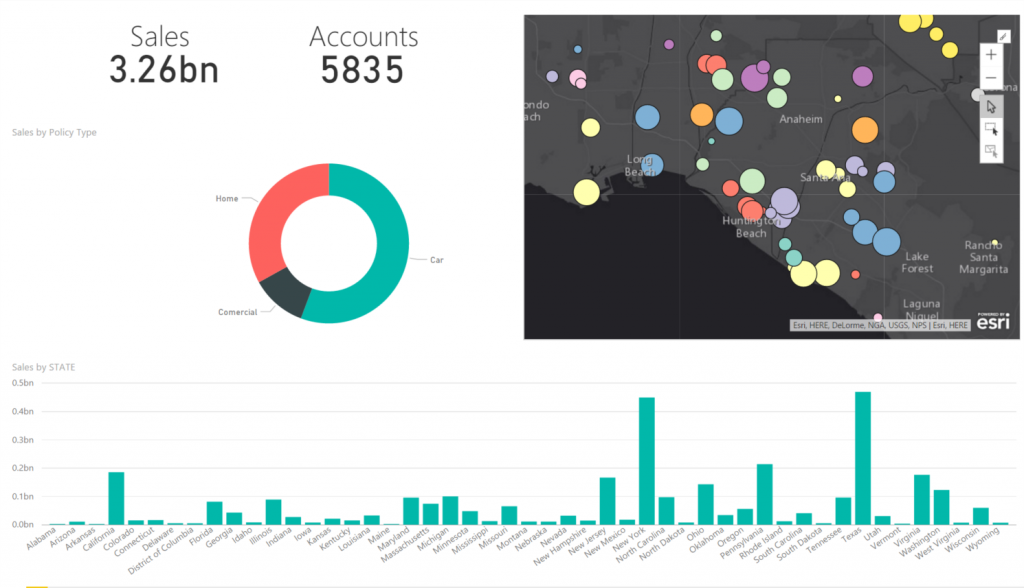 ArcGIS Maps for Power BI is a new, Esri-built mapping integration into Microsoft Power BI. Here are some of the most common questions we've heard since launching in September:
1. Can I sign in and access my data? 
The initial release of ArcGIS Maps for Power BI provides the same robust mapping capabilities to all Power BI users – free and Pro, on the desktop and in the cloud service (coming soon!). At the moment you can't sign in to access your private organizational data. However, the ability to connect to your ArcGIS organization and gain access to more basemaps and reference layers is on the product roadmap. The availability date for this capability has not been announced – stay tuned!
2. Can it do geocoding?
ArcGIS Maps can intelligently geoenable your Power BI data in a number of ways. When you drag a field into the location field well, we use information about that field to figure out how to display it on the map.
First, we look to see if you've used the data modeling features in Power BI desktop to set the location data category for the field. If so, we'll use it to give you the best results. For locations like states and postal codes, we'll return the boundaries for the locations in your data.
If the data category hasn't been set, we take a look at the field name. If it's something we understand – like country, state, city, etc. – we'll use that to help us determine how to display your locations.
If the locations are addresses – or if we couldn't figure out what kind of location is in the field – we send the data to the very accurate Esri world geocoding service. The world geocoder makes its' best attempt to determine a location based on the information you give it (and the more information you give it, the better). For example, if you're looking for the small town in Bourbon County, Kentucky it would be better to format your field to contain "Paris, KY" than just "Paris".
3. Can I select multiple locations on the map?
Yes! ArcGIS Maps for Power BI has three selection modes. The default mode is single-select, allowing you to click on individual locations to select them. To select multiple locations, use either the box-select or reference-layer-select modes. As you might expect, to use the reference-layer-select mode you must have a reference layer added to the map.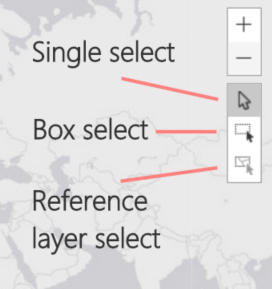 4. Can I add multiple maps to a report? Will they sync together?
Yes, you can add multiple maps to a Power BI report. While the maps aren't linked directly, if they are bound to the same data they will all respond to cross-filters and cross-highlights that occur within the report. All maps in the report will respond to these events by panning and zooming to the correct extent to best show your data on the map.
5. Can I geoenrich my Power BI data?
ArcGIS Maps for Power BI is designed to be a map visual inside Power BI. It's meant to display and interact with the data being managed by Power BI. To do this, the map visual uses several geoenrichment capabilities: geoenrichment services are used to return boundaries for areas like states or ZIP codes, demographic reference layers are a form of geoenrichment, and more are planned. However, the map visual is not intended to modify or augment your data sources in Power BI. Data enrichment, the process of adding data from ArcGIS to your business data, is not planned for ArcGIS Maps for Power BI.
Bonus question!
How do I get ArcGIS Maps for Power BI?
Download Power BI desktop, enable the ArcGIS Maps for Power BI preview, and start using the visual in your reports!