Collector for ArcGIS now supports advanced offline settings in ArcGIS Online that optimize download and sync operations. With the new releases of ArcGIS Online and Collector, authors can edit map settings so that field workers only download and sync the data they need to get their jobs done. This minimizes the size and amount of data transferred, making it faster to share changes and saving data transfer costs; especially in areas with low bandwidth.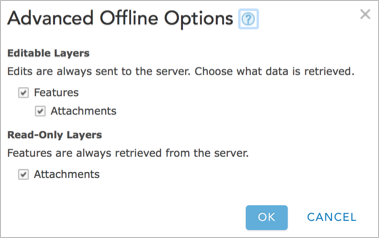 By default, field workers download and sync all features and attachments for both editable and read-only layers. However, field workers don't always need all of this information to complete their work. Also, your organization may want to limit the size and amount of data field workers retrieve from the server during initial download as well as subsequent sync operations. This can make it faster for field workers to share changes, and minimize data transfer costs. This is especially true when your field workers are in areas with low bandwidth. You can limit the types of data field workers retrieve from the server by adjusting the Advanced Offline Options in ArcGIS Online. These settings do not affect edits made by the field worker; those are always sent to the server. For details, see Optimize download and sync in the Collector help.
This release of Collector does not have support for high accuracy GNSS receivers. We know that many of you have been eagerly awaiting this update, and we haven't forgotten about it! We will release a beta of Collector that supports high accuracy data collection very soon. We are still looking for participants to test it. If you are interested, email Collector4ArcGIS@esri.com with the type of GNSS receiver you intend to use for testing as well as whether you will test on the iOS, Android, or Windows 10 platforms.