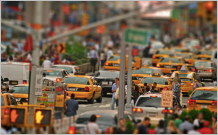 Management wants proof that enough consumer demand exists in Manhattan to justify a new electronics store — and the map you make could determine whether the investment is worth the risk.
In a new Learn ArcGIS lesson, you will open a web map in Adobe Illustrator using ArcGIS Maps for Adobe Creative Cloud  to show the supply and demand for consumer electronic stores in the Big Apple.
Get Started with ArcGIS Maps for Adobe Creative Cloud is a 40-minute lesson in which you will design attractive maps with advanced symbology before sharing your results with management.