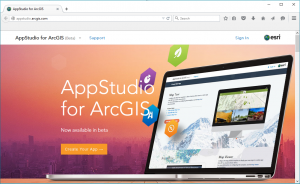 We are pleased to announce AppStudio for ArcGIS Beta 4. With AppStudio for ArcGIS you will be able to build native mapping apps that run across multiple platforms (iOS, Android, Windows, Linux and Mac).
What is new in appstudio.arcgis.com? From the appstudio.arcgis.com web site you will be able to create native apps from a collection of preconfigured templates.
To make your life a bit easier we created a handful of video-tutorials:
Some of you got stuck trying to understand how to publish your own apps into the Google Play and Apple app stores. So we also created new videos describing the process:
As in previous beta iterations, all you need to create apps from the templates is a Named User Account.
What is new with the AppStudio for ArcGIS Player? As you create your own apps, you will want to preview them in your own phone or tablet. We have refreshed the AppStudio for ArcGIS Player in the Apple and Google Play app stores. The updated App Player includes several usability enhancements. Additionally, starting at Beta 4 you can also install the Player separately on your desktop (Windows 7, 8, 10, Mac OS and Ubuntu Linux).
What is new in AppStudio for ArcGIS Desktop Edition? AppStudio for ArcGIS includes advanced tools for building native apps that you can install in your own desktop. Most of you download AppStudio for ArcGIS in your desktop to either tinker with the code of template-based apps or to build your own completely from scratch.
As of Beta 4, we have added Windows 10 to the list of supported platforms for AppStudio for ArcGIS Desktop Edition, as well as the apps you build with it!
As many of you know, AppStudio for ArcGIS is built on top of Qt. Qt provides the foundation for you to build and develop your own cross-platform native apps.
At Beta 4, AppStudio for ArcGIS is built upon Qt 5.5 which introduces new functionality that many of you, developers, have been waiting for such as Charts, GUI, Network, Multimedia, WebView and Bluetooth support. Here is a full list of new features in Qt 5.5 see. Qt Creator has also been updated to version 3.5.
AppStudio for ArcGIS Desktop Edition also includes numerous bug fixes and user experience enhancements. Thanks so much to all you contributing to the GeoNet space and submitting Technical Support cases.
Other important updates: Much of the work at Beta 4 is coming straight from the many of you using AppStudio for ArcGIS in your projects. Our App Factory build system has already built over 5000 apps!
Your input regarding the available templates has been massive and as such we added a few enhancements:
Quick Report updates:

Secured feature services are now supported.
Features services with a spatial reference other than Web Mercator are now supported.
The baseFontSize property has been fixed to ensure that you can scale up or down all text in the app.
Map Viewer updates:

Improved legend support for map services.
Added chart support in popups.
A list of known issues in Beta 4 is available here.
We are now gearing towards Beta 5. We will continue listening to your feedback and getting things in place for final release. Support for OAuth 2.0 is one of new features we will add shortly.