ArcGIS Earth has been well received since it launched in 2016, helping to deliver GIS capability for all kinds of users, from students to scientists. Our focus has been to put easy-to-use capability of ArcGIS Earth into the hands of our users. This week, we're releasing a mobile version of ArcGIS Earth for Android devices. It will be available on our Early Adopter Community as well as on the Google Play Store. This mobile version of ArcGIS Earth on an Android device is optimized for quickly browsing 2D and 3D content in both offline and online modes.
The mobile version of ArcGIS Earth allows users to
Browse 2D and 3D content from an Android device.
Collect and share information in the field.
Perform interactive 3D analysis.
Simulate walking in a 3D scene.
Here are some of the ways these capabilities work:
Browsing 2D and 3D Content from an Android Device – You can connect to ArcGIS Online or ArcGIS Enterprise and add 2D or 3D data to a mobile device. The mobile version of ArcGIS Earth currently supports feature services, image services, scene services, and map services. For users working in the field, ArcGIS Earth supports the capability to add scene layer packages and tile packages saved in your device's local storage.
Collecting and Sharing Your Information in the Field – The tour feature was introduced to help users collect and share information. Users can quickly play a tour with photos in your album to showcase what seen along a journey or point out a fieldwork assignment. Here is an example that shows a trip along a hiking trail near the Great Wall of China. Users can also add place markers, and add edits.
Performing Interactive 3D Analysis – You can select the measurement tool to extract coordinates and run a quick visibility assessment—including line of sight and viewshed analysis with interactive 3D analysis tools. A more robust version of these tools will be in ArcGIS Earth 1.8 for desktop users this fall!
Simulating Walking in a 3D Scene – With the sensors in your mobile device, you can even simulate walking in a 3D scene.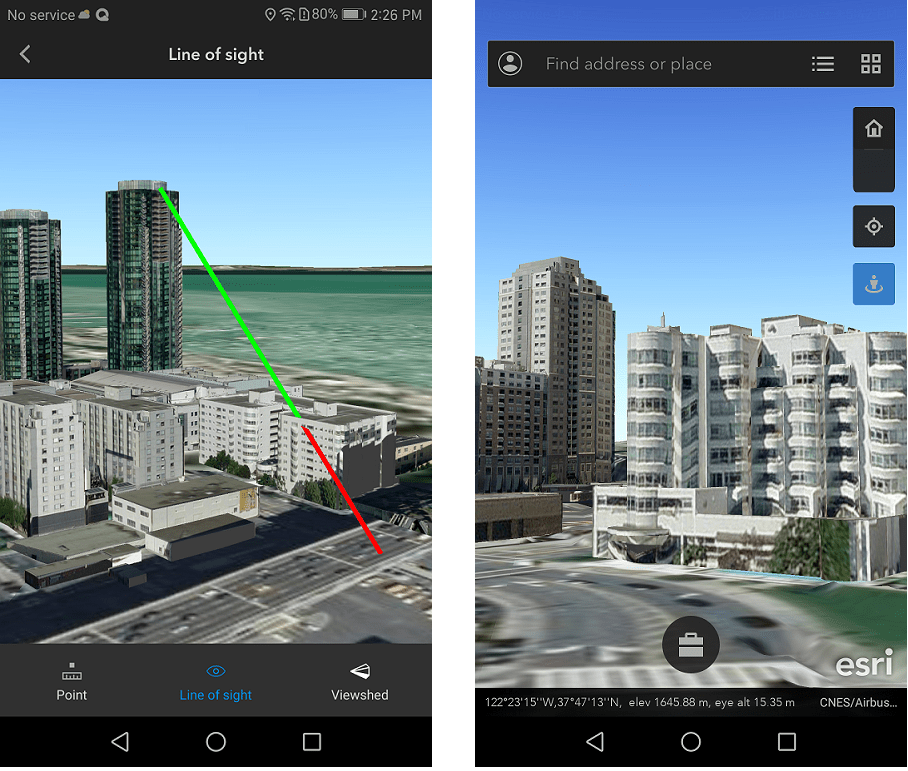 As an Esri mobile app, ArcGIS Earth embeds an extensible geosearch capability and basemap options from ArcGIS Online. Powered by ArcGIS Runtime SDK for Android, the ArcGIS Earth mobile app will continually explore emerging technology like virtual reality (VR) and augmented reality (AR), putting these tools directly into the hands of users.
All of these updates are ready in the Early Adopter Community or the Google Play Store for free. Please try them out and provide your feedback to help us define how interactive 3D experiences via your mobile device can help you in your work or personal life.
Commenting is not enabled for this article.