When changing point symbols, you'll find many different ones to choose from organized into categories. In addition to these built-in symbols, you can use any hosted image as a custom symbol.
*


Using an existing image
To use an image as a custom symbol, follow these steps.
Step 1. Use an image file at a URL location.
Locate the symbol you want to use, and copy the URL. The symbol must be at a URL location, and should point directly to the source image. For best results use a square PNG, GIF, or JPG file 120 x 120 pixels or less. Larger images will be adjusted to fit.
Tip: use a PNG or GIF with a transparent background if your symbol does not fill the square to avoid unwanted white space.
In this example, the following custom symbol will be used. Click the image to view it, and copy the URL.
Step 2. Open your web map.

Open the sample web map. If you are not signed in, click Modify Map or Sign In to follow along with the steps below. You can also use your own existing web map with a point feature layer.
Step 3. Change the layer style.
Make sure Content is selected, and click Change Style.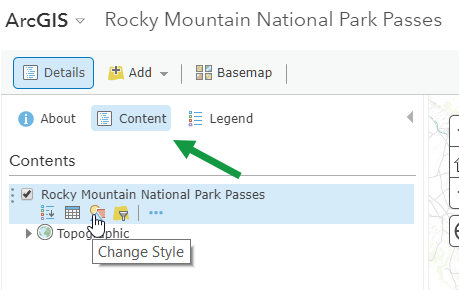 Step 4. Click Options.
Ensure that Show location only is selected, then click Options.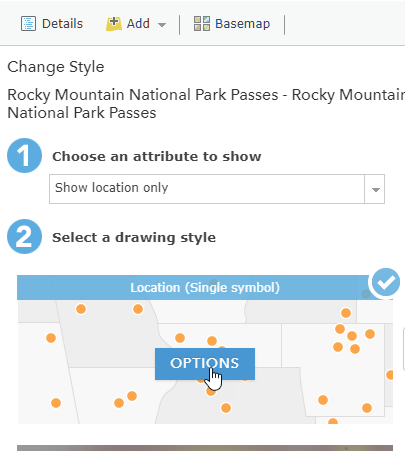 Step 5. Click Symbols.

Step 6. Click any symbol category, and click Use an Image.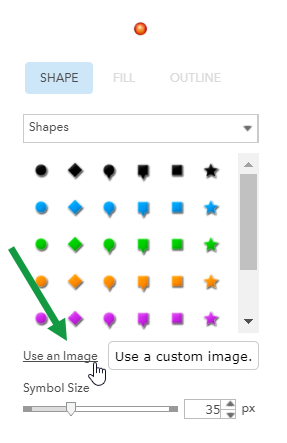 Step 7. In the Use an image input box paste the URL obtained in Step 1 above.
Click the blue button to add the custom symbol.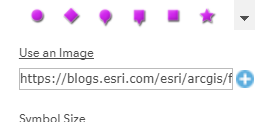 Step 8. Adjust the symbol size as desired.
Use the slider to set the symbol size desired, then click Ok.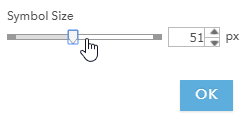 Step 9. Click OK when done.
Your custom symbols will now display on the map.
Note: When using custom symbols ensure the URL to the symbol does not change, and the symbol is not deleted.
*
Create your own symbol
You can create and host your own image to use as a custom symbol. Symbols can be authored using any graphic program. Use a PNG or GIF for a transparent background.
Something to consider is that the center of the image is placed on the x,y point location. For example, the symbol below will be placed with its center (where the dashed lines cross) on the x,y location of the point on the map.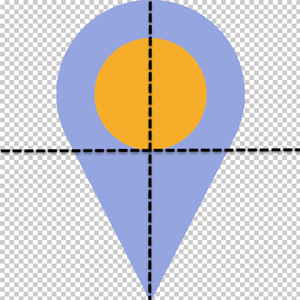 To place the bottom tip of the symbol on the x,y location, create a symbol as shown below, placing the tip of the "tail" at the center of the image.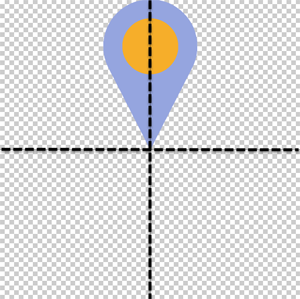 *
More information
For more information see Change symbols.
This post was originally published on August 26, 2016, and has been udpated.
Commenting is not enabled for this article.