You may already know that ArcGIS Hub allows you to create branded websites for sharing open data. But did you know that most Hub sites also include a configurable DCAT feed for federating data with other databases, like Data.gov? DCAT feeds are often used by local and state governments to make their open data more accessible through search engines and third-party catalogs.
If you have or plan to have a Hub site with a federated open data catalog, continue reading for an important announcement about an upcoming change to Hub's support for data federation.
What's changing
ArcGIS Hub will replace the current DCAT (/data.json) endpoint with a new endpoint (/api/feed/dcat-us/1.1.json) on January 11, 2022. This new endpoint, included in the latest version of the Hub API, reflects the feed name and version to provide flexibility as ArcGIS Hub expands support for DCAT-AP and other feeds in the future. Using the latest version of the Hub API will also make it easier for you to customize feeds using key strings, as shown in the screenshots below.
The release date for the endpoint migration has been moved from January 3rd to January 11th, 2022. You can continue preparing your DCAT feeds using the preview editor until this date.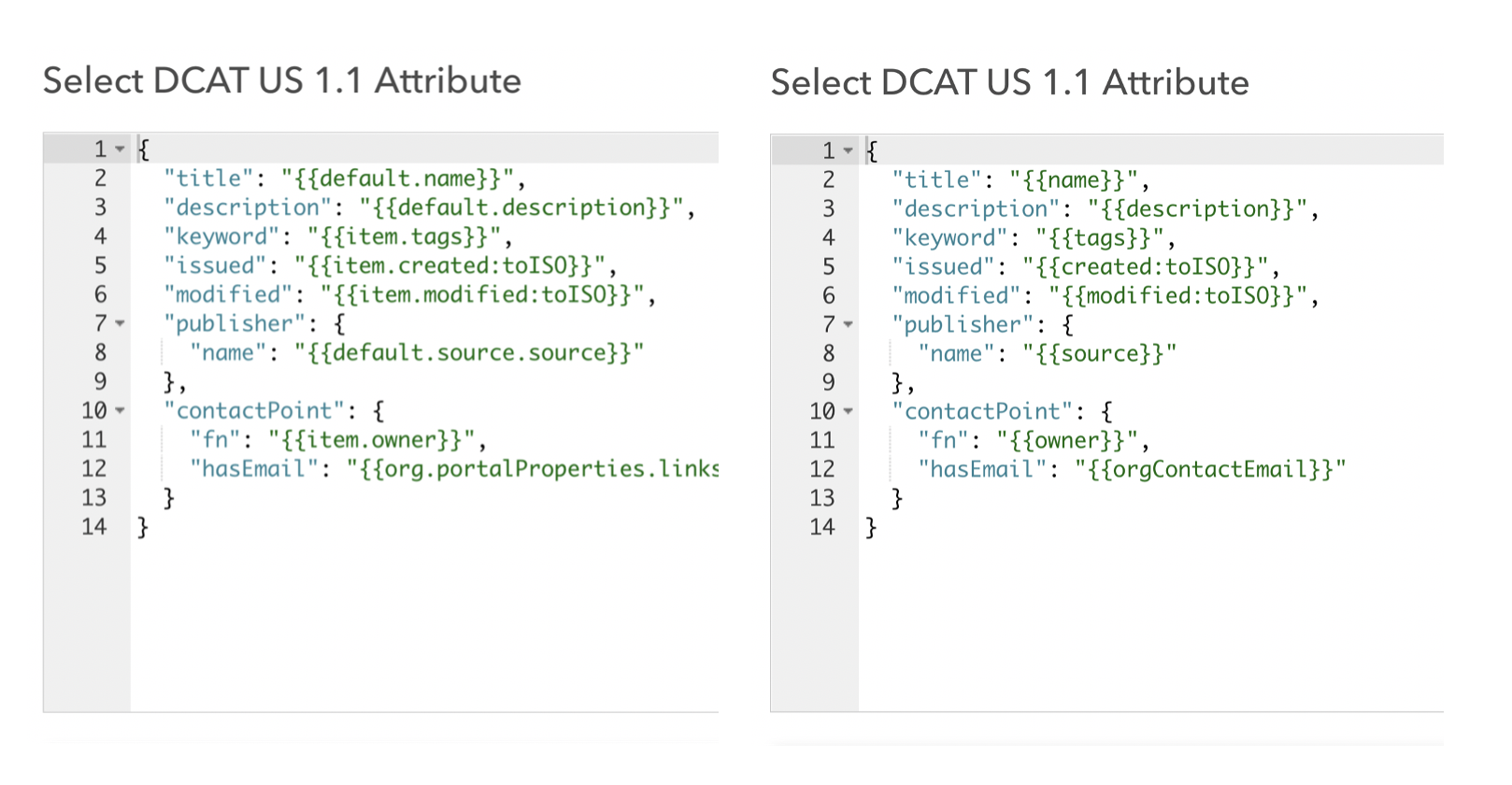 Impacts to custom JSON configurations
If you've configured your site's DCAT feed with custom JSON, the feed won't change dramatically after ArcGIS Hub officially transitions to the new endpoint. However, if you are an administrator or site manager, you can access this endpoint today to review potential impacts to your existing configuration. If you notice something you want to change, you can apply changes today ahead of the January 11, 2022 release.
Migrating a site's feed to its new endpoint
ArcGIS Hub will automatically migrate a site's custom configuration when an administrator or site owner opens the site's DCAT editor (/content/edit/dcat) and clicks Save. The migrated configuration will appear on the new DCAT endpoint (<siteURL>/api/feed/dcat-us/1.1.json). You can then use the Preview New Editor button to view a preview of your custom configuration at the new endpoint.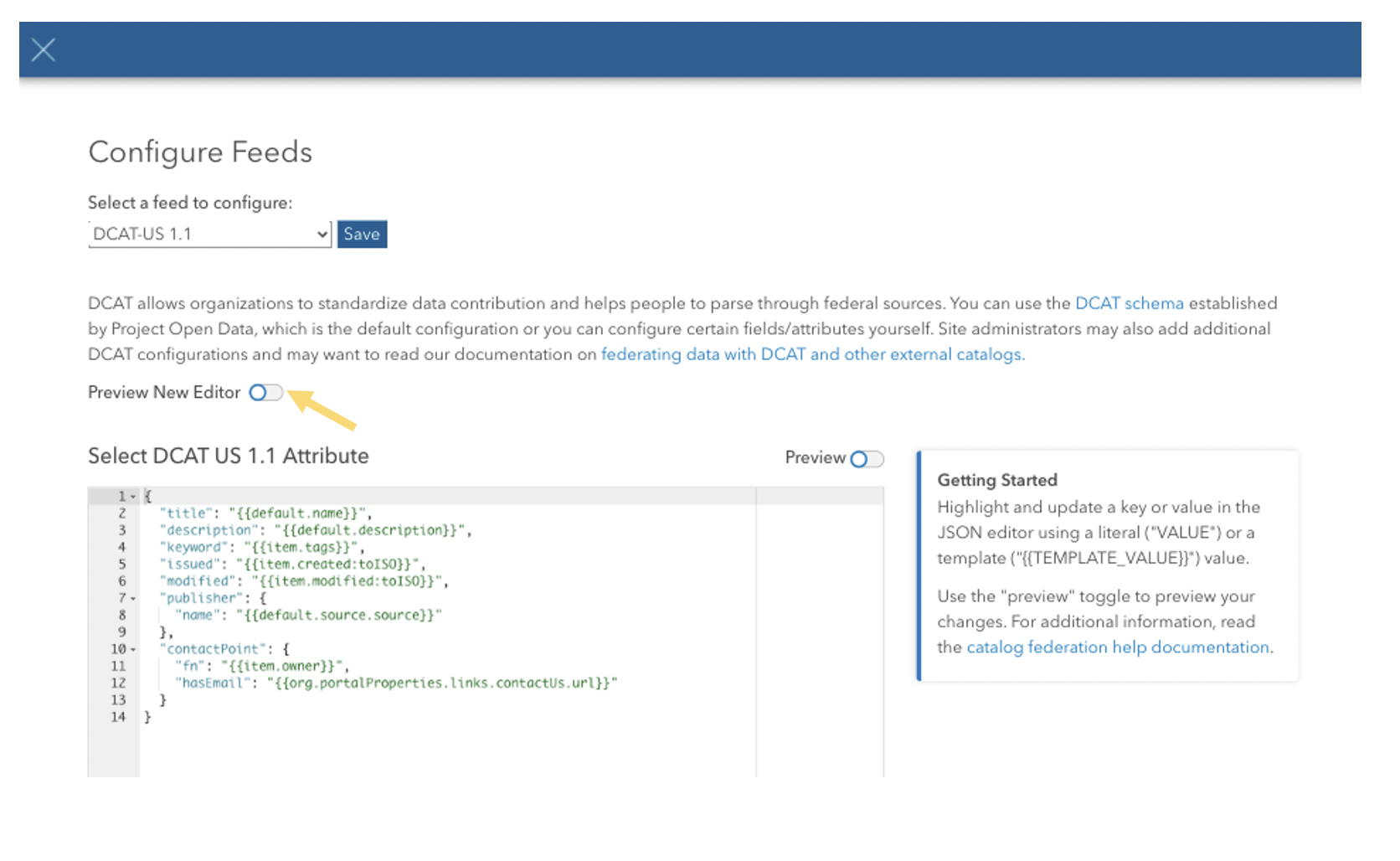 If your site is impacted
If your site's DCAT feed configuration requires changes, you can use your site's feed editor to make changes at the new endpoint. You can continue to make and save changes as needed over the next few weeks.
It is highly recommended that you back up your existing custom JSON definition locally. However, no default metadata mappings will be lost, only the key strings will change.
To make changes, use the Preview button as described above (or append the following URL query parameter to your site's DCAT editor URL: `<siteURL>/content/edit/dcat?previewMigration=True`). A preview editor will show you either the default JSON configuration in the JSON editor or the migrated custom JSON configuration. Any changes that are saved will be reflected in the new endpoint (<siteURL>/api/feed/dcat-us/1.1.json).
We recommend that content managers start to transition validation and harvesting using the new DCAT US 1.1 endpoint, prior to the switch on January 11, 2022. If your DCAT feed is registered with an external site, such as Data.gov, you should also visit that registration to update it with the new the endpoint URL.
If your site does not have a custom DCAT configuration
If your site's DCAT feed isn't configured with custom JSON, then the preview editor and new DCAT endpoint should look exactly the same. You will have access to the new default configuration when the editor is released on January 11, 2022. Once it's released, refer to the documentation as you start trying the new editor.
Questions or feedback?
For additional information, refer to the documentation. You can also reach out to us on the ArcGIS Hub Community page with any questions. For feedback specifically on DCAT, visit the ArcGIS Hub Ideas page and use the "Content Management" label when submitting your idea.
This blog post was updated on December 17th, 2022 to announce an updated release date of January 11th, 2021.