Esri Demographics has released a brand new set of hosted feature layers containing the latest 2016 ACS and 2018 Esri estimates. Tell me more…
Glad you asked! The Esri Demographic team has created four unique ArcGIS Online hosted feature layers. Each layer contains a carefully selected set of variables to create a layer theme.
Each service is multi-scale containing data for country, state, county, zip code, tract, and block group levels. The levels are optimized to reduce size and provide a fast viewing experience.
How does this benefit you?
Every layer is fully customizable! From the layer visibility to the pop-ups and style, each layer can be configured to suit your project's exact needs. To help demonstrate each feature layer's flexibility, we've created some samples to show how powerful hosted demographics can be.
One example is a predominance map using the new generation variables from Esri's updated demographics. This map is multiscale meaning as you zoom in, the geography gets more detailed (County to Zip Code to Tract etc). Want to see a layer at a different zoom level? Easy! Simply adjust the layer's visibility as needed.

Another awesome feature of these hosted layers is the ability to use Arcade. Arcade is an easy to use, fast scripting language that can be used to create visualization, custom labels, and popups.
In this example, Arcade is used to create a custom pop-up with dynamic colors that change according to the feature selected.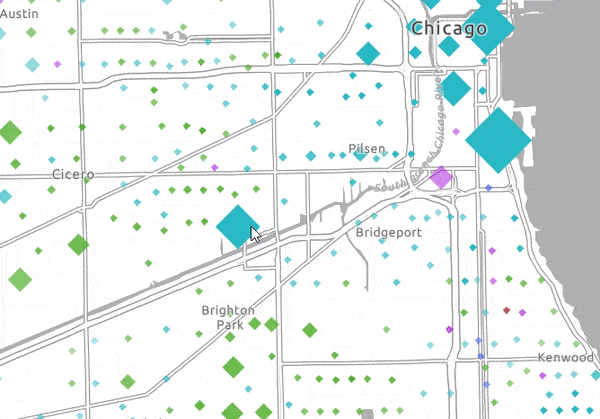 These feature layers are available for anyone. They are in the Living Atlas of the World (also linked above) and can be added to your web maps or applications.
The default symbology is a simple color so it is easy to create your own unique map using any of the smart mapping styles. For example, Color & Size and Relationship styles.
Population Growth or Decline?
Demographics are a powerful tool to add greater insight into your map and analysis. It can provide context and information about your place of interest. These feature layers are ready-to-use resources designed to easily and quickly enhance your project. We invite you to try out these layers in ArcGIS Online, ArcGIS Pro, Operations Dashboard, Insights, and your web applications!
From regional planning and policy analysis in the public sector, to private sector marketing campaigns, there's no shortage of demographic data applications.
The mapabilities are endless!
By Julia Holtzclaw
Esri Demographic Product Engineer 
Commenting is not enabled for this article.