ArcGIS Pro users enjoy ready to use data at their fingertips!
The Living Atlas of the World is the foremost collection of global geographic information used to support critical decision making. It includes beautiful and authoritative maps on thousands of topics. Explore the multitude of layers and maps and combine them to your own work to enhance your project.
In Pro, you can view the collection from the Project pane, Project view or the Add Data dialog box. There are several options to access awesome data!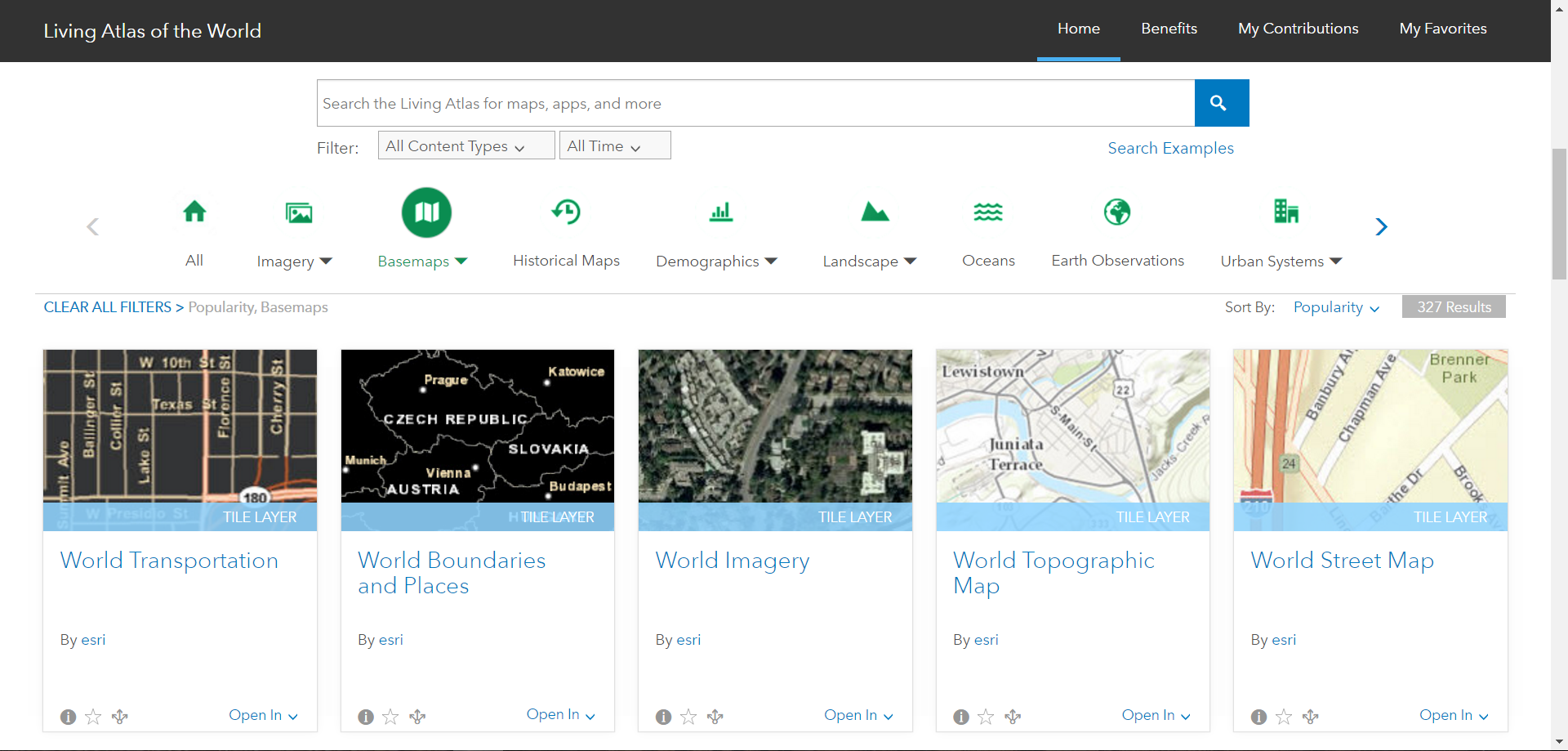 Let's go through the three ways to add Living Atlas data to your project. I have hospital locations and would like to know the population density of the surrounding areas. This would be useful to estimate how busy a hospital may be based on the amount of people in the service area. First, the Project pane!
Project Pane
Open the Project pane and click Portal.
You'll see four different icons. The far right button is for the Living Atlas —.
Browse through the Living Atlas categories using the drop down or search 'USA Population Density'.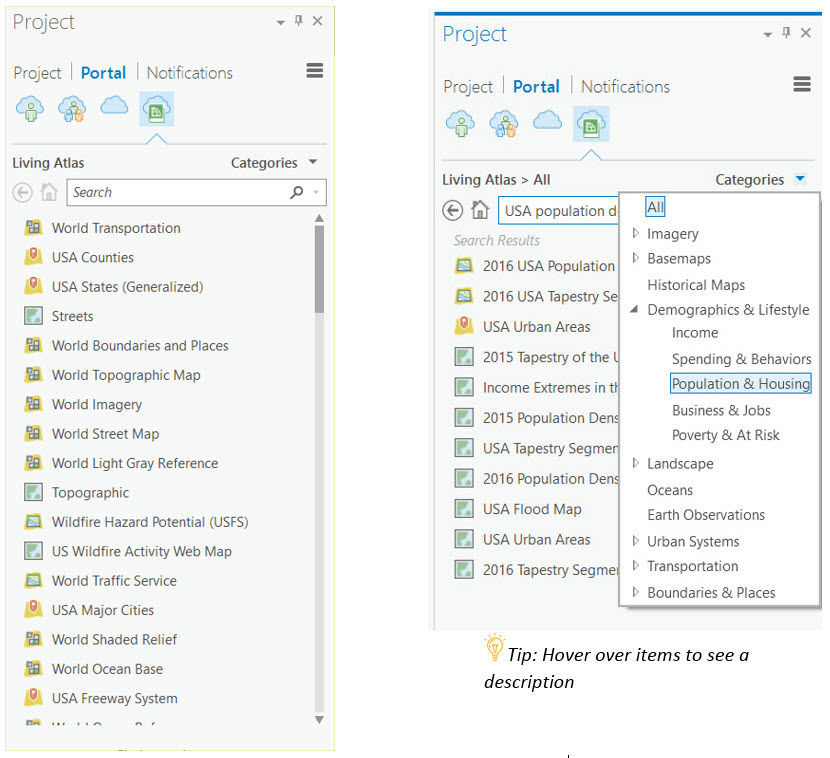 Drag and drop the 2016 USA Population Density map image layer into the map. Alternatively, right click on the layer > Add to current map.
Voila! Ready-to-use demographic data providing information down to the block level. Simply click on the map for additional pop-up information.
Now let's go through the additional ways to access the Living Atlas…
Project View
Open the Project View window by clicking the View menu > Project > Project view
Select Living Atlas under Portal
Use the Search bar to find an item or use the Categories drop down to filter based on theme (Imagery, Basemaps, Demographics etc)
Click an item to view the metadata
Right click the item to Add To Map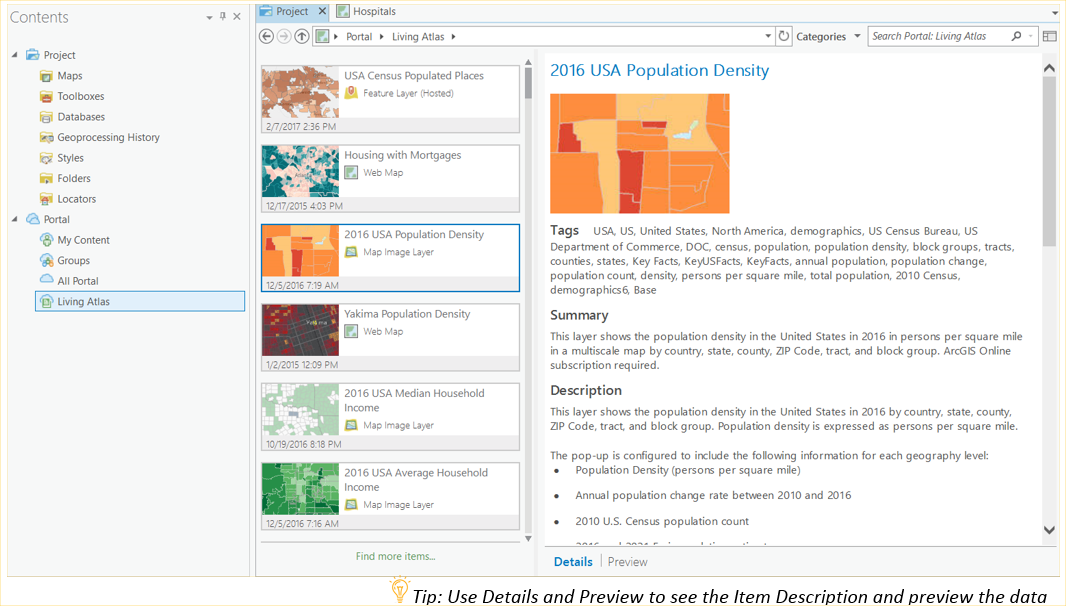 Add Data
Click Add Data on the Map ribbon
Click Living Atlas under Portal
Use Categories to filter or Search in the bar
Select the layer > OK to add to the map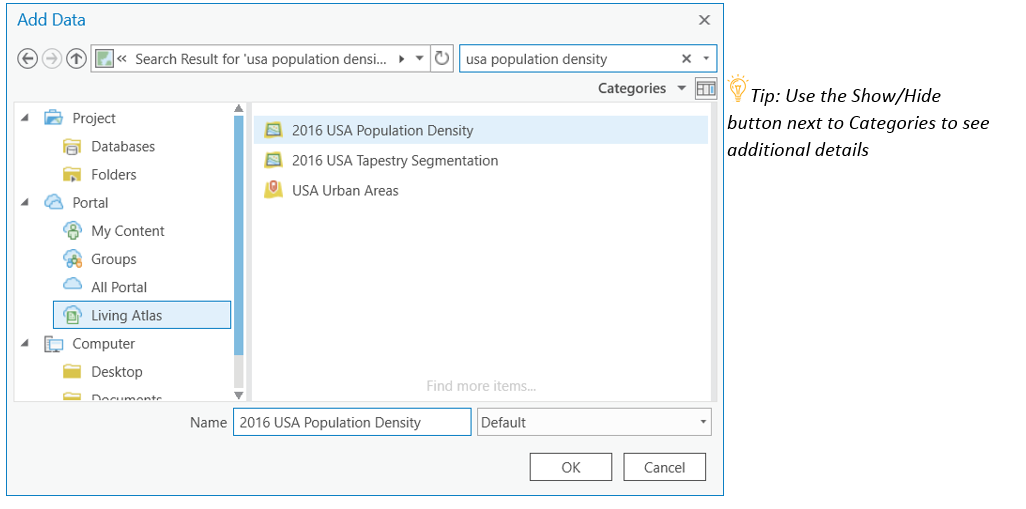 In conclusion, there are three great ways to use Living Atlas data in your ArcGIS Pro projects! With Add Data, you can add the map image layer directly to the map. The Project View and Pane also allow for adding the ready-made web maps! If you would like to learn more or contribute to the Living Atlas of the World, visit our story map or contribution page.
Commenting is not enabled for this article.