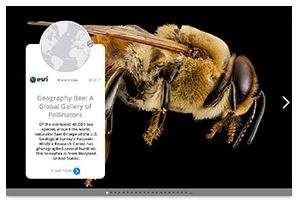 Looking for ways to gain deeper demographic insights to your customers, constituents, or community? Catherine Spisszak, Product Manager for Esri Demographics, will discuss the types of demographic content available in the Living Atlas of the World and give a demonstration of how it can be accessed.
Do you believe in the power of storytelling? Allen Carroll, Esri Program Manager for Storytelling, will share best practices for how to create a good story map, a compelling and engaging map-based presentation.
Wondering what's going on with the Contributor App?  Get the inside scoop from Jim Herries, Esri Cartography Product Engineer.
Here's how you can connect to the webinar:
Topic:  The Living Atlas of the Community Webinar
Date and Time: Thursday, April 23rd, 2015 at 11:00 a.m. (PDT)
Join Webinar:
Event Link – https://esritraining.webex.com/esritraining/onstage/g.php?d=809993323&t=a
Event Number – 809 993 323
Teleconference:
Call-in toll-free number (US/Canada)
1-855-244-8681
Call-in toll number (US/Canada)
1-650-479-3207
Show all global call-in numbers
Show toll-free dialing restrictions
Access code: 809 993 323