We are thrilled to announce several significant improvements to Scene Viewer, designed to facilitate the seamless conveyance of information with enhanced interactivity. These updates include a universal Presentation Mode across platforms and support for pop-up information with Arcade expressions and Related tables.
Explore 3D content in Presentation Mode
Presentation Mode acts as a unifying tool for your communication and storytelling endeavors. It simplifies the process, making it more accessible and user-friendly. A simple click on this icon seamlessly transitions Scene Viewer into Presentation Mode, featuring a streamlined slide ribbon for effortless exploration. Previous modes like full screen and embed were all brought together into one Presentation Mode for a consistent experience.
The introduction of Presentation Mode is only the start of a remarkable journey. The forthcoming enhancements will empower you to showcase and communicate your 2D and 3D content in a more interactive and engaging manner.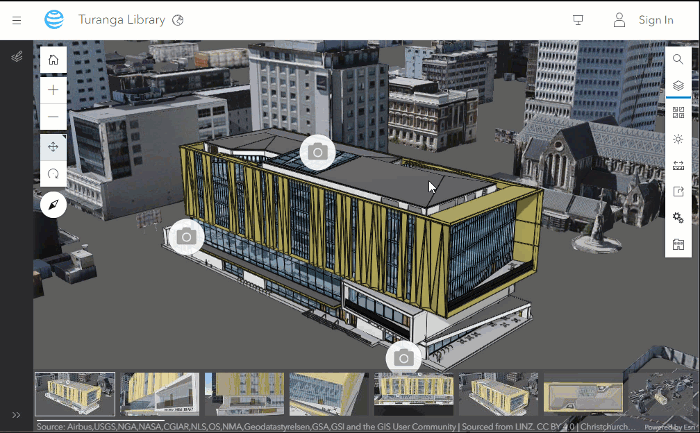 Elevating Your 3D Mobile Experience
Scene Viewer also has a new mobile experience with a modern and simplified user interface – responsive and adaptable. This means you can effortlessly access, share, and present your 3D content while on the move. Our commitment to enhancing your mobile experience doesn't stop there. We are actively dedicated to improving the rendering and performance of Scene Viewer on mobile devices.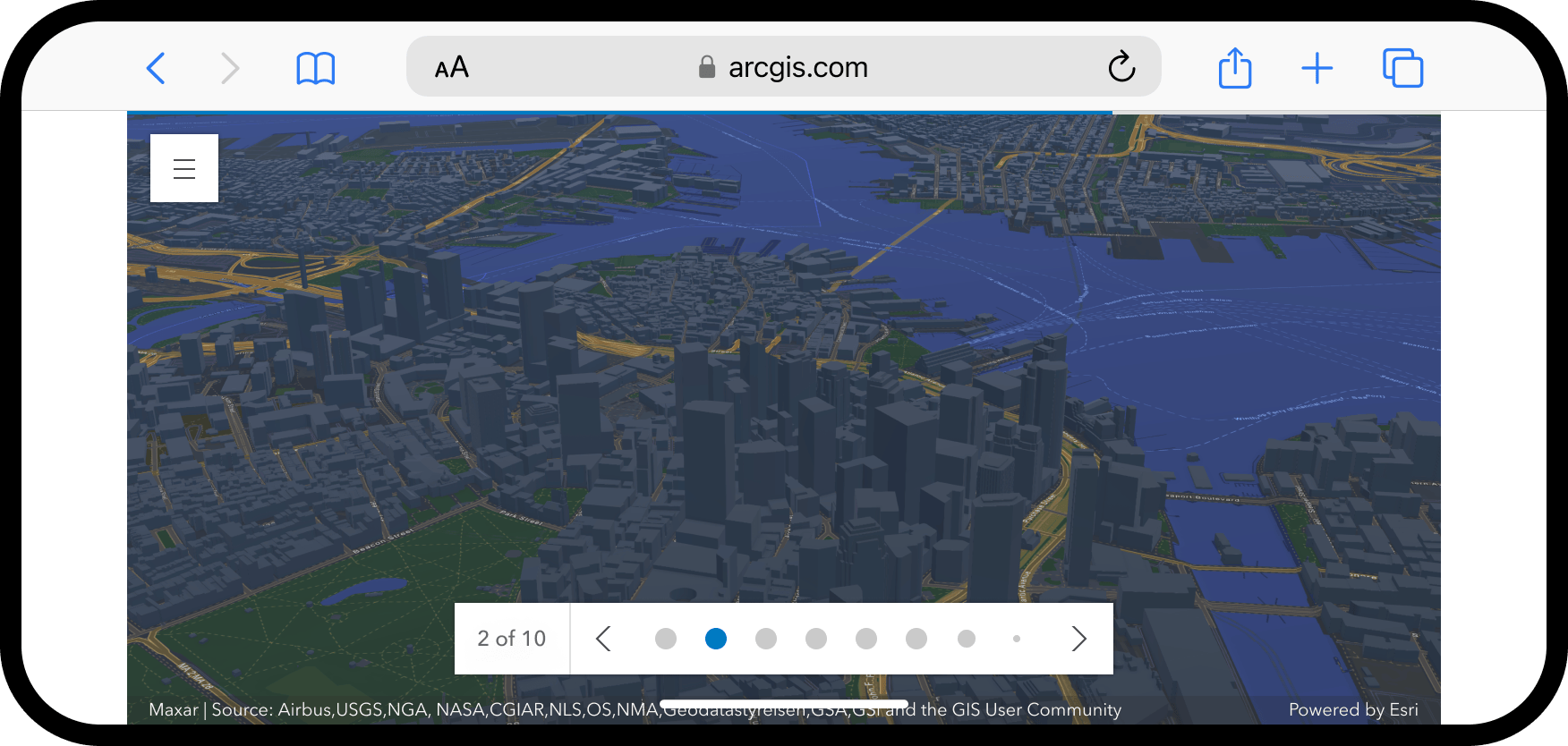 Unlocking the Power of Arcade Expressions in Scene Layer Pop-ups
Arcade, a versatile, lightweight, and secure expression language, has become an indispensable tool for crafting custom content in ArcGIS applications. Much like other expression languages, Arcade excels at performing mathematical calculations, text formatting, and logical evaluations. It also boosts the ability to handle multi-statement expressions, variables, and flow control statements.
With this latest release, we're excited to introduce an exciting new capability – the integration of Arcade expressions into Scene Layer pop-ups within Scene Viewer. This feature allows you to effortlessly perform calculations using layer fields and utilize the results for label expressions or data-driven visualizations.
This addition fulfills a long-anticipated need, as it empowers you to generate data on the fly, even when your Web Scene lacks a specific attribute field. No more tedious editing of source data, adding fields, or permanent value calculations are required. Instead, you can dynamically create and display valuable data within a 3D context, opening up a whole new layer of information. Follow this learn lesson if you'd like to learn more about Arcade.
Elevating Pop-ups with Related Records in 3D Context
For a GIS user, the concept of related records is far from new, but we're thrilled to announce that related records also work with Feature Layer pop-ups since this release.
In ArcGIS, relationships (or relationship classes) refer to associate data with a one-to-many (1:M) relationship. The beauty of relationships in ArcGIS is their ability to bridge different forms of data, creating a richer, more interconnected information:
Layers can relate to other layers: Imagine a streetlight linked to a road, forming an intricate network of spatial associations.
Layers can relate to tables: Consider how a well can be intricately connected to inspection data, offering deeper insights into asset management.
Tables can relate to other tables: Picture a student's academic journey being intricately linked to course grades, revealing valuable educational trends.
These relationships open up a world of possibilities for data integration, analysis, and visualization within your 3D scenes. To delve deeper into the importance and applications of relationships, we encourage you to explore the ArcGIS Pro documentation.
We need your feedback
We encourage you to take them for a spin and let us know what you think. Besides, the public beta features including 3D Model Upload and 3D basemaps remain unchanged for this release. Your feedback is invaluable in shaping the future of our platform. Join the Scene Viewer User Community and be part of the conversation. If you have any further changes or specific additions you'd like, please feel free to share with us!