Ideas submitted to the ArcGIS Ideas Space by the community impact new and existing functionality in ArcGIS Online. They help us here at Esri better understand the new features our users would like to see in ArcGIS Online. With the December 2018 update 8 ideas were implemented. This blog highlights new functionality and their supporting ideas.
1. User types replace member levels as a more flexible way to license ArcGIS Online capabilities and apps
You let us know that the two-level user system could be more granular. You wanted more control over capabilities and levels that aligned with job responsibilities. We heard you, and as a result levels have evolved into 5 user types that allow organizations to tailor the capabilities and apps available to different members based on their working needs.
Read more about this change in the related blog:
What's Coming in ArcGIS Online: Introducing User Types
Related Idea:
Functional Levels in ArcGIS Online
Documentation:
2. Add Barriers to streets when running routing-based analysis tools. This includes the directions widget in Web AppBuilder.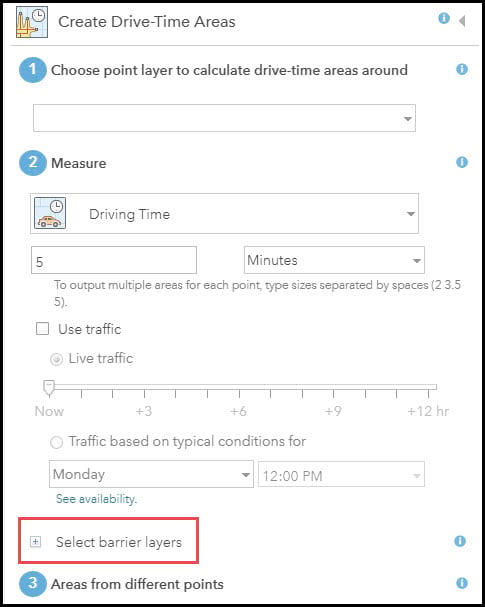 Road closures happen, and we've heard your requests to add layers representing barriers when you're doing analysis. Now when using the analysis tools listed above you'll see the option to specify a point, line, or polygon layer as barriers.
Related Ideas:
Load Barriers in the Directions Widget
Documentation:
What's New > Spatial Analytics
3. Choose to hide attachments from a hosted feature layer view.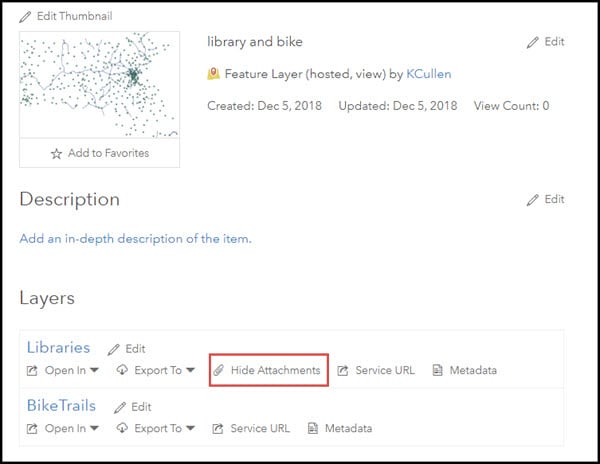 Let's say you've got field workers adding attachments that include sensitive information about ongoing development projects. You want to share the location of the development projects with the public, but you don't want to share the attachments your field workers created.
In the December 2018 update we've added the ability to hide attachments in a view. Simply create a hosted feature layer view of your data and hide attachments by navigating to the item details for the and choose "hide attachments" on the layer.
Related Idea:
Disable Attachments from a Feature Layer View
Documentation:
4. Choose whether a map is available in Collector for ArcGIS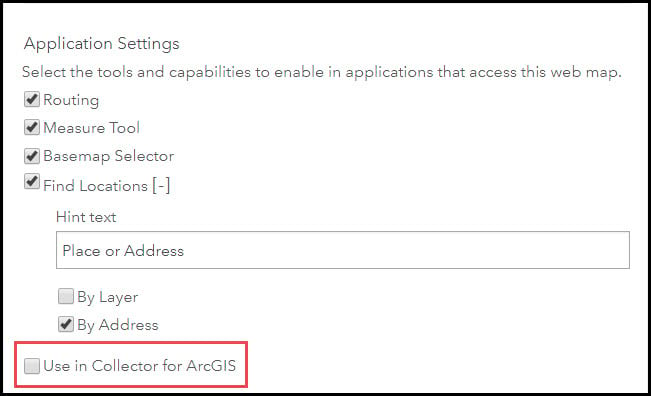 Editable maps exist for a variety of reasons and they don't always need to be visible to users in Collector for ArcGIS. Keeping a small set of relevant maps accessible to your mobile workers can help ensure that the correct maps are being accessed and edited. Now you can prevent editable web maps from showing up in Collector on a case by case basis.
Editable maps are available to be used in Collector by default. If you would like to prevent an editable map from displaying in Collector, you'll need to uncheck the box for "Use in Collector for ArcGIS".
Related Idea:
Allow Web Maps to be Hidden from Collector
Documentation:
5. Dismiss all your notifications in one click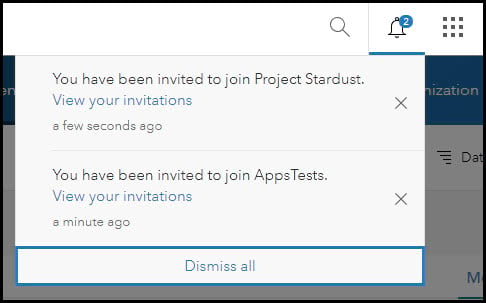 Do you get a lot of notifications? Do you like less clicking? Do you want even more efficiency?
Well, starting with the December 2018 update we've got a fresh new look in ArcGIS Online which includes the ability to dismiss all notifications at once!
Related Idea:
Add a Delete All Notifications button to ArcGIS Online
6. Hide the last edit information from the pop up
When editor tracking is enabled pop ups automatically display information about when the selected feature was last updated. This includes the date and the username who made the update. If you don't want your data editor's names displayed in web map pop ups, uncheck the box for "show when last edited" in the layer's pop up configuration.
Related Ideas:
Disable Editor Tracking Info in Pop-up
Need the Ability to Suppress "Edited by:" Data in the Pop-up of a Web Map
Partially Implemented:
7. Assign an ArcGIS Pro license when sending invitations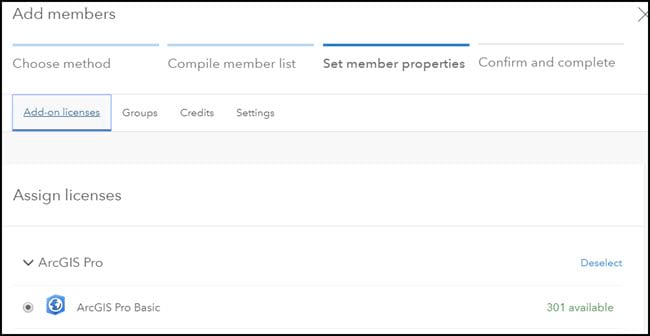 When sending invitations, you'll now see the option to assign add-on licenses in addition to groups, credits, and settings. This enables your users to be ready to log in to licensed applications like ArcGIS Pro immediately, instead of needing for the license to be assigned separately. Stay tuned for when this functionality is added the workflow for joining automatically as Enterprise Logins.
Also, check out inviting a GIS Professional User Type, they come with an ArcGIS Pro License included.
Related Idea:
Assign ArcGIS Pro License when Creating ArcGIS Online Invitations
Thank you for all your contributions and please continue submitting your ideas!
Commenting is not enabled for this article.