ArcGIS Online lets you understand the world around you by using interactive maps to connect people, locations, and data. You get smart, data-driven styles and intuitive analysis tools that deliver location intelligence. ArcGIS Online gives you the ability to make maps and apps to share your insights with your organization or the world. You can use it as a complete, cloud-based solution or to extend and complement the capabilities of ArcGIS Pro and ArcGIS Enterprise.
Don't have an ArcGIS account? See Create an ArcGIS Account.
The March 2022 update includes new functionality in Map Viewer plus other enhancements and new capabilities throughout the ArcGIS Online website. Highlights are provided below.
Quick links
Use the links below to jump to sections of interest.

Map Viewer
Early last year the new Map Viewer came out of beta and has been evolving ever since. Administrators and members are encouraged to configure the new Map Viewer as their primary map viewer to take advantage of the new capabilities and enhancements that are delivered with each update.
Both map viewers are available, and some workflows (such as analysis) require Map Viewer Classic. For help in deciding which to use, see Which map viewer should I use?
The primary map viewer is configured by the administrator in the Map section of the organization settings. Individual members can set their own viewer preference. Both Map Viewer and Map Viewer Classic can be opened via the app launcher regardless of the primary viewer specified.
With this update, Map Viewer has been enhanced with new capabilities and features, including the following:
Flow style
The Flow smart mapping style in Map Viewer allows you to display vector field data in imagery layers using animated streamlines and wavefronts to represent direction and magnitude. It's ideal for displaying ocean or wind currents as waves or streaming lines, in which the direction indicates the direction of flow, and the length, color, and speed of the flowlines (or wavefronts) indicates the magnitude (or power) of the current.
Flow can be combined with other effects and blending to create an expressive animation. For example, you can combine Flow with the Bloom effect to make them pop, or use blending with other layers to add extra meaning.
The animation below shows the combination of two layers: wind direction and speed using the Flow style plus blending to add color based on mean temperature.

For more information, see Map Viewer introduces Flow.
Duplicate layers
You can now duplicate feature layers in Map Viewer, allowing you to configure styling, pop-ups, and filtering based on multiple values in the same map without affecting the configuration of the source layer. Open the Options menu (…) and choose Duplicate layer.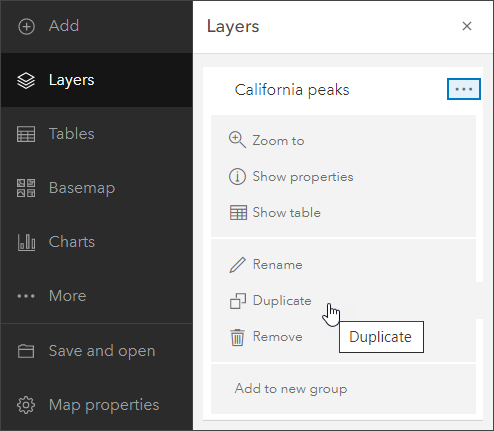 Group layers
Map Viewer now supports nested group layers, simplifying visualization and review of complex data. To create a group layer open the options for any layer or group and click Add to new group or Move to group.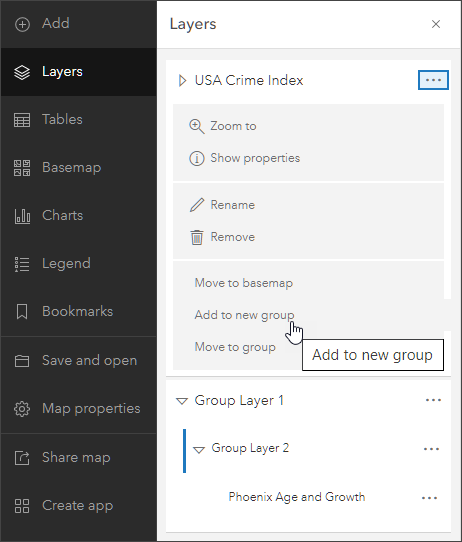 Time options
Time slider options can now be accessed from the options menu (…) on the time slider. They can also be accessed from Map Properties.
Slider options include adjusting time display, changing time intervals, specifying a playback position, and speed of time animation.
Charts
You can now add guide lines, or ranges, to charts in Map Viewer as a reference or way to highlight significant values.
Editing
An improved editing experience for feature layers in Map Viewer includes an enhanced Editor pane and new snapping options.
A new option is available when you create a custom editing form for a web map. You can now build calculated expressions that automatically populate fields in editable feature layers in the web map. Use ArcGIS Arcade to build the expressions that will calculate a value for the field. By automatically populating the field, you save time for editors and enforce data integrity.
Search results
You can now add search results to a new or existing sketch layer in Map Viewer. Search results are saved with the map and each location or feature's style and pop-up can be configured in the sketch layer.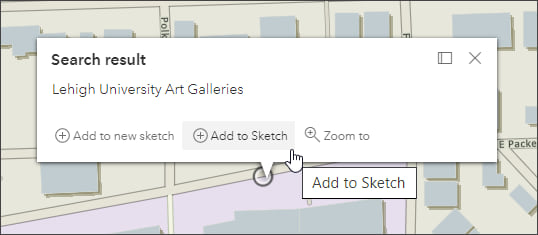 Keyboard shortcuts
Keyboard shortcuts are now available to help you complete common workflows. To view the full list of keyboard shortcuts in Map Viewer, press Alt+?/ on Windows or Option+?/ on Mac.

Scene Viewer
Use Scene Viewer in ArcGIS Online for creating, viewing, and exploring 3D scenes.
A voxel scene layer represents multidimensional volumetric 3D or 4D data in Scene Viewer and ArcGIS Pro. Use voxel layers to access and explore volumetric data about the world and better understand conditions that you can't physically experience.
You can now add voxel scene layers to local scenes in Scene Viewer. You can visualize atmospheric or oceanic data, geological underground models, or space-time cubes using voxel scene layers.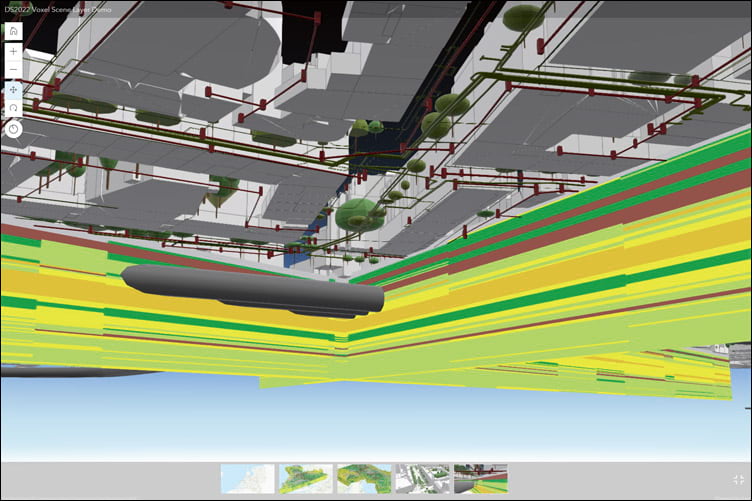 For more information, see What's New in Scene Viewer (March 2022).

Home page
If you have not yet updated your home page or asked for an extension, your legacy home page will be automatically switched over to the new home page editor with this update. Administrators can still request an extension and revert to their legacy home page if they need more time to create a new home page. For more information, see Still using the legacy home page? For help and tips for using the new editor to design and create a great home page, see Create a great home page for your organization.
Links 
With this update, you can now include images with links on your organization home page. Images add visual emphasis to links and allow you to quickly create content that resembles a gallery, without having to create items and share them in a group.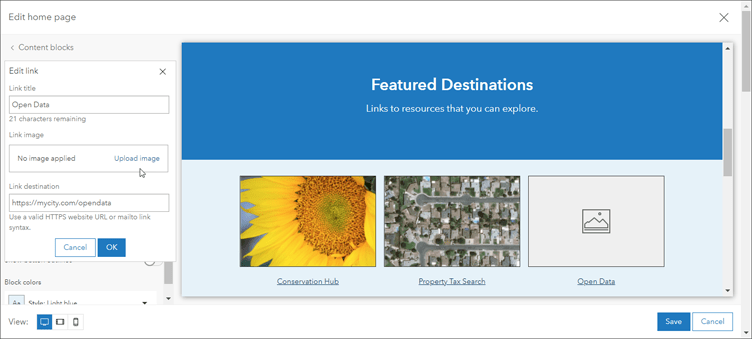 ArcGIS Instant Apps
ArcGIS Instant Apps are the latest generation of configurable apps, featuring a streamlined experience that lets you build apps quickly and easily using express setup mode, or you can switch to full setup mode to select additional tools and settings.
All Instant Apps are available via a searchable gallery that can be opened in several ways:
From the Overview tab for a map or scene item, click Create Web App and choose Instant Apps.
From Content, click Create app then choose Instant Apps.
Using Map Viewer or Scene Viewer, click Create app in the Content (dark) toolbar, then choose Instant Apps.
Using Scene Viewer, click Create app in the Designer toolbar, then choose Instant Apps.
New 
Exhibit is a new Instant App. Introduced in beta with the December 2021 update, it is now fully released. It delivers a sequential presentation that you can use to tell a story using interactive slides with different map extents and other settings.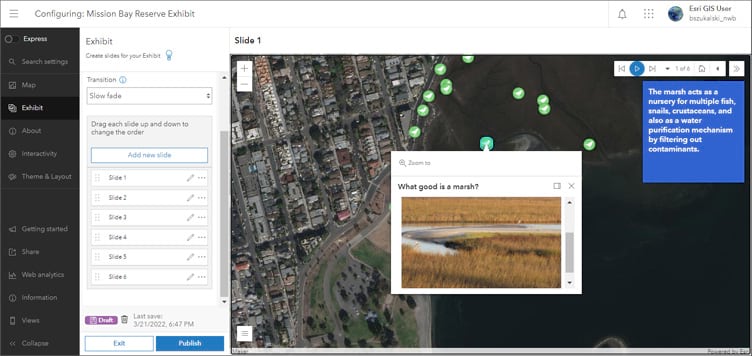 Slides can be created during app configuration or imported from bookmarks in your map. Each slide can store unique layer visibility settings, basemap changes, and pop-up status. You can apply filters to layers in each slide and can take advantage of sketch layers in your Exhibit. Exhibit is the Instant App replacement for Map Viewer Classic presentations.
Updates
Portfolio offers two new app layouts along with support for adding web pages as content. Portfolio is a good choice when you want to showcase a collection of content, or when you want to showcase different types of content all in one place.
Countdown now supports layer effects to features in a countdown or leaderboard list. Countdown is a good choice for displaying a list of locations in a map that can be ranked by values from a field of your choice.
Chart Viewer has been extended to allow for the display of up to three charts at once alongside the map. Chart Viewer is a good choice when you want viewers to explore your map alongside interactive bar charts, histograms, line charts, and scatter plots related to your data.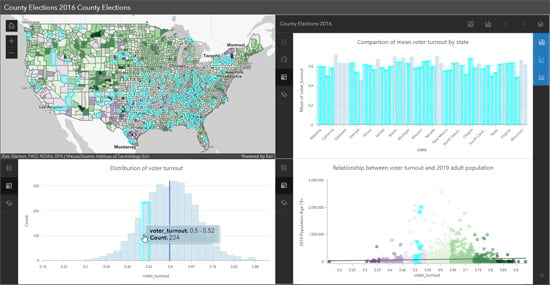 Sidebar includes support for new tools, including a basemap gallery and snapping while editing. Sidebar is a good choice when you want to present a set of tools and options that appear alongside the map and allow viewers to interact with and update data.
Nearby and Zone Lookup now support printing the map and search results to a PDF file. Nearby is a good choice when you want to guide viewers to places of interest in your map based on an address location they search for, or their current location. Zone Lookup is a good choice when you want to enable viewers to search for an address or use their current location to identify locations that are within a specific zone or region.
3D Viewer adds a weather visualization tool to support viewing different weather types. 3D Viewer is a good choice when you want to showcase your scene with essential 3D navigation and exploration tools.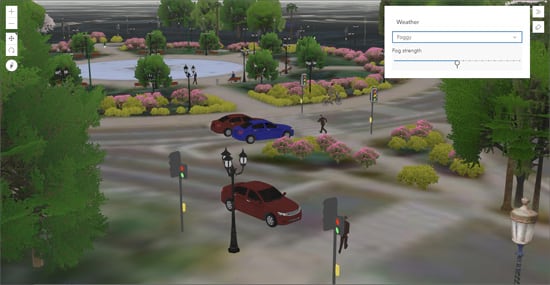 Attachment Viewer has a new setting that allows you to update feature attributes on editable layers. Attachment Viewer is a good choice when you want to enable viewers to explore images and other media (videos, PDF, and files) stored as feature attachments.
For more information, see What's new in Instant Apps.

ArcGIS Dashboards
ArcGIS Dashboards enables users to convey information by presenting location-based analytics using intuitive and interactive data visualizations. Dashboards are used to help make decisions, visualize trends, monitor status in real time, and inform their communities. With the March 2022 update, ArcGIS Dashboards includes several new capabilities and enhancements.
You can now choose where to add elements on your dashboard using the add element option on the toolbar and selecting a location on your dashboard's layout.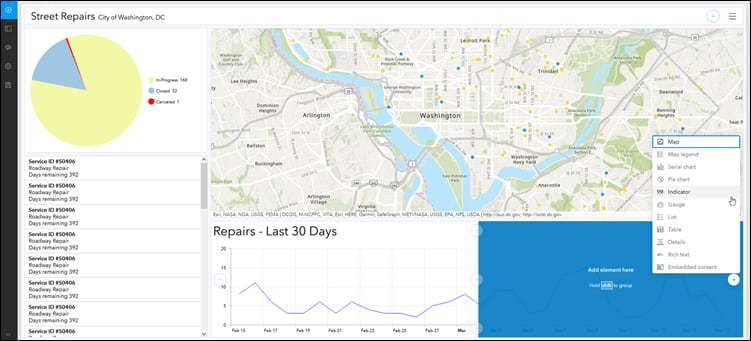 Additionally, action configuration has been enhanced to be more intuitive by displaying all possible actions for an element and allowing users to enable the ones they want. Other updates include a new color picker, a new user interface for element configuration, and the availability of an ArcGIS Dashboards Accessibility Conformance Report (PDF).
For more information, see What's new in ArcGIS Dashboards.
ArcGIS Dashboards Classic retirement
At the September 2022 update of ArcGIS Online, ArcGIS Dashboards Classic will retire. Currently all the functionality in ArcGIS Dashboards Classic is supported in the new ArcGIS Dashboards, except for the Follow Feature action. It is strongly recommended that all ArcGIS Dashboards Classic users move to the new ArcGIS Dashboards.
For more information, see ArcGIS Dashboards Classic is retiring.

ArcGIS Experience Builder
Use ArcGIS Experience Builder  to build modern mapcentric or non-mapcentric web apps and webpages without writing any code. Engage your audience through compelling web experiences on any screen size. Start from scratch or choose from an extensive library of templates that you can easily customize. Add advanced functionality with widgets you can drag, drop, and configure. Enjoy fully flexible layout options to build any web experience for any purpose.
Two new widgets are available in ArcGIS Experience Builder. Directions calculates routes between two or more stops. Draw allows you to create graphics for points, lines, and polygons on the map. Other enhancements include support for two dimensional lists, the ability to format numbers in dynamic content expression, and more.
For more information, see What's new in Experience Builder.

Sharing and collaboration
Two new privileges—Reassign content and Receive content—allow organization members to transfer content between them. Organization members can reassign content they own to other members without having to ask an administrator to perform the change. Learn more about transferring content.

Data management
Owners of hosted tiled imagery layers can export the layer to a tile package.

Accounts and administration
Organize members using categories
ArcGIS Online organizations can set up hierarchical categories for organizing members according to characteristics such as department, location, and expertise. Administrators can use these member categories to filter the list of members when performing member management tasks. Learn more about member categories.
Email verification
Organization members and other users with ArcGIS logins may be prompted to verify their email address when signing in. Verifying that email addresses are valid helps ArcGIS Online users and administrators receive critical information from ArcGIS Online, such as password resets and account changes. For more information, see Verifying your email address in ArcGIS Online.
Administrative reports
The experience for creating and scheduling administrative reports has been improved, including a new link for accessing report field details on the Reports page. You can also delete reports directly on the Reports page, and feature storage and file storage sizes are now reported in megabytes (MB) in item reports. For more information, see View and report status.
More information
For more information and additional details about this release, see the What's new help topic or view all posts related to this release.
For other information, see the ArcGIS Online blog articles and ArcGIS Online at the Esri Community.
For news, updates, and information about other products, see the ArcGIS Blog and product resources at the Esri Community.
Commenting is not enabled for this article.