We are excited to announce the introduction of exclusive visibility, a powerful new feature in Map Viewer that improves the way you interact with group layers. Say goodbye to taking multiple steps to enable or disable layer visibility, as exclusive visibility makes workflows more efficient using convenient radio buttons.
Traditionally, when working with group layers in Map Viewer, you may have had to individually enable or disable the visibility of layers within the group. With exclusive visibility, this workflow is now more simplified and efficient. Instead of toggling each layer's visibility separately, you can now select a single layer within the group to display on its own by clicking the radio button beside the layer. When a layer is selected, all other layers in the group are automatically hidden, ensuring focus on one layer at a time and promoting a smoother mapping experience.
This allows you to experience a more user-friendly, engaging, and personalized exploration of your data, layer by layer! With exclusive visibility, you can intuitively control and focus on individual layers in a group, including nested groups.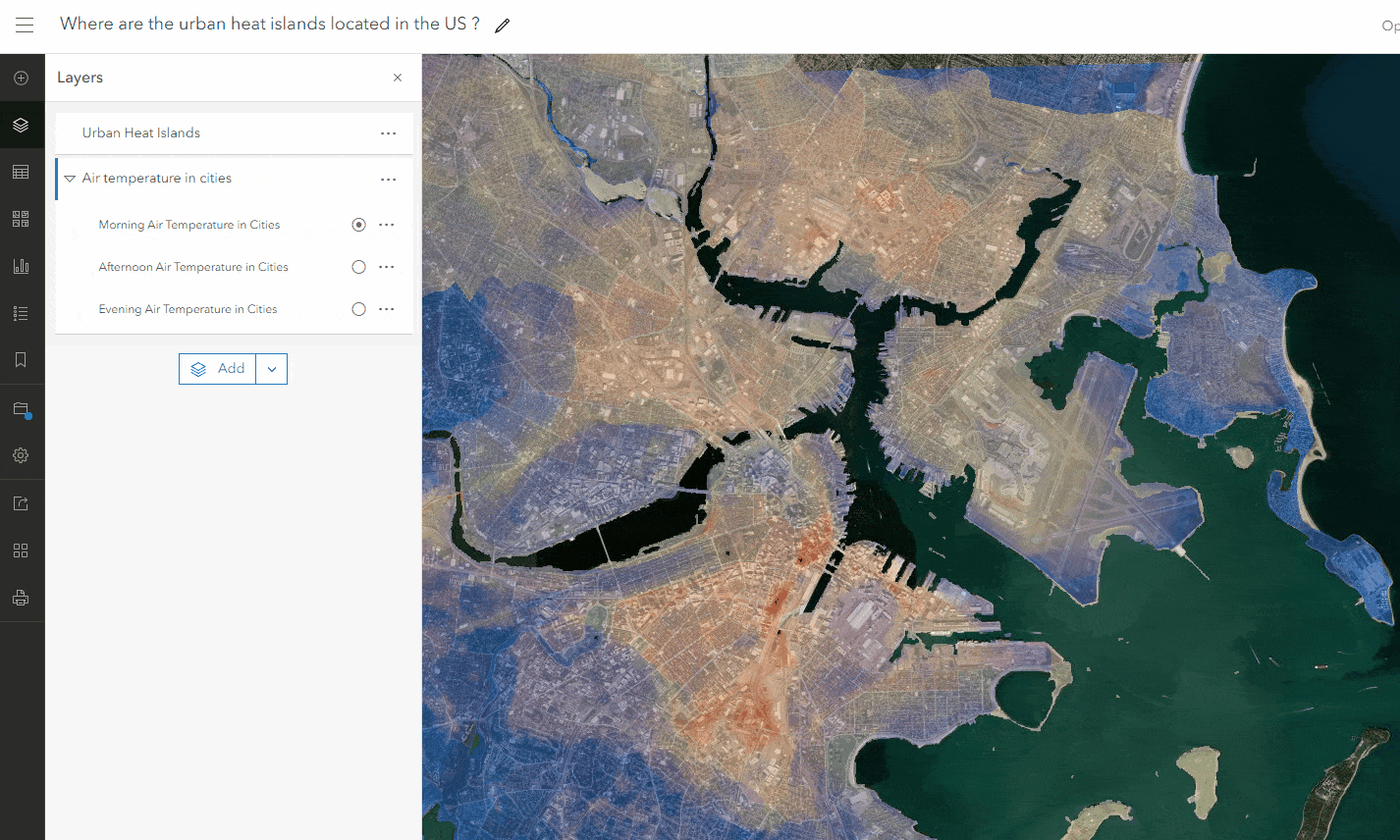 How to create a group layer?
You can author and organize group layers in Map Viewer, enabling a more structured and meaningful representation of your spatial data. Let's begin with revisiting the workflow to author a group layer in Map Viewer.
Browse layers to add datasets.
Open the Layers pane and click Options for the layer.
Select Group to add a layer to a group.
Add layers to the group by dragging them or by clicking the Options menu for a layer and selecting Move, followed by the group name.
To change the default name for the group, click Options and select Rename to type a title that adds more context.
To undo the grouping, and explore layers individually, click Options for the group and click Ungroup.
Group layer example:
Here is an example of a web map authored to visualize urban heat islands in the United States. The "Air temperature in cities" group layer contains three individual layers that depict the temporal patterns of air temperature throughout the day. Grouping the layers together, you can analyze and compare the air temperature fluctuating over time in urban areas.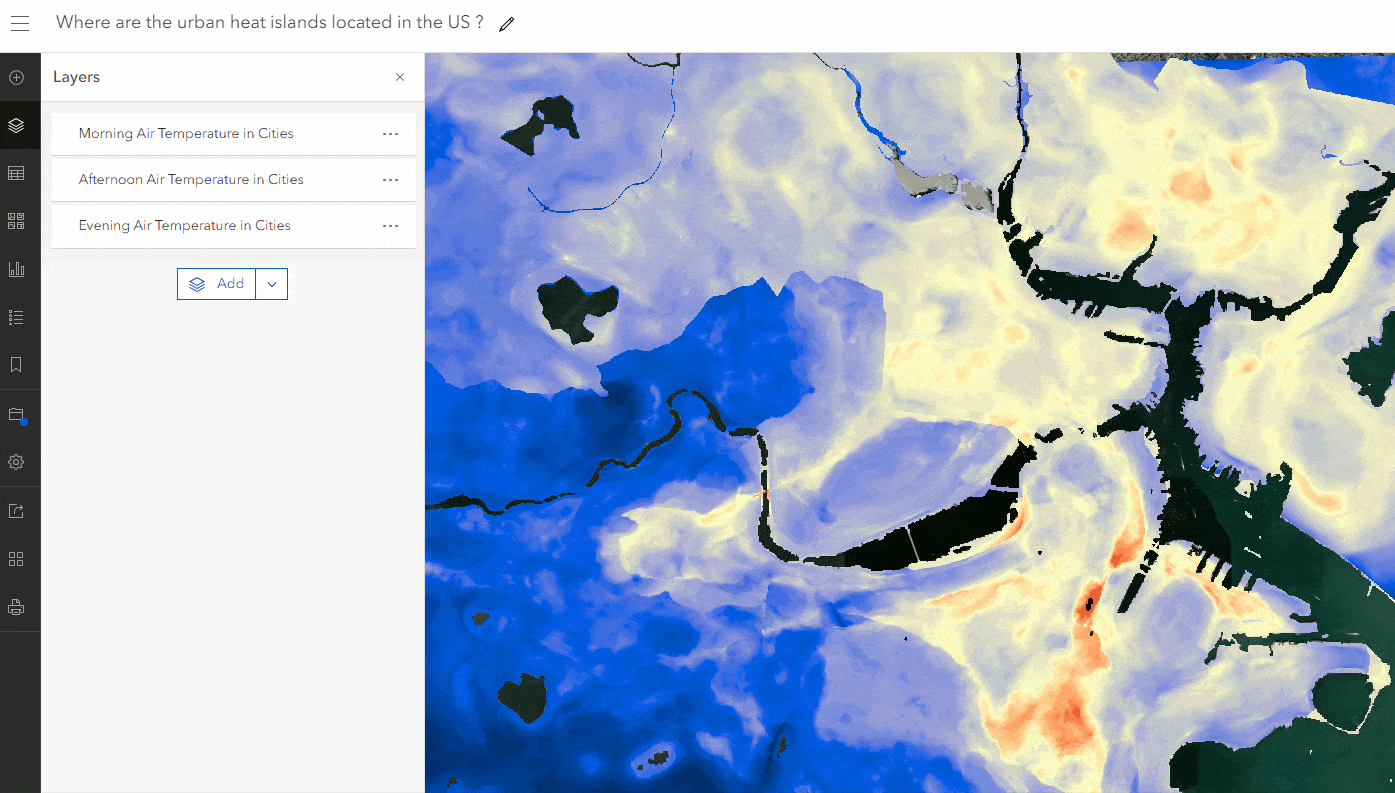 The power of exclusive visibility
Previously, interacting with layers within a group layer was limited to turning layer visibility on or off. This workflow could be time-consuming, especially when dealing with web maps that contain numerous layers.
With the improved capability of exclusive visibility, you can now engage with layers more efficiently, enabling a richer exploration experience in Map Viewer. Without having to hide other layers, you can now drive a dedicated interaction with layers using the radio button.
In the urban heat island example shown above, with the power of exclusive visibility, you can now dynamically switch between the three air temperature layers. This enhances the narrative of each layer, telling its unique story within the context of the group layer.

To enable exclusive visibility for a group layer, do the following:
Select the group from the Layers pane and open its Properties pane.
In the Properties pane, scroll down to Visibility and turn on the Exclusive visibility toggle button to interact with one layer at a time.

Once this capability has been enabled for a group, the Layers pane displays a radio button next to each layer. You gain more control over which layer within the group is visible on your map.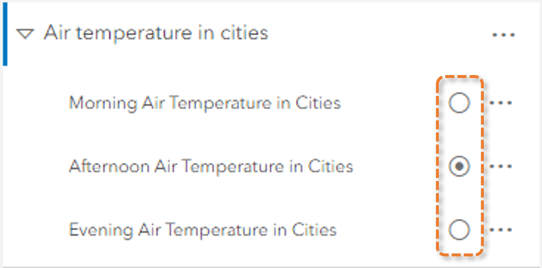 Exclusive visibility support in ArcGIS apps
The excitement does not end with Map Viewer—immersive user engagement with group layers can also be leveraged in ArcGIS Instant Apps and ArcGIS Experience Builder applications. You can now harness the power of web maps configured with exclusive visibility across web browsers and mobile devices.
As shown in the example below, the layer list configured in an ArcGIS Experience Builder application supports and honors the exclusive visibility feature, just as you see in Map Viewer!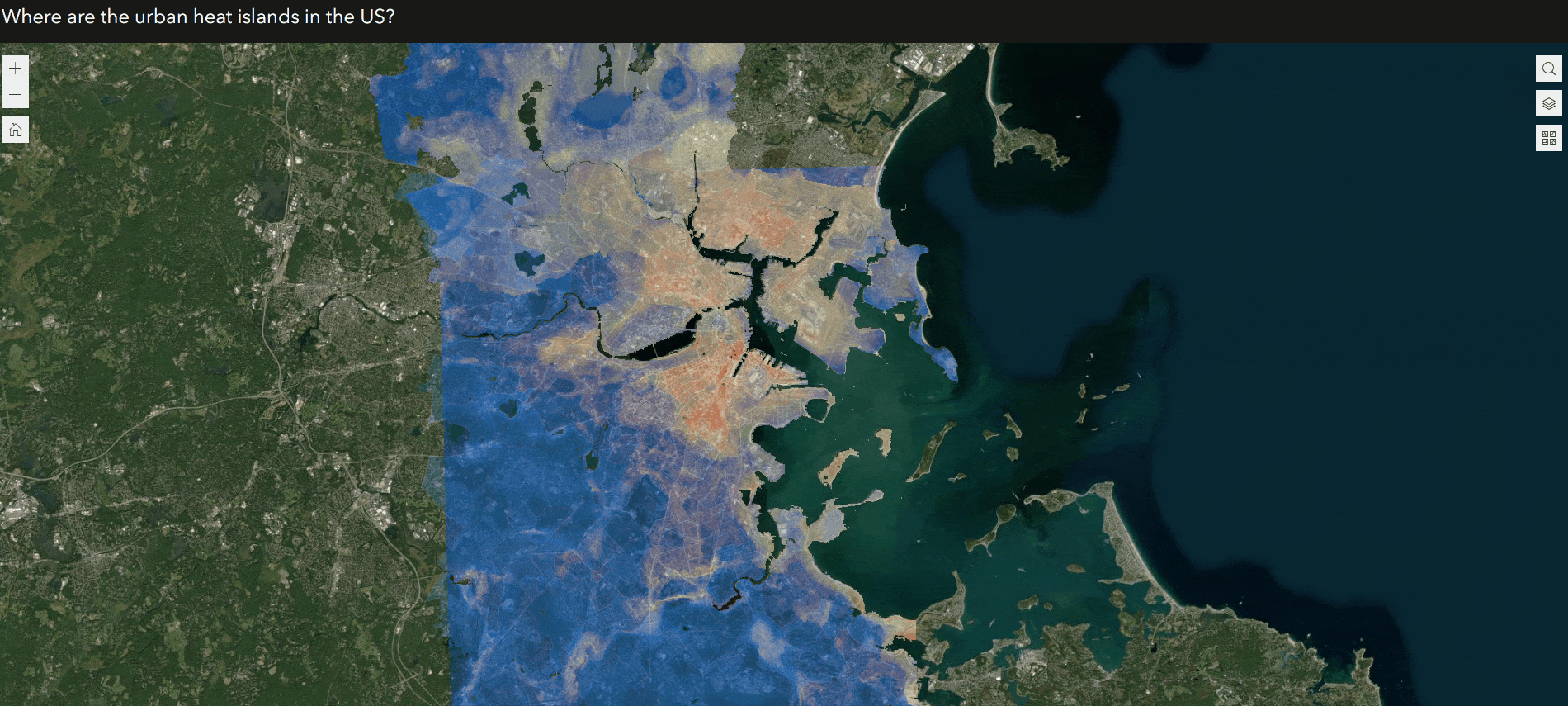 The ArcGIS Field Maps and ArcGIS Pro teams are working towards incorporating support for this capability in future releases! Web maps configured with the exclusive visibility setting will be supported in ArcGIS Field Maps. In ArcGIS Pro, users will soon be able to configure exclusive visibility for group layers while sharing a web map, and also honor the setting for web maps authored in ArcGIS Online.
Note: Map Viewer Classic and ArcGIS Web AppBuilder do not support group layers.
Learn more about group layers: