Charts in pop-ups provide a visual and meaningful way to display numeric attribute information. You can add pie charts, bar charts, column charts, and line charts.
Bar and column charts are best used to show data in discreet categories. Spaces between the elements separate the values, and typically there is no inherent order (but there could be). Line charts can be used to show change over time, or a progression. The chart implies an inherent order, moving from left to right. Pie charts are effective for showing the parts of a whole. All of the attributes shown in the pie should add up to %100.
To follow along with the examples shown below, use the sample map that contains the configurations.
Add charts
You can add charts to your layer pop-up in two ways; configuring the layer in your web map, or (if you own the hosted feature layer) by configuring the layer using the Visualization tab on the item pages. In this example, we'll configure the layer in a web map. See Pop-ups: the essentials for more information.
Step 1 – Open the layer options.
Hover over the desired layer, and click More Options (…).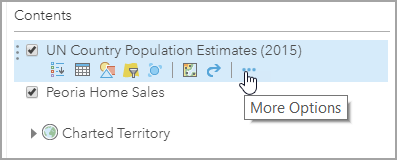 Step 2 – Choose Configure Pop-up.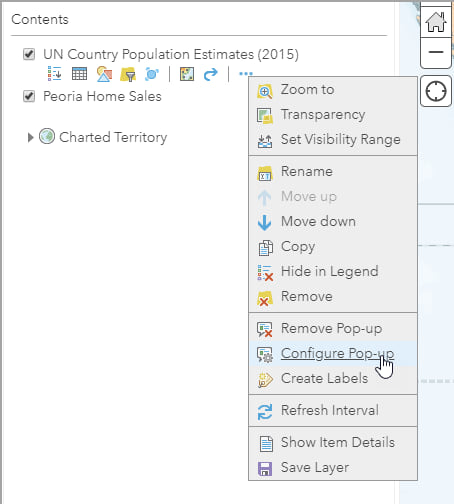 Step 3 – Add a chart.
Configure the pop-up as desired. See Pop-ups: the essentials for more information.
In the pop-up configuration panel, scroll down to the Pop-up Media section, click Add, and choose the chart type.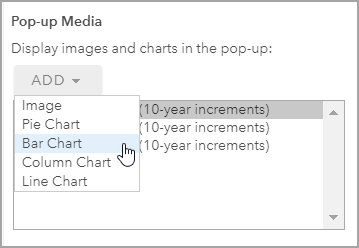 Step 4 – Configure the chart.
While each chart is different, the chart configuration panel is similar for each chart type.
4a – Choose a title for the chart (optional).
4b – Enter a caption for the chart (optional).
4c – Choose the fields whose values will be used to populate the chart.
4d – When finished, click OK and apply your layer configuration settings.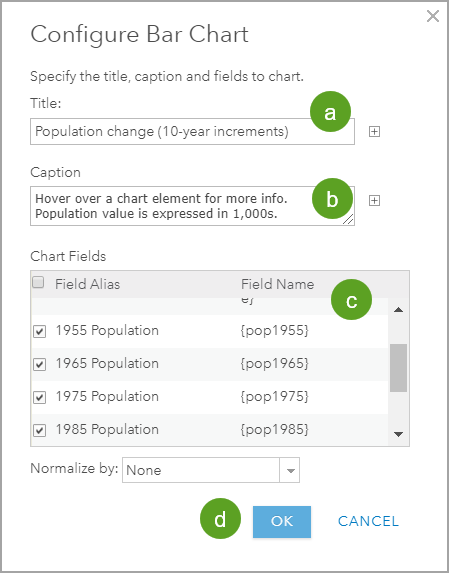 Examples
In the sample web map you can view the chart types, and how they have been configured. Click Modify Map, or save the map to your account, to view the chart configurations, or modify the charts.
The World Population layer includes bar, column, and line charts to show the changes in population in 10-year increments. The Home Sales layer uses a pie chart to show the relationship of lot value and improvement value as it pertains to the total assessed value of the property.

More information
For more information see:
This post was originally published on March 23, 2011, and has been updated.
Commenting is not enabled for this article.