For a while now, many of you have been asking us to make it easier to create a feature layer from a group of geotagged photos. Well, I am pleased to announce that we did just that.  ArcGIS Online now supports publishing a ZIP file that contains photos with location information (geotagged photos with EXIF location information).  If you have JPEG files (like photos of art installations around your community) that contain standard EXIF GPS metadata, you can publish them as a feature layer from the Add Item button in My Content. This creates a feature for each photo, with the photo getting stored as an attachment for the new feature.
Once you've published the feature layer, what you do next is up to you.  If all you need is to see the points on a map and to click a point to view the photo, then you're pretty much done.  For many, though, creating that initial dataset is just the start of a bigger workflow.
Even though a picture is worth a thousand words, most likely you'll want to add a field or two and maybe some domains, and then start to fill in more details.  Depending on what you're doing, there may be enough information in the photo to fill in all or most of the attributes. In other cases, you might need to send someone from your team back into the field for additional investigation.   You could also choose to leverage the Photo Survey solution to really tailor and streamline the data attribution.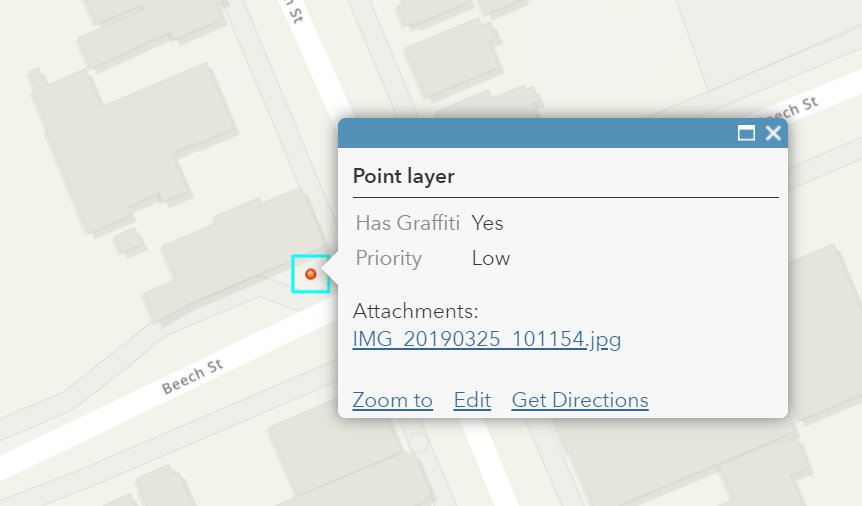 Photos surveys can be a very efficient form of data collection, especially when you're trying to assess the condition of something.  It is can be faster to drive/walk/ride and passively "image" your assets and then review and attribute them in the comfort of the office.  This can allow the work to keep moving on days when field work is difficult or not feasible due to weather. You can reduce your health and safety risk exposure by spending less time in dangerous areas.
For example, a late fall photo survey for graffiti around the city can allow you to prioritize work over the winter months in time for spring.  Staff can review the photos online and attribute them with the benefit of a full keyboard at their disposal and have that assessment completed by the time temperatures are more conducive to pressure washing and painting.
This is an area we want to grow in functionality over time to meet more of your photo survey needs, so be sure to reach out and share your ideas. Some ideas we've already received are:
Automatically extracting certain image metadata fields and adding them to the feature's attributes
Support for cloud drives
The ability to add new photos and snap them to existing features
If you're looking for more detailed steps to get started, don't forget to check out the documentation for more information.
Commenting is not enabled for this article.