There are a variety of ways that you can organize content you frequently use, or gather maps and layers that you are using for a project and want to keep readily accessible. Groups are one way to organize items, categories and tags are others. But favorites are an even easier way way to keep tabs on frequently used items, and have them just a click away. Think of favorites as way to earmark your most useful, or most used items for easy access.
My Favorites – your favorite collection of content
After you sign in, you will find My Favorites by clicking Content:

Then click My Favorites to show your current favorite items.

If you've not yet added to your favorites, you will see an empty gallery with instructions.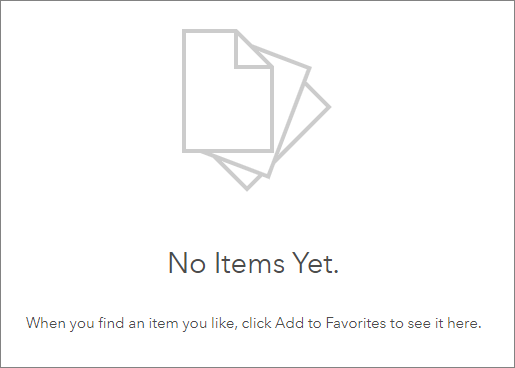 Adding items to My Favorites
To add to your favorites, go to Content or use Search to locate items, and in the table, list, or grid view look for the star, and click.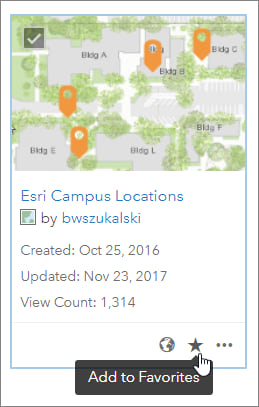 All item types are supported – maps, layers, apps, scenes, tools, and files. To remove the items, go to My Favorites and click the star again: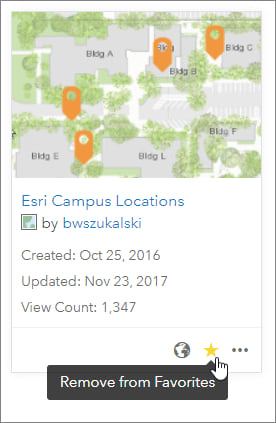 You can also favorite items you find via the Living Atlas website. Browse for Living Atlas content, then just like above, click the star to add to favorites.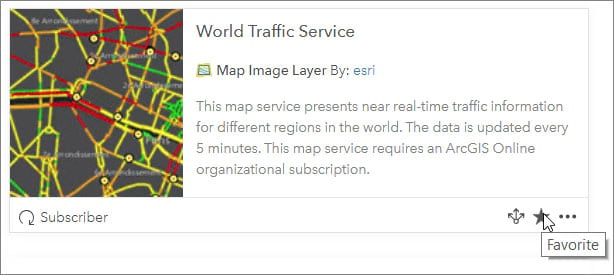 Using favorites to streamline map authoring
You can use your favorites to streamline your workflow when authoring maps. Favorite the layers you frequently use, or are using for a particular project, and they'll be easily found.
While authoring a map using Map Viewer, click Add, then Search for Layers:
Then choose My Favorites: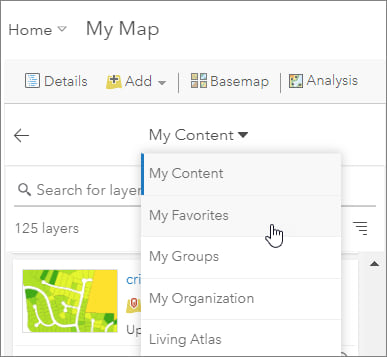 You will have a handy list of layers just a click away from your map.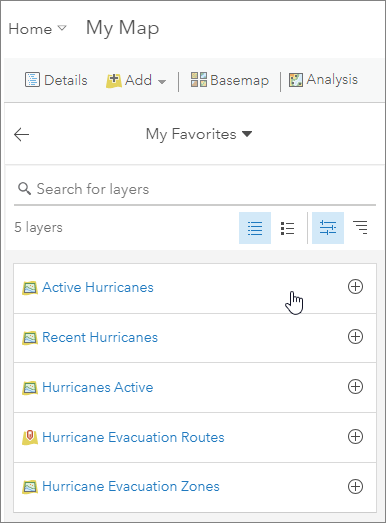 More information
For more information see Search for layers and Find and work with content.
Commenting is not enabled for this article.