The Portfolio (beta) app is a new web app that provides the ability to showcase and navigate multiple items from ArcGIS Online. The app can be used to showcase maps, scenes, and web apps centered on a topic or location. Portfolio uses the ArcGIS API for JavaScript 4.x, which includes support for newer functionality from maps made in Map Viewer and other 4.x apps like ArcGIS StoryMaps and ArcGIS Dashboards. The app offers Auto play and Preload options for navigating through sections, along with the ability to set a location for all maps and scenes. Portfolio also includes a navigation bar to sort and list the sections that have been added to the app.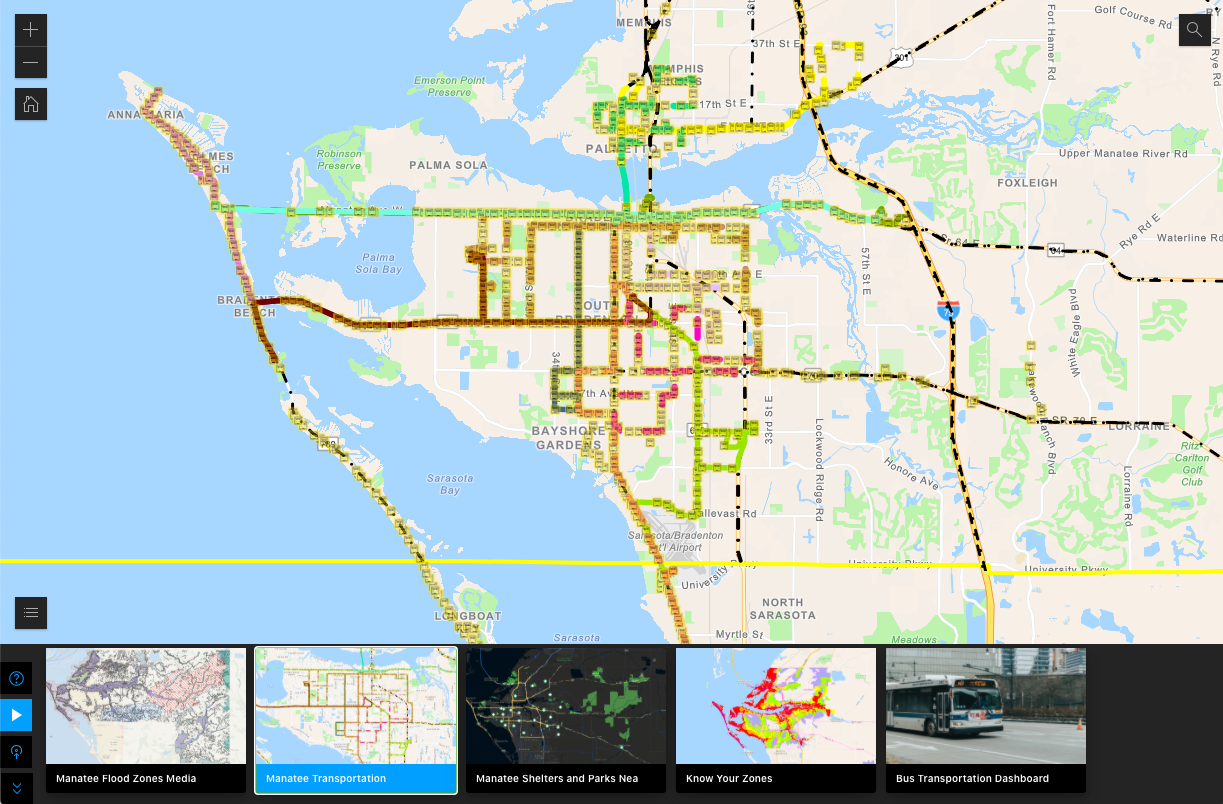 Portfolio is a multipurpose app with a variety of use cases, including a research project based on a specific topic. The Portfolio app can be used as a presentation method to display the results from a project. Another example of how a Portfolio app can be used is in emergency management situations. During an event or emergency, there can be a variety of information products centered on one location. This can include a map forecasting weather patterns, a web app identifying nearby shelters, or a map showing evacuation zones. Portfolio centralizes these items in one location, making the information easily accessible and available in one place. The app is also designed to be viewed on mobile devices. Portfolio will automatically adjust based on the device being used to view it.  
Adding 
s
ections in Portfolio 
Once a Portfolio app is created, the configuration panel will open. In the configuration panel there are two options for configuring the app: Express setup and full setup. The first step in Express setup is selecting items to display in the navigation bar by either searching for an ArcGIS Online item or adding a URL. In full setup, the options for adding an item is in the Portfolio tab in the left action bar. For each item added, three options will appear:  
Item name: This will be used as a title for a section in the navigation bar.

 

Item Description: If the item already has a description set 

o

n the item details page

,

 that 

description 

will automatically be copied over. Otherwise, there is the option to add a description of an item. The description will be available when selecting a section in the navigation bar.

 

Thumbnail URL: This will be the associated thumbnail for a section used in the navigation bar. If an item already has a thumbnail set 

o

n the item details page, that thumbnail will automatically be copied over.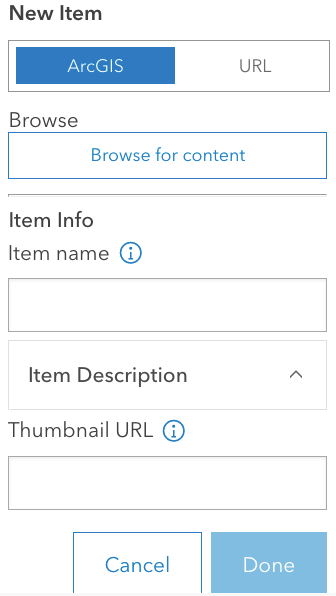 Currently, Portfolio supports items hosted in ArcGIS Online, including web maps, web scenes, Instant Apps and Configurable Apps, Dashboards, Web AppBuilder apps, Experience Builder apps, and StoryMaps stories. If unsupported content is added via URL, an error message will appear in the configuration panel.  
New options for displaying content
The layout for the Portfolio (beta) app includes a main stage for apps, scenes, and web apps, along with a navigation bar. The navigation bar is a hub for the sections that are added to the Portfolio app along with some tools available in the app. In Express setup and full setup, there is an option to have the navigation bar open upon load of the app. With that setting enabled the navigation bar will showcase the sections in an app for users initially accessing the app.  
For the April 2021 update, there are a few featured settings available in full setup to consider for displaying content, including the following: 
Location: This option allows users 

working with the app to enter 

a

 location 

to which the

 

map and scene section

s

 

will

 navigate upon 

initial 

load. 

After enabling this tool, a 

widget will appear in the navigation bar to open a search window for entering a map location. 

For example, if a real estate agent is putting together a set of web maps that feature data for school districts, walkability

 in an are

a or average

 

household income, they could use this setting to search for a specific address or region for each map to open to.

 The user of this app would not have to navigate the maps to find a specified location because the

 maps would use the address from the Map Location setting.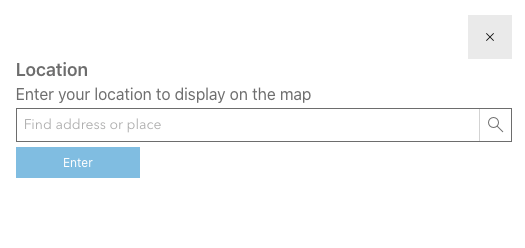 Auto

 P

lay:

 By enabling 

A

uto

 P

lay, sections will automatically play in a continuous loop. 

A

uto

 P

lay 

includes 

an option to determine the 

number

 of seconds

 that 

A

uto

 P

lay will stay on one section before 

advancing to

 the next.

 The play button 

for starting 

A

uto

 P

lay 

is located in

 the navigation bar.

 This is helpful for showing a series of maps or apps when the user isn't navigating through the sections, like at a conference or Emergen

cy Operations Center.

 

Preload:

 Use this option to ensure that

 once a section is loaded in the app it will stay preloaded. When navigating to a section with the 

P

reload setting, sections should not be reloaded and should open quickly. 

This is helpful when showing a series of complex maps, like when presenting to a large audience. This way you can ensure all of the maps and data are loaded before you begin to present.

 
After enabling settings like Auto Play or Location, they will appear as tools that you can enable in the navigation bar. Below is an example of the settings being used in the app: 
Sample Portfolio App
Explore this related blog to identify some differences in use cases between the Portfolio template and the StoryMap Series app:
Upgrade your classic Map Series binders using the new Portfolio app – https://community.esri.com/t5/arcgis-storymaps-blog/upgrade-your-classic-map-series-binders-using-the-new-portfolio/ba-p/1046947