In 2014, Esri launched the next generation of Tapestry Segmentation.  It made a big splash, garnering the attention of major publications such as Time, the Wall Street Journal, Huffington Post, the New York Observer, Esquire, and many more.
The 2014 vintage represents the next generation of Tapestry Segmentation, taking us into the next decade.  The new system accurately details the demographic trends being seen in the U.S. today, such as reduced income and asset levels, lower home values, and increased diversity and includes 27 more segments and 2 new LifeMode summary groups.
Esri extended access to the 2013 Tapestry Segmentation Area Profile to enable users to identify changes to individual areas and pinpoint shifts to new Tapestry segments. For example, the reports below show an area of Chicago where a brand new Tapestry segment is represented.  In the Tapestry Segmentation Area Profile (2014) report you can see that Metro Renters and Laptops and Lattes segments are still dominant; however, a new Tapestry segment known as Golden Years is migrating into the area and now represents a small percentage of the population.  This change may provide additional revenue opportunities for businesses and push the local government to offer different types of services.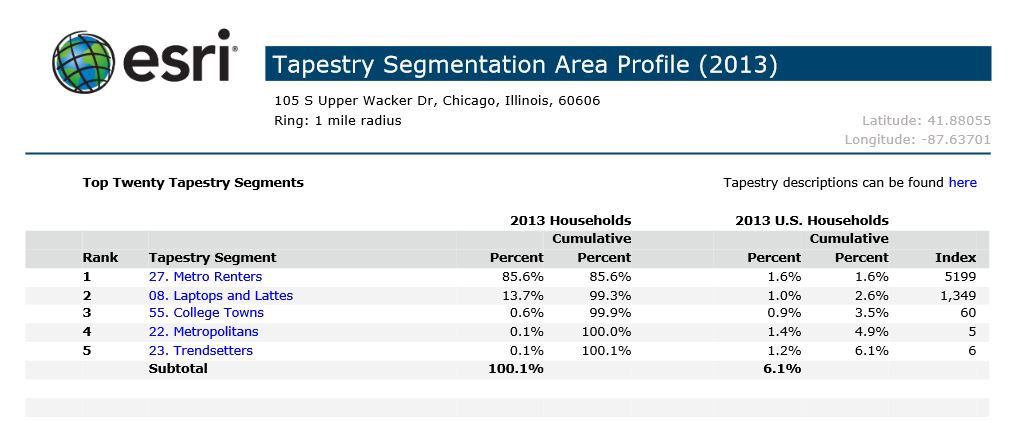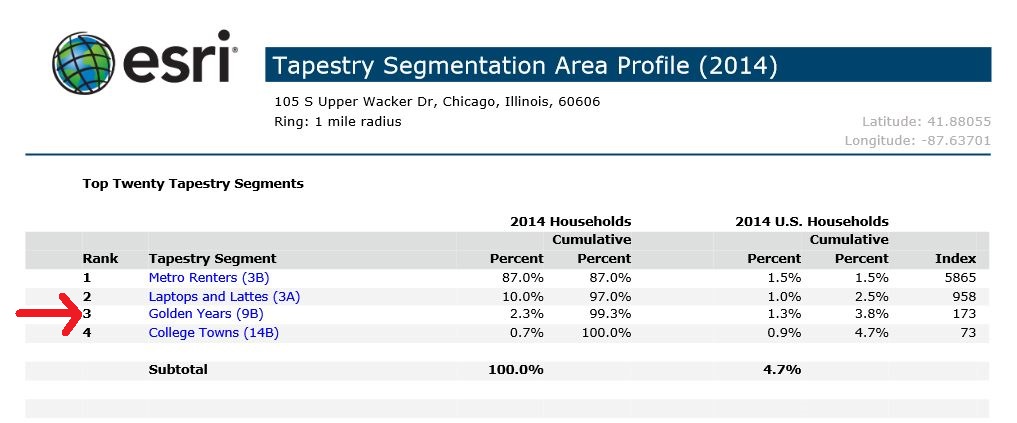 Please be aware that the 2013 Tapestry data and the Tapestry Area Segmentation Profile (2013) will be retired from premium apps such as Business Analyst Online and Community Analyst at the end of April.  Don't miss your remaining opportunity to run the 2013 data for areas that you want to compare to the current Tapestry data.
For more information about Tapestry, please visit http://www.esri.com/landing-pages/tapestry.