Using ArcGIS Pro from the Cloud?  Looking to more easily render complex 3D projects on lightweight client hardware?  Would you like to use ArcGIS Pro on your iPad?  ArcGIS Pro offers so many features and abilities, and you no longer need to be constrained by older or less contemporary in-house hardware.
It is a well-known fact that ArcGIS Pro, while state-of-the-art, is also resource intensive.  It was designed to give the GIS user a comfortable and performant environment to create, visualize, and share 3D content.  To do so delivers the challenge….  How do we deliver ArcGIS Pro and its capabilities to users from lighter weight clients such as a laptop, or a tablet?  The starting point is the system requirements link listed below.  These requirements are tested and implemented to bring the best user experience possible.  We constantly re-evaluate these requirements as hardware advances and ArcGIS Pro evolves.
https://pro.arcgis.com/en/pro-app/get-started/arcgis-pro-system-requirements.htm
Virtualization, both On-Premises and from the Cloud is a continued area of growth.  In San Diego at the 2019 Esri User Conference users shared various stories about ArcGIS Pro implementations and needs from the Cloud.  In addition, in my own interactions with users, I continue to learn more and more about these needs and challenges that a successful implementation faces.  Based on user requests and needs, the Esri Performance Engineering team began to investigate and evaluate Amazon EC2 with Elastic Graphics.  We know that ArcGIS Pro needs to make use of a GPU for 3D rendering as well as the additional compute power needed to support geoprocessing tools such as a slope analysis.  EC2 offers a very wide variety of options and choices to users, and a phrase I used when speaking with users at UC is that it offers a "choose your own adventure" approach to sizing and usage.  If the need for more CPU or RAM exists, you choose the appropriate instance type that meets and fulfills that need.
Amazon services have been spoken to before as well as technical sessions conducted and delivered to show and offer various options for the Esri community for use with Portal, as well as present ways to deliver a desktop experience. With the offering of Elastic Graphics, Amazon has now added to users a way to attach graphics to an EC2 that is configured to individual use cases. This is new flexibility, and a desired solution that provides a new option to deliver ArcGIS Pro to users from a Cloud-hosted system. This flexibility grants a flexibility to as I mentioned before "choose your own adventure" and find an EC2 instance that meets your needs yet still have the GPU capacity to run ArcGIS Pro and have a solid user experience.
What instance type is right for use with ArcGIS Pro?
To provide some guidelines I tested ArcGIS Pro on several instance types to gauge the performance. I wanted to find the best performance while keeping costs at a moderate level. For testing the c5. xlarge and the c5.2xlarge EC2 instances were used with an accompanied Elastic Graphics type eg1.2xlarge. These instance types offered a cost-effective, high-performance system that would be a strong yet cost-effective option when partnered with graphics.
For additional information on the types of EC2 instances and Elastic Graphics see the links below:
https://aws.amazon.com/ec2/instance-types/
https://aws.amazon.com/ec2/elastic-graphics/
I used a couple methods to connect to the Cloud instance.  The default method to connect is using RDP, it's simple and most users are familiar with it.  RDP is a good basic method to connect to a system, however RDP does have its limitations, and this can hinder the user experience.  To get a better user experience as well as a bit more flexibility, I switched to NICE DCV.  DCV is one of the components that helps deliver Amazon AppStream 2.0, itself a popular Cloud-based deployment method for ArcGIS Pro.  Because of this, DCV seemed like a good fit for testing.  This is a separate installation that needs to be installed on the EC2 instance.  The user can choose to leverage either a client install or a web browser. Yes, using any HTML5 browser you can then connect to your instance and run ArcGIS Pro from anywhere, this is the point where you really see some flexibility.  You can start a process in the office and be out and about using a tablet to complete tasks, and still have the same user experience.
For more information on NICE DCV see the following link:
https://aws.amazon.com/hpc/dcv/
During the testing phase we ran a variety of the 3D rendering and analysis tests to help us gauge the usability and delivery of 3D animation. Below is a chart that compares the results of an Amazon Workspace, EC2 with Elastic Graphics as well as an on-premises system. During these tests we find that making and exceeding the 30 FPS (Frames per second) threshold is an ideal goal, bringing usability to an ideal level. What we discovered is that using the NICE DCV Client gave ArcGIS Pro a smooth presentation and user experience. Although not on this graph the experience was like the experience when using AppStream 2.0 with the web browser, which makes sense based on the shared features of these services.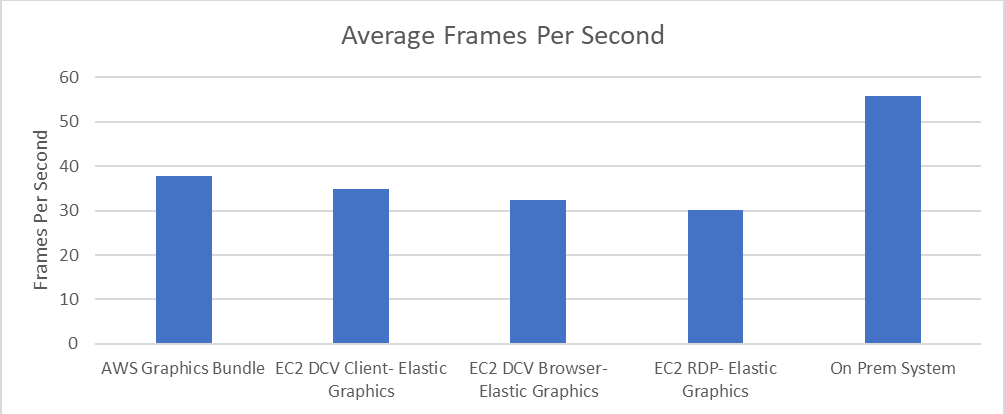 What are the major takeaways?
What we are discovering is that as ArcGIS Pro grows and becomes an even better product to support GIS users, the marketplace is also adapting to handle software with similar needs to ArcGIS Pro.  3D enabled robust software, and the marketplace to support the users is going to continue to grow.  With the offering of Elastic Graphics supporting EC2 instances we have another capable and useful platform that will support High Performance Compute needs, as well as deliver 3D animation.  Use NICE DCV, it brings overall experience to a point that is better suited to handle the process, and with the added flexibility, a browser on a tablet, laptop or desktop computer is usable, and offers additional flexibility.  As the adoption of ArcGIS Pro continues so to will these options, and EC2 with Elastic Graphics is the latest in the realm of options that can deliver an optimal user experience and flexibility from the cloud.
Commenting is not enabled for this article.