Have you ever wanted to run ArcGIS Pro from an iPad?  Have you wanted to connect to ArcGIS Pro using a web browser?  Have you run complicated geoprocessing functions and needed a system with more power to crunch the numbers and to get the work done faster?  ArcGIS Pro Virtualization offers flexibility, and needed resources to do this, and more, at the Virtualization Island we can show you what is possible and help you with the tools to get you moving with ArcGIS Pro from the cloud or on premises.
Virtualization in 2019 is already an established and well-proven technology, and recent developments keep this momentum strong., We have seen many users virtualize ArcGIS Pro on-premises, and more recently from the cloud.  Several years ago, as 3D rendering in a virtual environment was new and cutting edge, NVIDIA introduced its K2 GPU line.  More recently, and with numerous technological advances, NVIDIA has introduced its game-changing Tesla T4.  With its new smaller physical footprint and lower power consumption, the ability to easily setup a virtualized environment on-premises brings advances that allow ArcGIS Pro to be more versatile and incorporate more concepts from data science.  We are truly leveraging exciting technology capable of supporting more intricate concepts such as neural networks.  With these advances, inference functions and tasks in ArcGIS Pro are developing rapidly, and to add to it, it can all be done in virtual environments.   With current server offerings, a 2U server able to host more than 4 GPUs and allowing more overall functionality for various user profiles and needs virtualization of ArcGIS Pro is normal but expanding.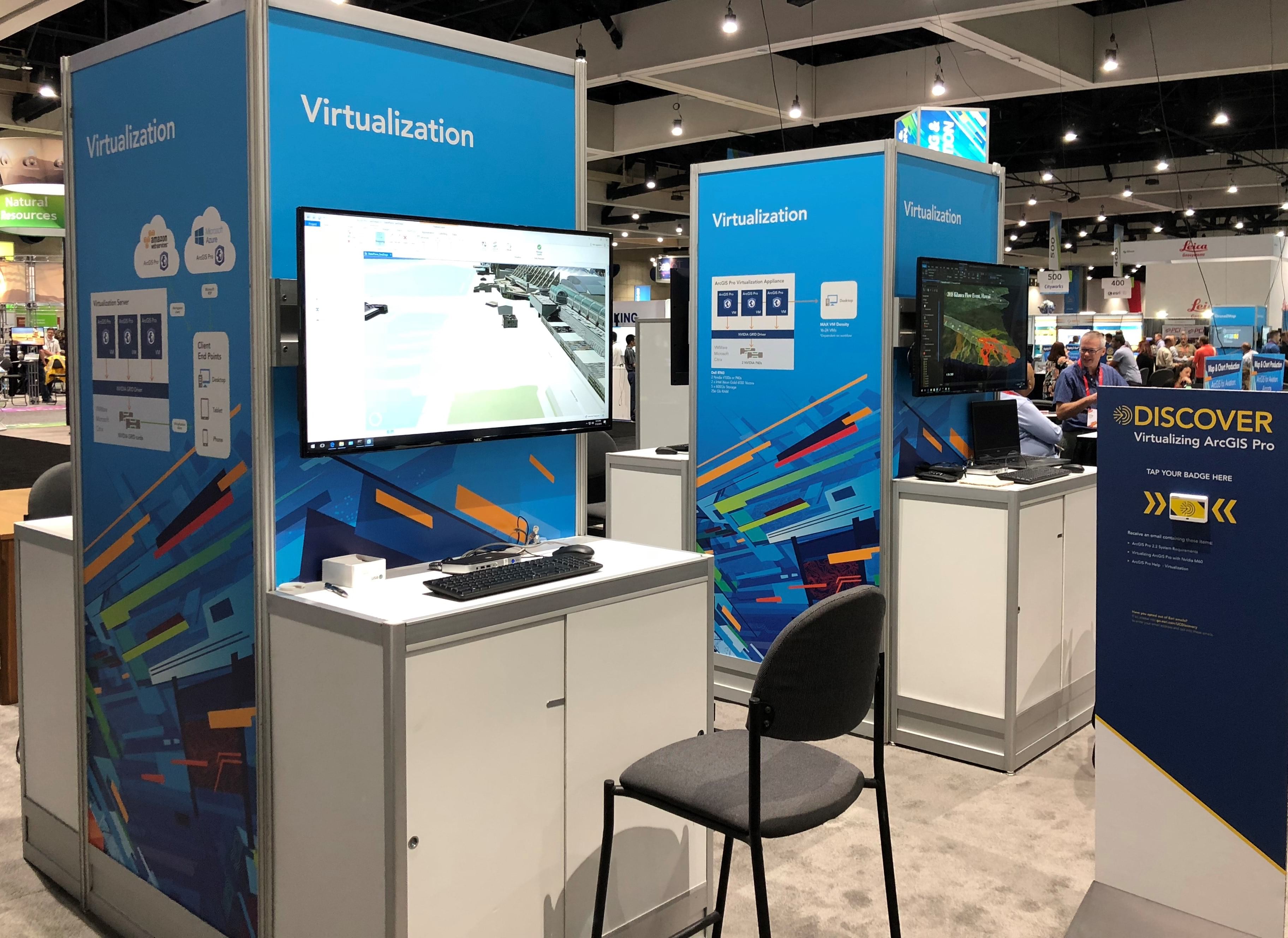 Cloud-hosted solutions from Amazon, Azure, and Google continue to offer new innovations and advances with the ability to connect to a hosted VDI that is GPU-backed, with the ease of connecting and using ArcGIS Pro from an HTML5-compliant browser.  Imagine, you can now use a simple chromebook or tablet and connect to ArcGIS Pro on a cloud hosted system, with no other requirements necessary.  Cloud-hosted virtualization is freeing up GIS users to open a session with ArcGIS Pro perform tasks, disconnect and resume work while on the road with an iPad, sitting in a coffee shop, or in a field while working with Utility lines, or the San Diego Convention Center.  Over the past year, the Higher-Education market has strongly embraced this new cloud-hosted model using Amazon Appstream 2.0.  ArcGIS Pro in an HTML5 browser, what's not to be excited about?
Visit the Virtualization island next to ArcGIS Pro, see demonstrations and learn how to successfully deploy and use these On-Premises and cloud hosted systems and see the remarkable performance and user experience in San Diego.
Be Sure to check out the following User Conference sessions to learn more and hear tips and tricks :
Best Practices for Virtualizing ArcGIS Pro
Sunday, July 07    2:30 pm – 3:30 pm
Marriott – Pacific Ballroom 21
https://userconference2019.schedule.esri.com/schedule/230325586
ArcGIS Implementations on Amazon Web Services (AWS)
Tuesday, July 09    4:00 pm – 5:00 pm
SDCC – Room 05 B
https://userconference2019.schedule.esri.com/schedule/556663625
ArcGIS on Amazon Web Services SIG
Thursday, July 11    11:30 am – 12:30 pm
SDCC – Room 27 B
https://userconference2019.schedule.esri.com/schedule/628219436
GeoSpatial Deep Learning
Sunday, July 07    8:30 am – 5:00 pm
SDCC – Room 32 A/B
https://userconference2019.schedule.esri.com/schedule/2086989781