The Google Cloud Platform (GCP) has a variety of options for deployments that can support multiple use types and delivery needs.  ArcGIS Pro delivers a graphics rich user experience and leverages a GPU for 3D graphics acceleration.  In addition, some spatial analysis takes advantage of the GPU for compute. This blog will address the use of the recommended n1-standard-4 and the n1-standard-8, and the ability to support ArcGIS Pro requirements.
The n1 on GCP are a compute focused general purpose machine type.  These offer a strong processor as well as various configuration options of those processors.  The n1 offers from 1 to 96 vCPU configurations.  As previously mentioned, the n1-standard-4 and the n1-standard-8 are the recommended options to support ArcGIS Pro.  These machine types offer appropriate amount of vCPU, RAM, and paired with the NVIDIA T4 are ideal to support most needs.  For more information on the n1-standard see the link below.
https://cloud.google.com/compute/docs/machine-types
Delivering the graphics on this instance type is the NVIDIA T4, which delivers a known performance factor and offers considerable performance to support ArcGIS Pro user needs, both for graphics acceleration and GPU for compute.  This GPU platform has been part of the recommended solutions for the past couple years.  For additional information on the NVIDIA T4, see the blog below.
https://www.esri.com/arcgis-blog/products/arcgis-pro/announcements/arcgis-pro-leveraging-nvidia-vgpu/
Testing on GCP was done in a manner to create the feeling and understanding of using this instance as a daily driver, a machine that would handle the normal day to day workload yet be able to handle the usage and requirements to support ArcGIS Pro.  This meant testing the ability to handle normal office functions and then perform tasks in ArcGIS Pro.  The focus was around hitting some of the harder functions using the GPU to render 3D but also use it to run some GPU for compute tasks.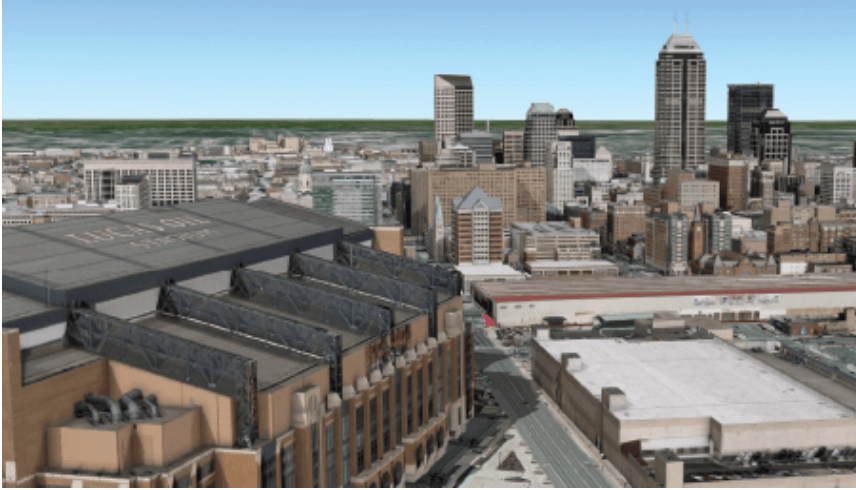 Its well-known and documented that ArcGIS Pro delivers an amazing 3D user experience, rendering 3d city landscapes and beyond.  Going forward is the need to continue to test with GPU for compute as we plan for the future of ArcGIS Pro.  These cloud hosted instances offer an ability to expand the use of ArcGIS Pro to include GPU for compute with tools such as slope, aspect, viewshed2, and Detect Objects using Deep Learning.  Running tests with these tools help us gauge and find ways to save time.  For instance, the image below shows and increased time savings when leveraging the GPU for these purposes.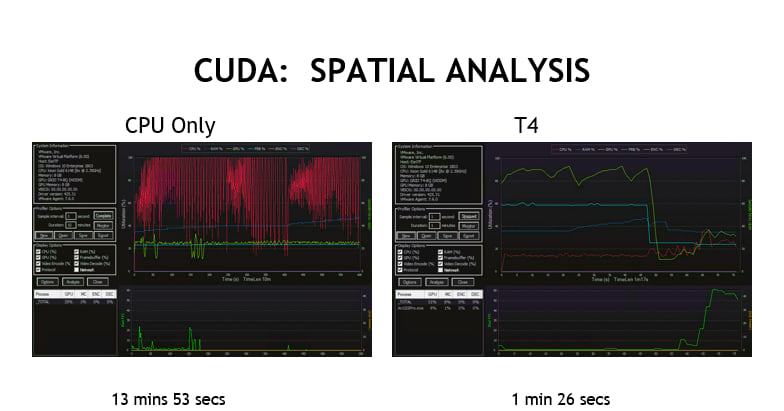 Conclusion:
Cloud hosted VDI continues to offer capabilities that support high end GPU compute and visualization needs, providing functionality to support ArcGIS Pro users.  GCP supports users that require such functionality from the cloud.  The ability to spin up infrastructure that supports these ArcGIS Pro requirements continues to grow, adapt, and expand.  Users continue to gain flexibility to support these needs.  In the current COVID-19 and work from home world we live in, this flexibility is especially valuable.  The cloud offers functionality, as well as additional security that keeps datasets safe, and offers reliable cloud hosted VDI configurations to run workflows from anywhere.  GCP, with its GPU backed machine types provides another ecosystem that users can take advantage of, additionally support various needs and requirements.  The n1-standard-4 and -8 stand as a reliable platform that will be suitable for most users.  In some cases, it may be possible to need more capacity, however for most functions, these two machine types provide an exceptional GIS user experience.