***Using ArcGIS Pro 2.x?  A brand new version of PerfTools (Build 100) is now available***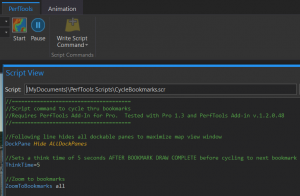 The Performance Engineering team is pleased to announce the availability of the new PerfTools Add-in for ArcGIS Pro, versions 1.4.x  and 2.0.x. This is a new release (Build 81) of a widely-used tool for assessing performance of ArcGIS Pro and its underlying spatial data in your organization.
Are you curious to know how long ArcGIS Pro takes to render a particular bookmark or spatial extent, or play an animation? Or have you needed to monitor how long it takes to make a spatial selection from your underlying data? These are some questions that PerfTools allows you to investigate.
With PerfTools, a comprehensive scripting capability allows you to edit, run, and log performance scenarios as you make underlying changes to your hardware, virtualization environments, spatial data, or other key user workflows. You'll soon be able to discover any performance ramifications, make adjustments, and re-run. To get you started, we've enclosed several sample scripts with the PerfTools download.
PerfTools Build 81 extends the functionality of the previous version with several new commands:
ExecuteTool executes a GP tool.
ExecuteToolArgs executes a GP tool with detailed arguments you can subsequently refer to later.
SetEnv sets environment variables you can use in your scripting.
Additionally, the script editor now color-codes syntax to separate commands from comments, etc.
Note: There are now two installations available.  Please select the one appropriate for the version of ArcGIS Pro you are running:
Download PerfTools (Build 81) for ArcGIS Pro 1.4.x
Download PerfTools (Build 81) for ArcGIS Pro 2.0.x
After installing the add-in and opening Pro, Take a look in your Documents\ArcGIS\AddIns\ArcGISPro\PerfTools folder. You should see a PDF there titled PerfTools_for_ArcGIS_Pro.pdf. This contains comprehensive documentation and sample code snippets.
Disclaimer: This add-in is not supported by Esri Support Services; any questions or feedback regarding PerfTools should be forwarded to perfqatools@esri.com