Some good news on Pro SDK learning resources – a number of informative videos have just been posted online this week — Dev Summit sessions and a new Live Training Seminar recording.

The 2016 Esri Developer Summit technical sessions are now available on the Esri E380 website, and there are four excellent Pro SDK session recordings available.  These presentations were given by the actual Desktop SDK Team, so you are getting some excellent instruction from the authorities on the Pro SDK.  Here are each of the sessions available online with links and descriptions:
ArcGIS Pro SDK for .NET: Programming Patterns
Learn how to write add-ins for ArcGIS Pro. We introduce the ArcGIS Pro SDK for .NET. We cover declarative programming with DAML and the Pro UI Elements. We delve into Pro's new asynchronous APIs learning how to use async and await and Pro Framework's QueuedTask.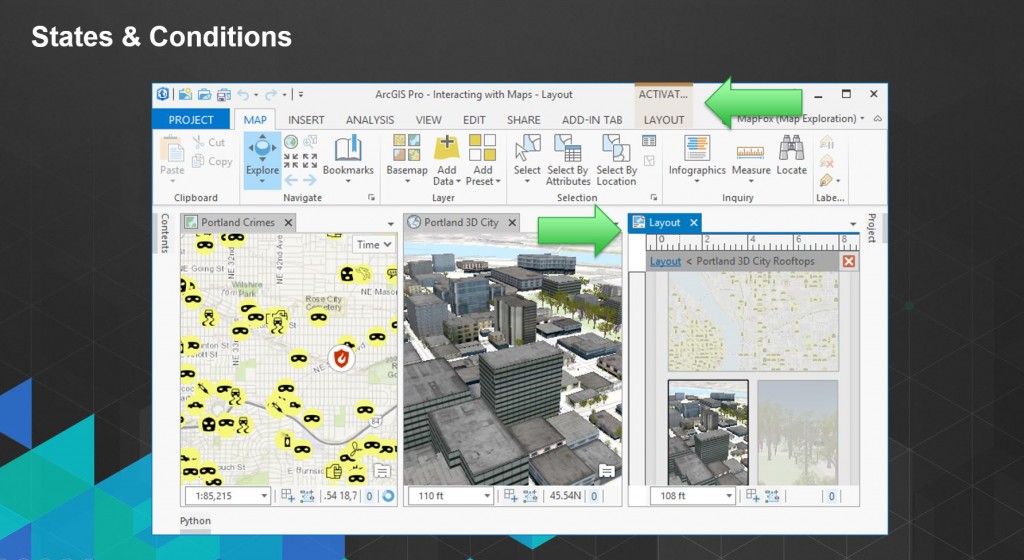 ArcGIS Pro SDK for .NET: Editing and Geodatabase Integration
Learn how to write construction and editing tools in Pro. We customize both the DAML and code-behind to integrate custom construction tools into the Pro Editor and layer Create Feature templates. We introduce edit operations for creating and modifying Geodatabase features.
ArcGIS Pro SDK for .NET: Integration with ArcGIS Online
Learn how to write ArcGIS Pro add-ins that take advantage of Pro's integration with Portal and ArcGIS Online. Use EsriHttpClient and Json.Net to search and retrieve Online items such as map services, feature services, and web maps and add them to your project. We cover item uploading as well.
ArcGIS Pro SDK for .NET: UI Design and MVVM
Learn how to write Add-ins for Pro with advanced user interface components. We focus on MVVM and integration of WPF to write compelling UIs with Pro. We also cover multi-threading considerations when developing UIs in Pro.
Also, the recording for last week's Live Training Seminar on the ArcGIS Pro SDK, "Extend ArcGIS Pro Functionality with Add-ins", is now available.  The 60-minute LTS provides three short presentations by Rob Burke, of Esri Educational Services. Rob is a long-time veteran of training developers on ArcObjects and ArcGIS Desktop development, and he provides a great introduction to the Pro SDK and asynchronous programming for Pro.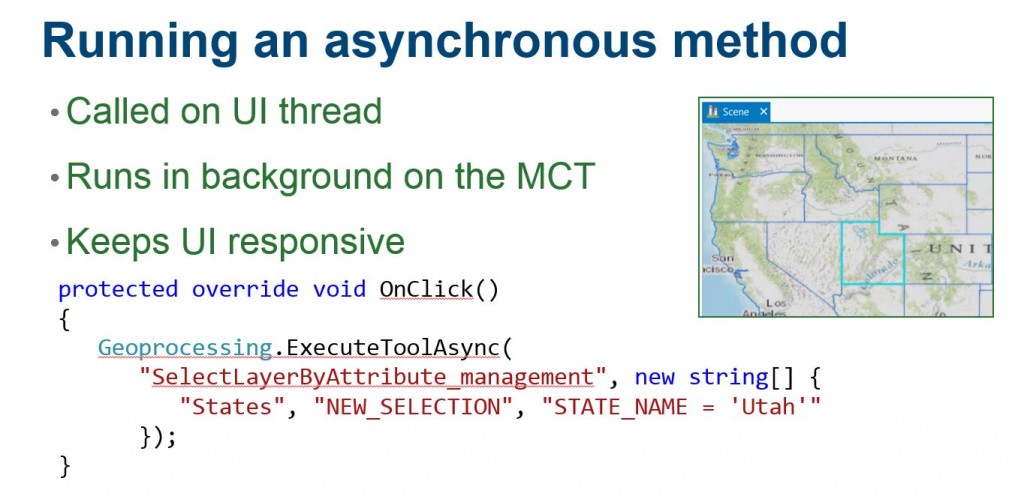 Thanks again to those that attended last week's LTS and sent in questions.  Answers to your questions have been provided at this GeoNet post.  Keep in mind that you can always check for answers to your Pro SDK questions by searching the post threads on the Pro SDK Group on GeoNet, and post new questions there as well.  You can also review the helpful FAQ page on GitHub.