Esri Press is publishing a new edition of Getting to Know Web GIS, by Pinde Fu, just in time for the ArcGIS Online June 2020 release and the Esri User Conference.
It has been 2 years since Pinde's last book. This highly sought after new edition features the latest advances in Esri's entire Web GIS platform, from the cloud server side to the client side.
The e-book is available today and the print book will be available in July.
Learn state-of-the-art skills to build compelling, useful, and fun Web GIS apps easily, with no programming experience required.
Getting to Know Web GIS, fourth edition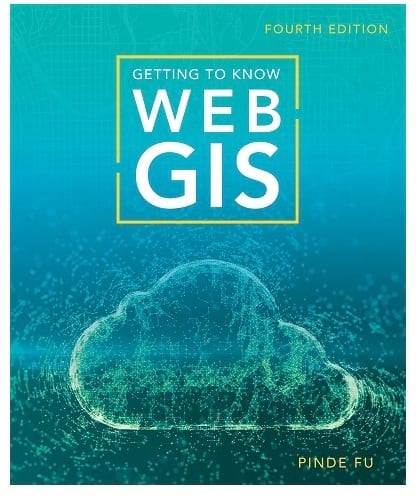 Some of the key topics in this book include:
Discover and apply what's new in ArcGIS Online, ArcGIS Enterprise, Map Viewer, Esri StoryMaps, Web AppBuilder, Survey123, and more.
Learn about recent Web GIS products such as ArcGIS Experience Builder, ArcGIS Indoors, and ArcGIS QuickCapture. Understand updates in mobile GIS such as ArcGIS Collector and AuGeo, and then build your own web apps.
Further your knowledge and skills with detailed sections and chapters on ArcGIS Dashboards, ArcGIS Analytics for the Internet of Things (IoT), online spatial analysis, ArcGIS Notebooks, image services, 3D web scenes, ArcGIS API for JavaScript, and best practices in Web GIS. Follow extended discussions about artificial intelligence, machine learning, deep learning, augmented reality (AR), virtual reality (VR), and IoT in the context of Web GIS.
Available in print and e-book from your favorite online retailers: Amazon, Barnes & Noble, and Indiebound.
[ISBN: 9781589485921        490 pages       $94.99]
I hope this book will spark your imagination and creativity, and help you think about how Web GIS is relevant to your work and your life. I hope you will use Getting to Know Web GIS to innovate your existing workflows, to transform the creative ideas in your mind into realities, and to help you address the many challenges facing our communities and our world today.
Each chapter is written for immediate productivity with a good balance of principles and hands-on exercises and includes:
A conceptual discussion section to give you the big picture and principles,
A detailed tutorial section with step-by-step instructions,
A Q/A section to answer common questions,
An assignment section to reinforce your comprehension, and
A list of resources with more information.
This book is ideal for classroom lab work and on-the-job training for GIS students, instructors, GIS analysts, managers, web developers, and other professionals, Getting to Know Web GIS, fourth edition, uses a holistic approach to systematically teach the breadth of the Esri Geospatial Cloud.