In this post, I'm going to discuss the new Site Suitability Analysis workflow and tools that are a part of the second release of Business Analyst for ArcGIS Pro.
Interactively Filter, Score, and Rank Sites
Site Suitability Analysis is a modeling workflow that will enable you to interactively filter, score, and rank candidate sites or areas based on multiple selection criteria.
An Example Workflow (Commercial Site Selection)
Use Case: Site Selection for a Specialized B2B Car Rental Company 
I thought it would be best to begin with a real-world use case where I put on the hat of a business development manager looking to expand into a new market.
I am a regional business development manager at a specialty car rental company that focuses on renting to customers who are getting their cars serviced at major automobile dealerships.  We are a relatively small car rental company with community and neighborhood locations only.  With our competitive pricing, our dealer partners can offer all their auto service customers complimentary "loaner cars" without the expense of maintaining and administering a rental car fleet of their own.  We primarily consider ourselves to be a B2B service business with a turnkey offering for our auto dealer customers/partners. 
We're currently looking to expand into the crowded but potentially lucrative Chicago market.  Here's my criteria:
Lease a space at one of the affordable community shopping center locations that our commercial real estate broker has identified for us [map layer of shopping centers]
Locate close to as many automobile dealers as possible within a 10-minute drive time service area.  The dealers represent partnership opportunities and we want to make sure we limit the amount of time it will take to pick up and drop off any future renters. [map layer of auto dealers]
Minimize the number of competing car rental companies in our service area [map layer of car rental companies]
Look for service areas where there is high spending on automobile maintenance [Esri data acquired through the workflow]
Look for service areas with a lot of nearby households [Esri data acquired through the workflow]
The following screen captures go over the workflow in detail: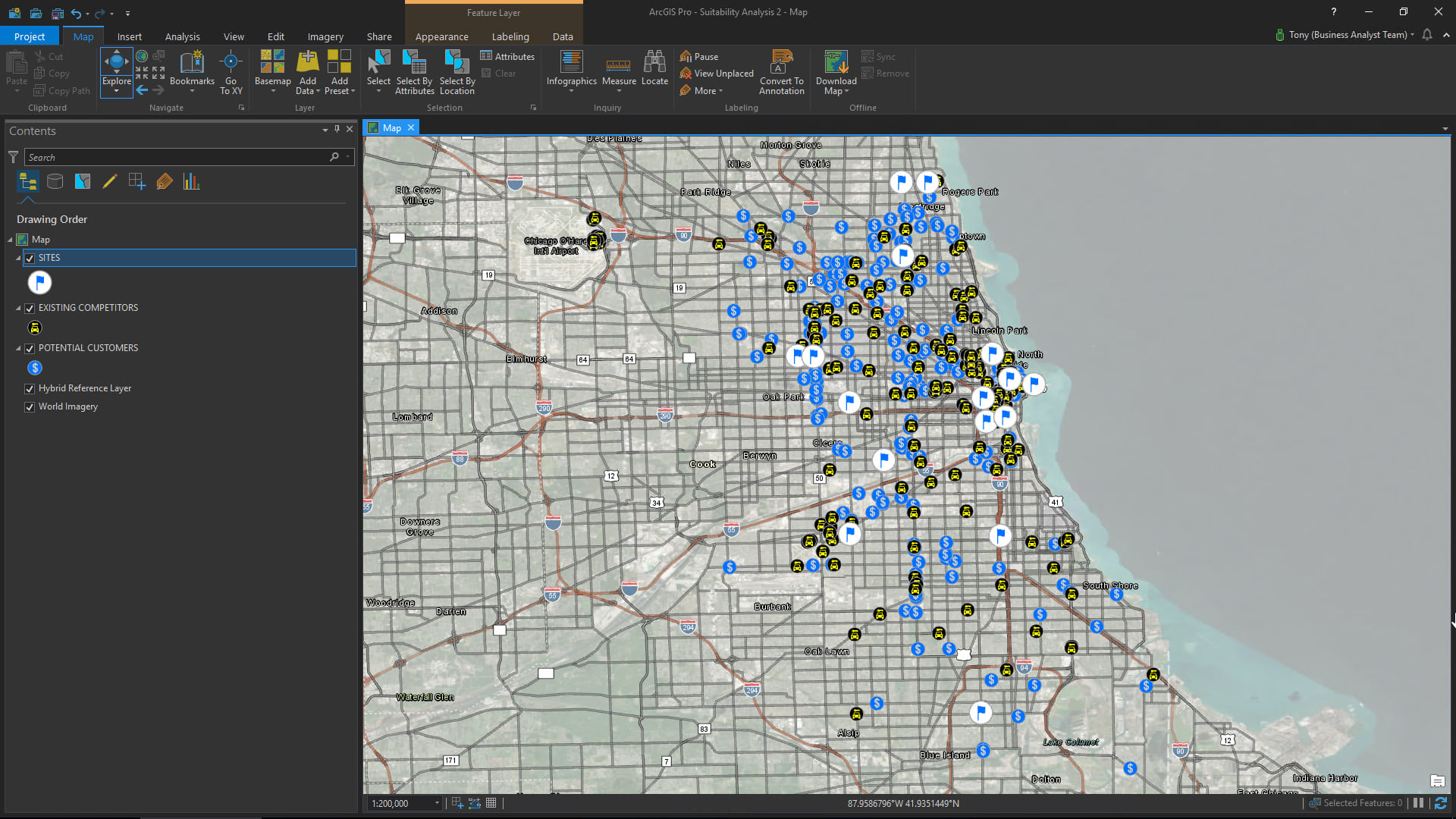 Depending on your goals and objectives, the individual areas described by your map layer could represent many things:
Possible sites for new retail stores or offices
Potential locations for a service or distribution center
A set of parcels that you are evaluating for new commercial or residential real estate development
Sites being considered as election polling places
Candidate sites for pop-up businesses, promotions, and events
Optimal spots for community outreach and services
and much more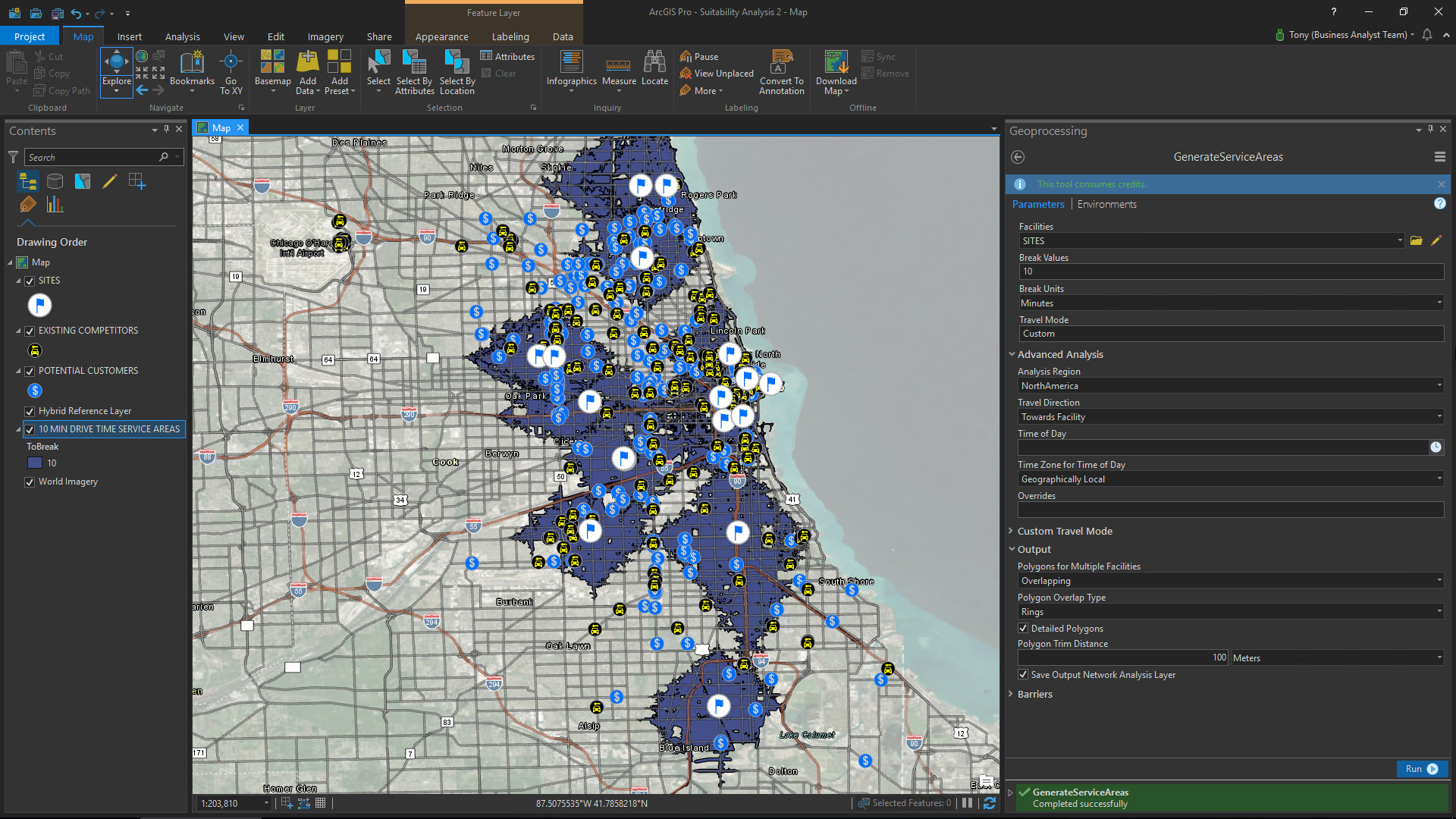 If you don't already have a polygon-based map layer to work with, you can leverage other tools in ArcGIS Pro to create one.  For example, if you have a map layer with geocoded address locations representing commercial real estate buildings or shopping centers, you could use the Buffer Analysis tool to quickly create ring-based analysis areas around all those sites.  (In fact, you can use that tool to digitize map features and save them to a layer directly from its geoprocessing dialog.)  Alternatively, you may want to use the Generate Service Area tool to create drive time, drive distance, or walk time-based service areas around those candidate sites.  You can even create a standard or hexagon-based grid layer over an entire area with the Generate Tessellation tool and submit that as your Suitability Analysis Layer.  The key point here is that you need to consider not just the sites you want to evaluate but also the surrounding areas.  Fortunately, ArcGIS Pro gives you a lot of options here.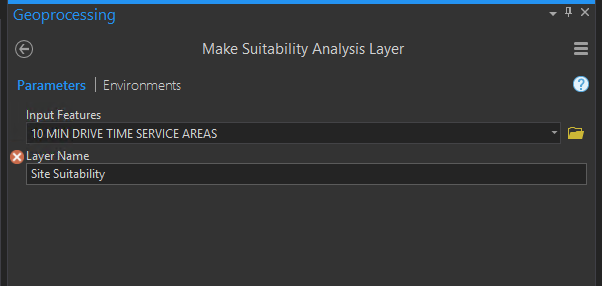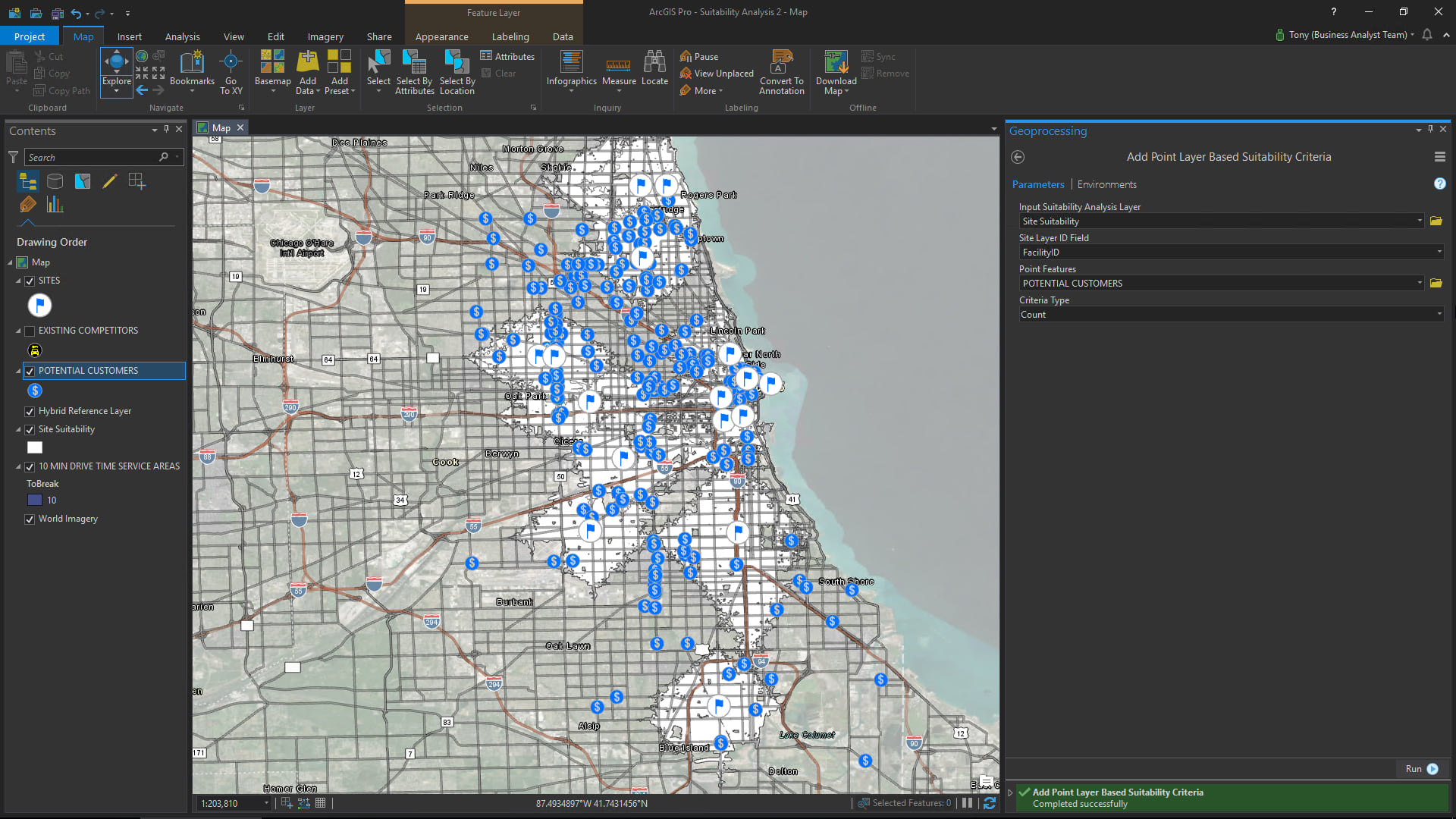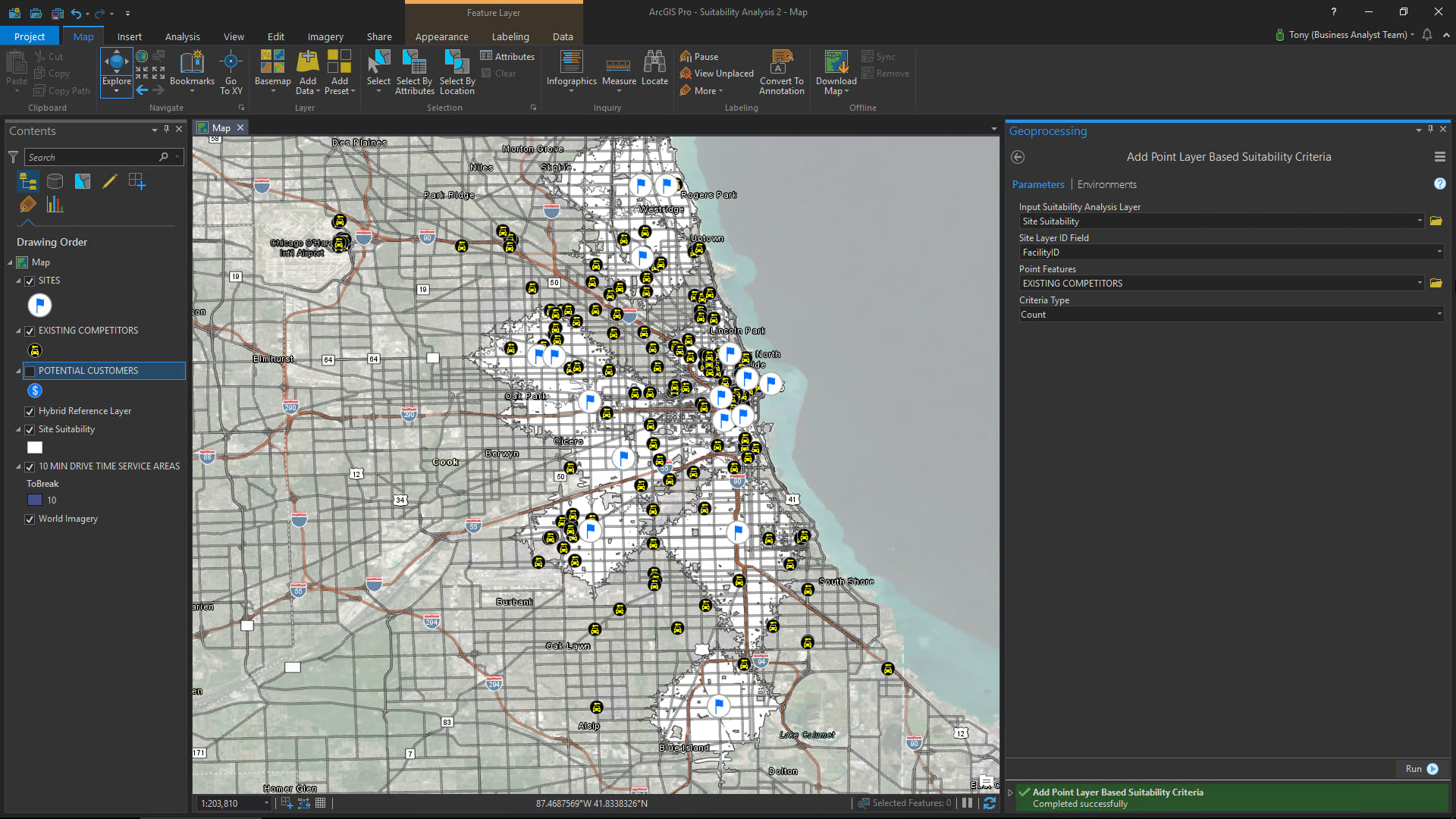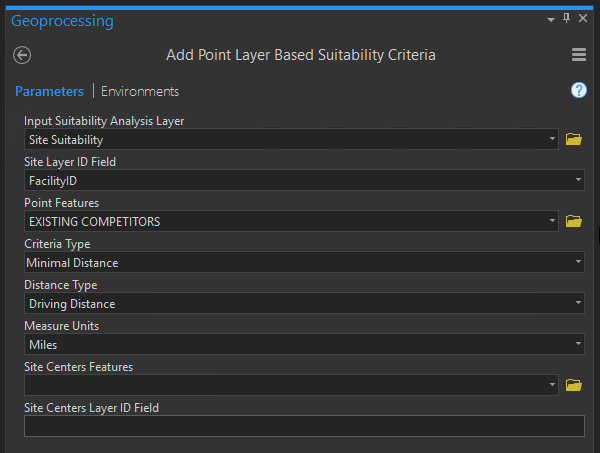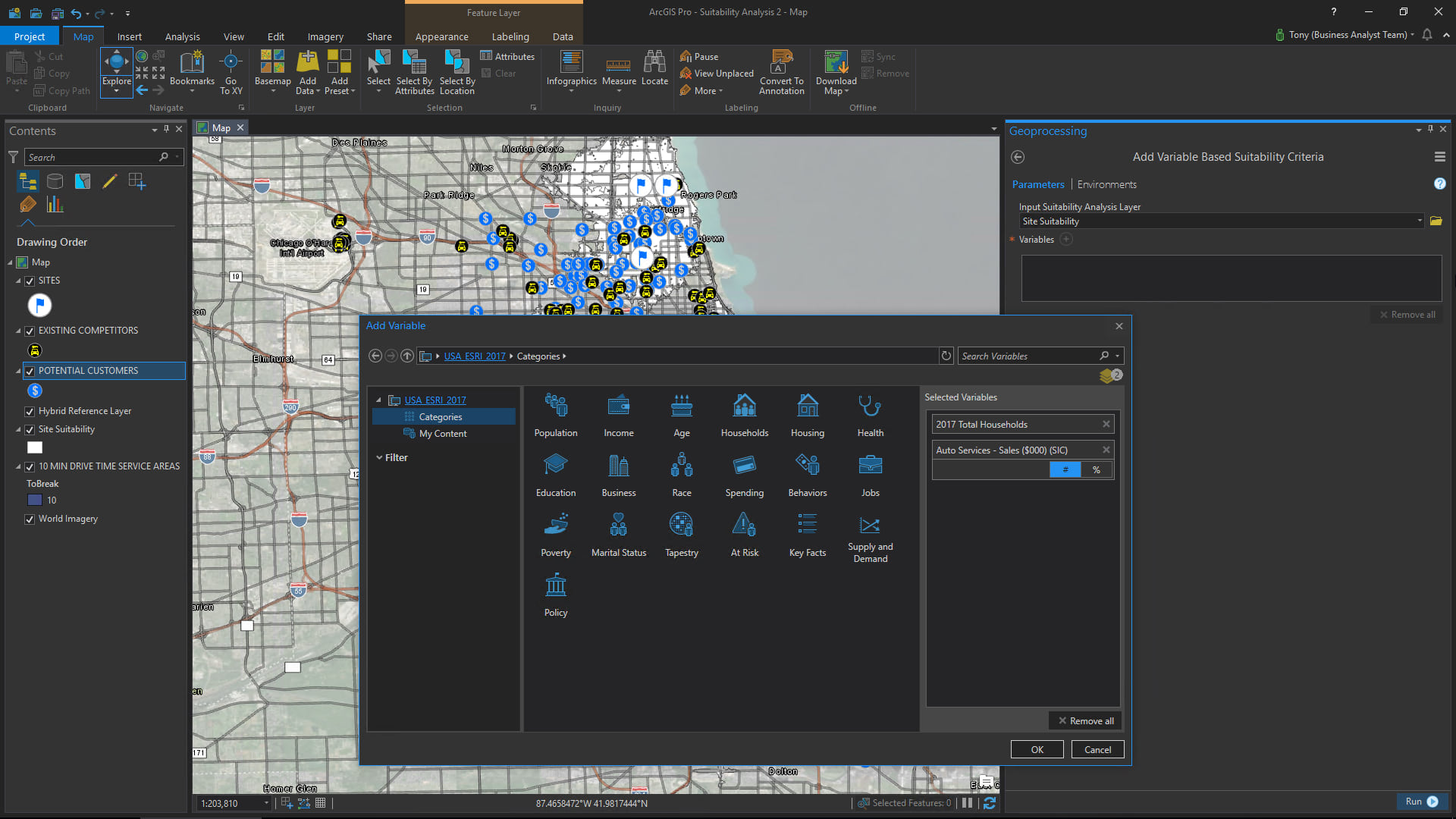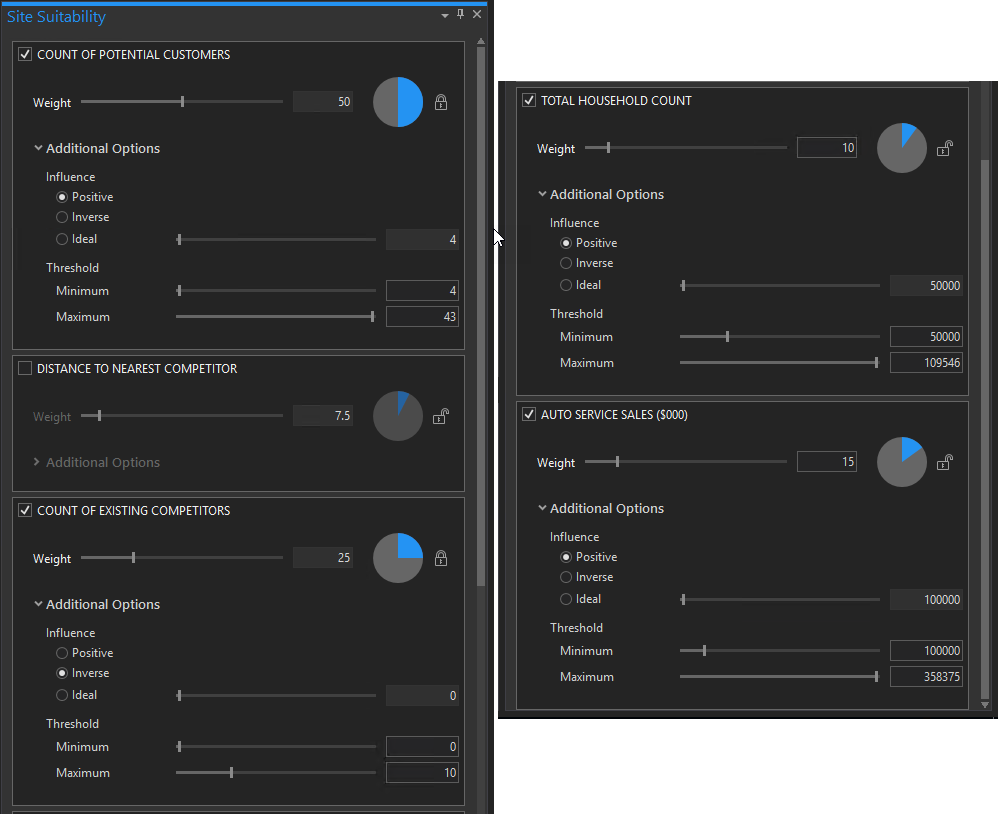 The Site Suitability Analysis workflow supports many different types of criteria:
Numeric attributes associated with your Suitability Analysis Layer (e.g. number of customers, sales volume, number of employees, real estate cost, tax rates, tax incentives, and more associated with each area)
Attributes that you may append to the Suitability Analysis Layer as part of your workflow (e.g. demographics, business data, consumer behaviors, etc. that you may enrich the layer with)
Proximity to or counts of features in other map layers (e.g. competitors, customers, delivery stops, business improvement districts, special jurisdictions, constituents, patients, complementary businesses, offices, or anything else that you want to consider from a spatial relationship perspective)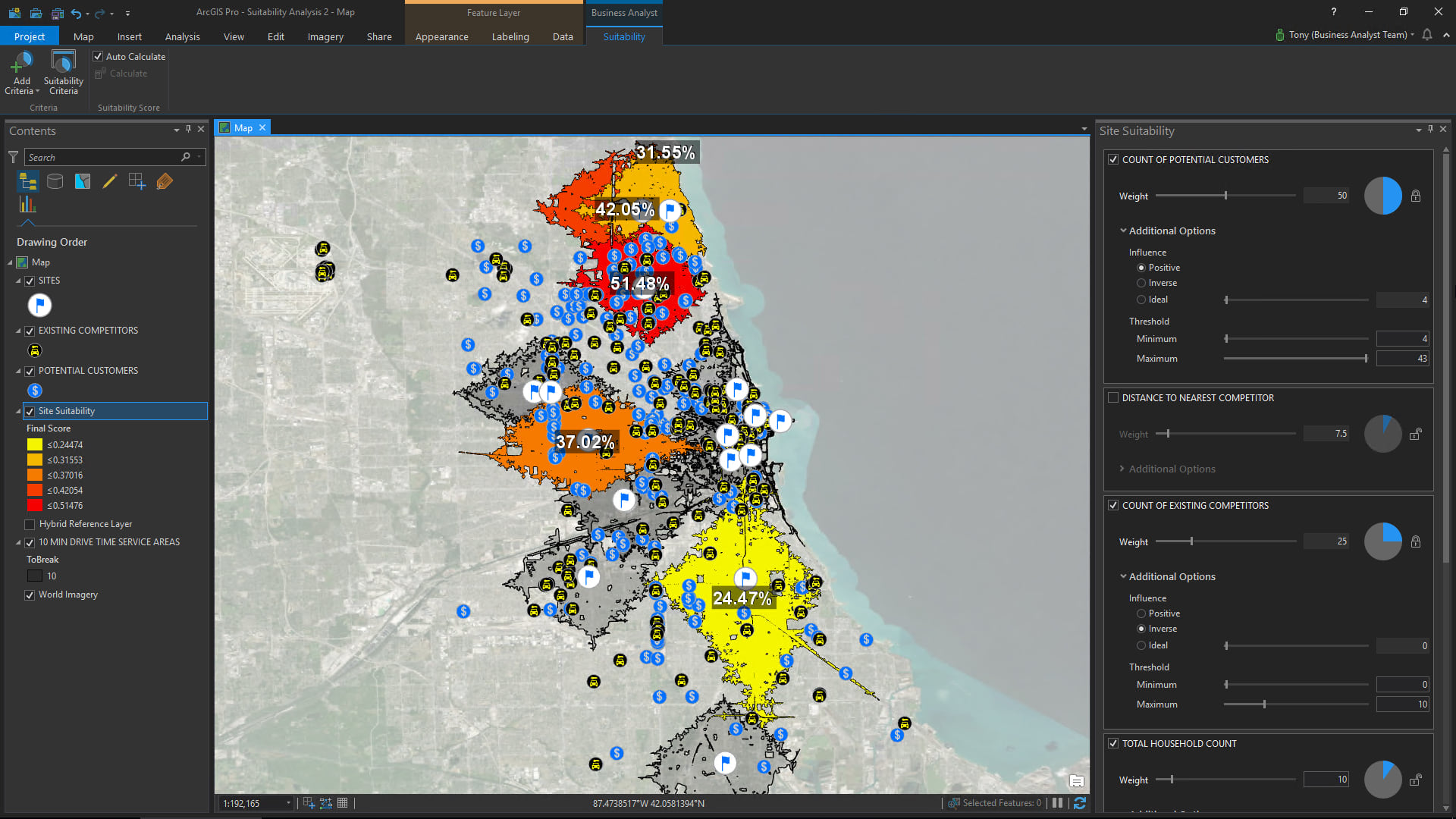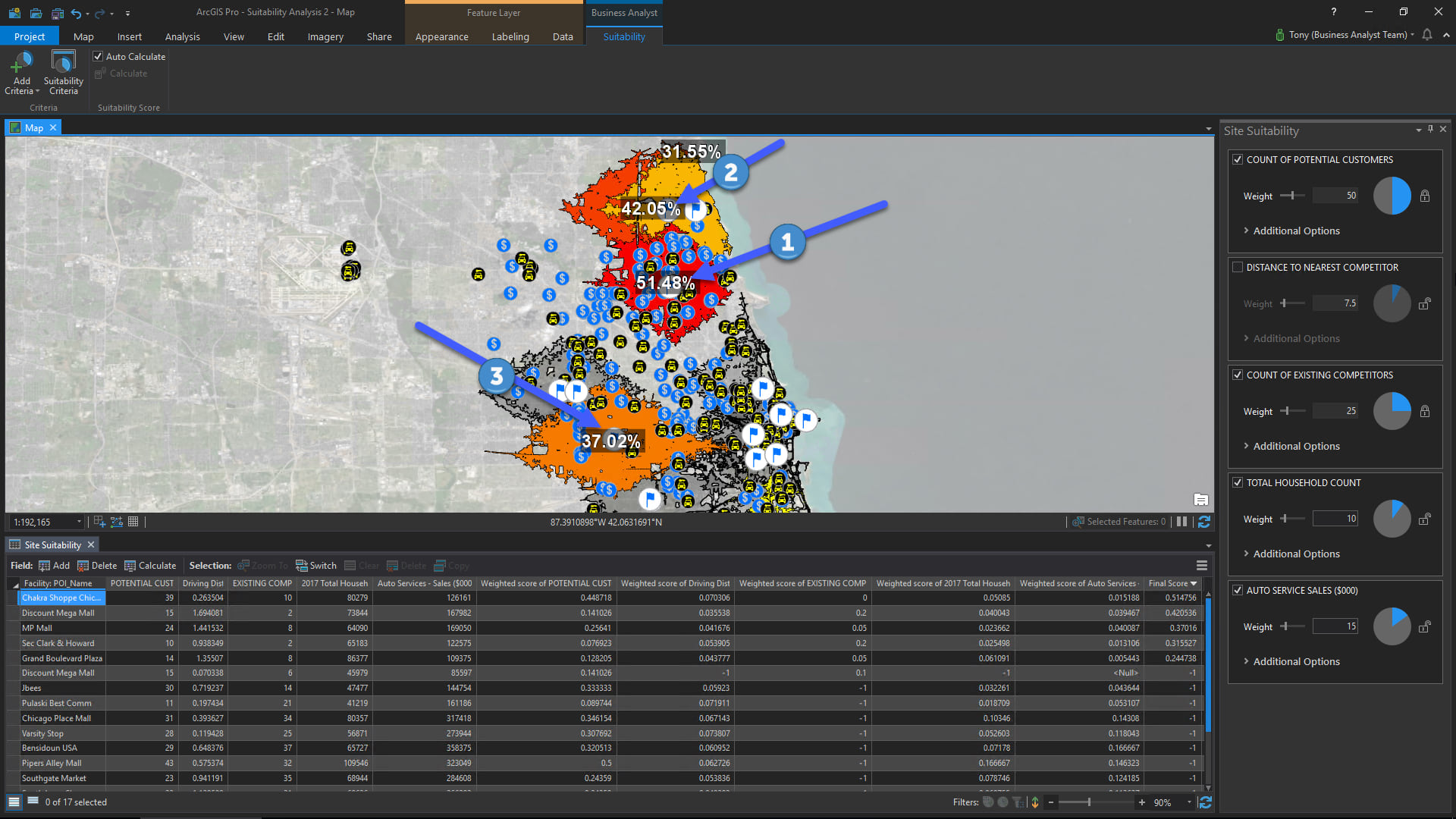 And since the Site Suitability Analysis tools are fully integrated with ArcGIS Pro , you can export, publish, and share your solution and the decision support it provides with other members of your organization.  You can also continue your site evaluation by taking the "result" (i.e. your top scoring sites) and submit them as inputs in other analysis tools such as Summary Reports.
In conclusion, Business Analyst for ArcGIS Pro greatly simplifies and streamlines an advanced site suitability workflow to provide valuable decision support with flexible and intuitive tools, powerful map-based visualization, and support for multiple types of selection criteria.
Commenting is not enabled for this article.