Collector for ArcGIS, Esri's premier field data collection app, is going through an evolution. We are updating the user experience, adding exciting new capabilities and modernizing the underlying engine that powers it. In December of 2018 we released the first iteration of this new experience. With the June 2019 update, we have now reached parity with Collector Classic and have introduced many more exciting new capabilities. Read more in our What's New help topic.
Use a tile package for your offline basemap
Now you can use a tile package as a basemap instead of the basemap currently in your map. This allows you to download a larger and more detailed basemap for offline use when needed. Collector supports raster tile packages (.tpk), vector tile packages (.vtpk), and now the new, open tile package format introduced with ArcGIS Pro 2.3 (.tpkx). Using a tile package for your offline basemap will dramatically streamline the download experience. Using a tile package can be found in the Advanced Options section of the Offline settings of your map.

Filter Related Types
If you have related features, now you can choose if they can be captured directly or if they must be captured through their parent feature. Workflows where a standalone table was designated as the origin and a feature as the destination in the relationship are now supported as they were in Collector Classic. See our help topic on Show Related Types for more details.
Using the Files app
Released with iOS 11, the Files app brings all of your files together. Now it can be used to transport tile packages for use with Collector as well. In the past the only way to transfer tile packages to your iOS device was to tether it to your Windows PC or Mac and use iTunes and copy packages. Now you can sync tile packages from your iCloud drive, from Google drive, Microsoft OneDrive or other cloud services to your iOS device. Then using the Files app, you can download and copy them from their cloud service location and paste them into the Collector folder location on your iPhone or iPad.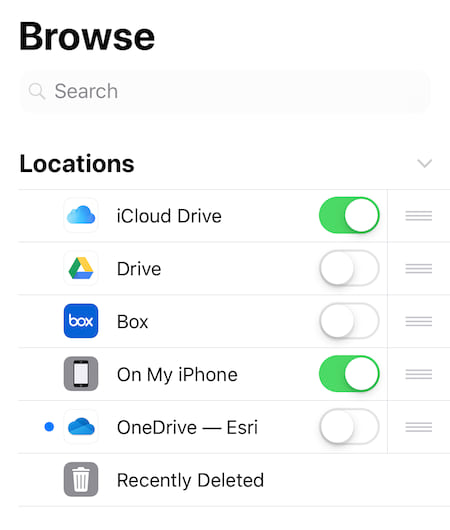 Introducing Collector Links
Collector has always supported linking to other apps using a URL. It is the way that the Workforce app can open Collector, open a map, and can even start collecting a new feature. However, a URL is not recognized as a link in many other applications. Well now Collector has a new link format that supports all of the parameters of the URL scheme https://collector.arcgis.app?parameter=value&parameter=value.
We've also updated the parameters to do much more including the portalURL parameter to streamline sign in with ArcGIS Enterprise and parameters to return to the app that called Collector. To learn more, please read our Collector links help topic.
Offset Workflows using Eos Tools Pro and Lasertech rangefinders
Last year, we worked closely with Eos Positioning to provide an exciting new laser mapping solution within Collector Classic on the iOS platform so that field crews can accurately capture asset locations safely and easily without occupying every single point. This integrated solution has now come to Collector.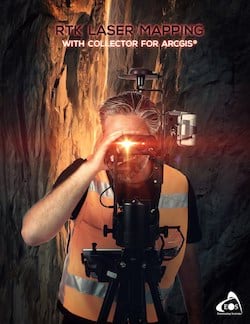 Upgrading to ArcGIS Runtime 100.5.0
We have also upgraded the engine underneath Collector to the latest released version of the ArcGIS Runtime SDK for iOS (100.5). This update provides a number of key enhancements including:
Offline support for Image Service layers
Improved support for Arcade-based renderers
Many new coordinate systems, projections, and over 20 new transformations
A number of quality improvements
What's Coming Next
The Field Apps team is working hard on a number of key capabilities that you will see coming in future releases:
Parity on the Android platform
A new smart forms capability with exciting new capabilities
Much more
Also, look for some key new updates coming to ArcGIS Online in June that will enhance your field data collection workflows including the ability to download ArcGIS Online basemaps using irregular areas
Commenting is not enabled for this article.