Esri, the global leader in spatial analytics, will join over 650 developers and thousands of startups, tech influencers, thought leaders and more at the TechCrunch Disrupt NY 2017 Hackathon, May 13-14, and Conference, May 15-17, in New York City.
If you're unfamiliar with #TCdisrupt, the hackathon occurs the weekend before the Disrupt conference. Developers from all over will take part in a 24-hour hacking test of endurance. Teams will join forces to build new products using Esri and other sponsor offerings. The lucky Esri prize winner will receive a $5,000 prize ($2,500 cash, plus $2,500 ArcGIS Online subscription).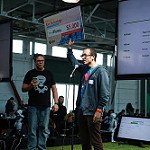 At the hackathon we'll be providing free ArcGIS Developer Subscriptions and credits to create apps that include mapping, visualization, analysis, imagery, authoritative data and more. Hackers can build web, mobile, and desktop apps for any device.
While we welcome apps of all types, this year we're encouraging hackers who care about making an impact on their local community to make a civic hack using Esri technology. We'll be looking for the most innovative uses of our developer tools, software and data applied to the cause. In addition, our friends at PubNub will also be sponsoring with a $5k prize and encouraging the use of partner BLOCKS, such as Esri's GeoEnrichment or Geocoding BLOCK.
If you're wondering how to get started with a civic hack, use Esri technology to creatively make cities better for everyone. This can be done by building an app to improve the processes or systems of local government with new tools or approaches. Apps can access global demographic, spending, lifestyle, and business data from Esri and pair this with our developer tools to improve public health, understand crime, increase access to transportation initiatives, and more.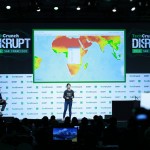 At Esri, we aim to improve the world through our geospatial mapping technology–melding software, maps, and content so you can see the world in a smarter way. A key component of this is building a passionate developer community. Up for the challenge? Visit the event page right now, access our resources and reach out to us if you want to discuss what you want to work on. Otherwise, we'll see you onsite at TechCrunch Disrupt NY Hackathon!
We'll also be at the conference May 15-17 sharing info on the ArcGIS platform, Esri Startup Program, and more so be sure to stop by our booth and say hi. We'd love to see you there!