The custom roads capability of StreetMap Premium was initially released last year. Now with the addition of the final two regions, Asia Pacific and Latin America, it's available globally!
StreetMap Premium for ArcGIS Custom Roads allows organizations to combine roads that they manage with StreetMap Premium streets for a single continuous routable transportation network.
Once integrated, this data can be used across the ArcGIS platform within ArcGIS Desktop, ArcGIS Enterprise, and packaged for use in Navigator for ArcGIS, provided that it is licensed accordingly.
Within the StreetMap Premium Custom Roads file geodatabase, there are three empty feature classes that a geographic information system (GIS) analyst can either digitize or load roads into. Once the custom roads are added and the network dataset is rebuilt, the combined network is ready for routing.
StreetMap Premium Custom Roads is designed to be edited within ArcGIS Pro. When digitizing new features, street network connectivity and attribute requirements are automatically enforced through the use of editing templates that are part of the ArcGIS Pro document.
Editing Templates within the Custom Roads ArcGIS Pro Project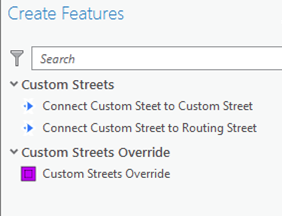 Completed new feature within the Custom Roads ArcGIS Pro Project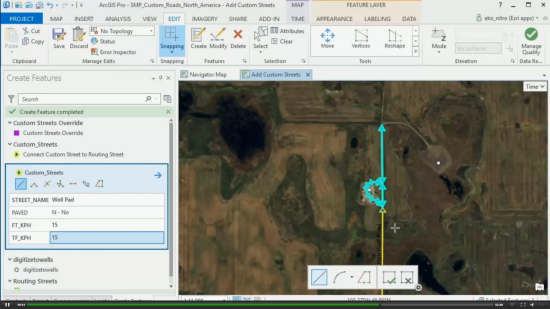 For more information, try it out within this tutorial and watch this video, showing how this content can be used with Navigator for ArcGIS.  The same concepts apply when deploying through ArcGIS Enterprise or using within ArcGIS Desktop.  Additional documentation is available here.