A lot! We continue to update the World Imagery basemap with more recent and higher resolution imagery. Our latest release this week adds a significant amount of new and updated content across North America. The updated sub-meter resolution imagery includes contributions from Kodiak Island, southern Florida, and several areas of Canada. The addition of more recent 1-meter resolution USDA Farm Service Agency (FSA) imagery from the National Agriculture Imagery Program (NAIP) now provides 2015 imagery for a total of 27 states plus the District of Columbia. The NAIP imagery is available at scales ~1:36k to ~1:4k and replaces two or more year old imagery in these areas. The sub-meter imagery from DigitalGlobe and our community contributors is still visible at the two largest scales (~1:2k and ~1:1k) because of its higher resolution.
These new and updated contributions help enhance content in the Living Atlas of the World and add value and usability to Esri's online basemaps. Through the Community Maps Program, Esri continues to incorporate useful large-scale features as these examples will show. See information below about becoming part of this community.
To explore the changes to the imagery basemap, view this Esri Story Map of the June World Imagery updates.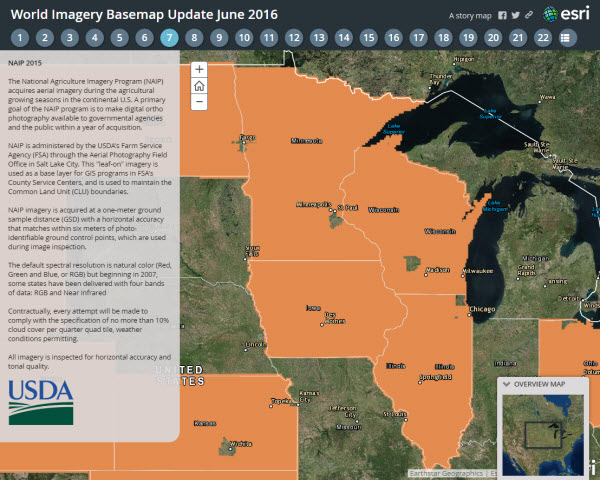 Real-world Applications
The first of two examples where the ArcGIS.com imagery basemap provides users with a spatial foundation for a larger story comes from the Iowa Department of Transportation (IowaDOT). They use an Esri Story Map to showcase to the public more than 40 major construction projects around the state. IowaDOT operational layers added to the imagery helps to convey the details and impact of each project. The Journal Story Map template used allows information such as project description, costs, and schedules to be included alongside the map using text and icons.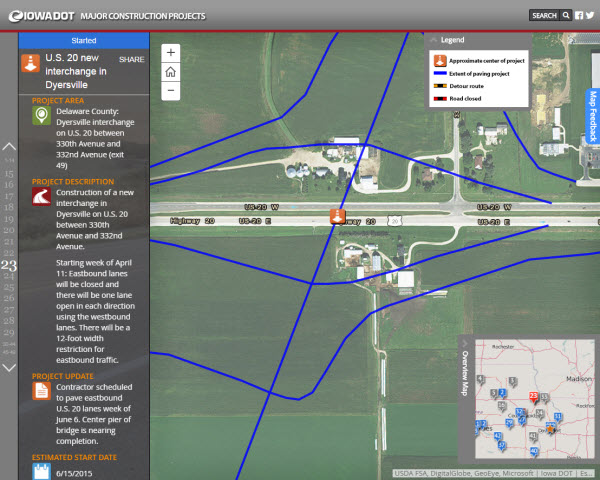 The second example is from the City of Greater Sudbury, Ontario, Canada. The city produced this Recreation app allowing users to select from the Esri basemap gallery (including World Imagery). By providing this app, the city promotes its recreation locations to residents and visitors, giving the user a spatial reference to find these activities. As stated in their app description:
A healthy community gives everyone an opportunity to have fun. The City of Greater Sudbury is committed to providing its citizens active living and healthy lifestyle choices.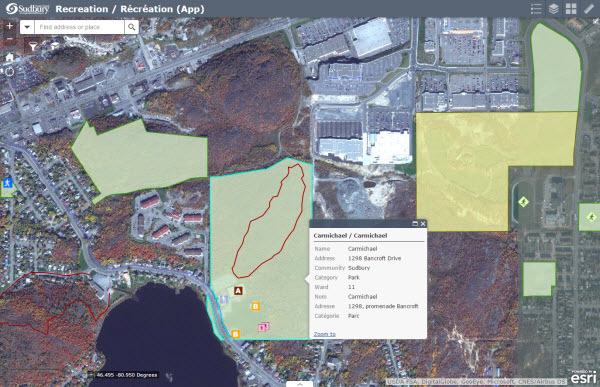 World Imagery Improvement Examples
With the updated imagery just released, there are many, many areas showing differences and improvements in the basemap. Below are just a few. Explore and use the World Imagery basemap in your maps and apps for access to all the recently updated map content.
Continued redevelopment of the former Stapleton International Airport in Denver, Colorado, is seen on the left. Updated NAIP 2015 imagery replaces older NAIP 2013 imagery on the right.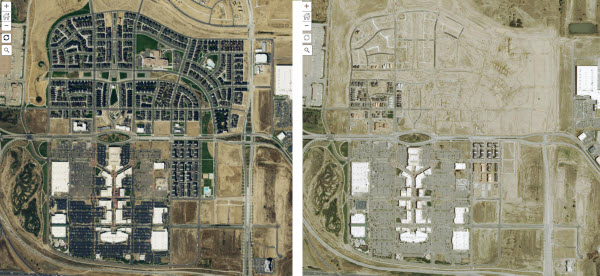 In downtown Miami, the $1 billion Brickell City Centre is taking shape. On the left is imagery contributed by the South Florida Water Management District (SFWMD) replacing older commercial imagery on the right.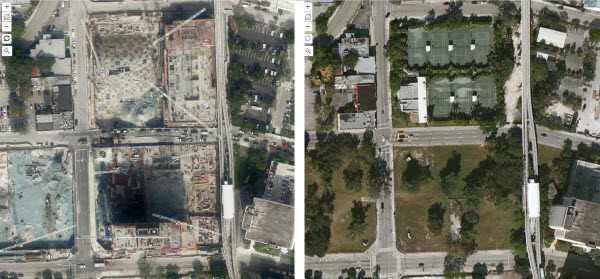 In Miami Beach, the updated SFWMD imagery on the left replaces older cloud-covered imagery area on the right.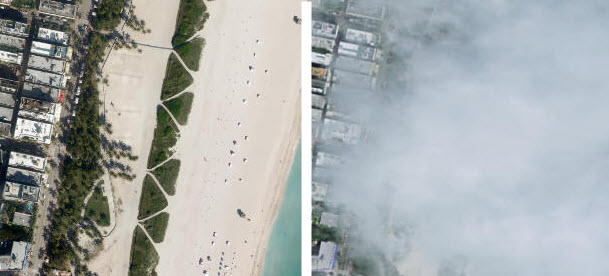 In Elkhorn, Manitoba, Canada, updated imagery on the left from the Province of Manitoba is free from the snow cover seen in the older imagery on the right.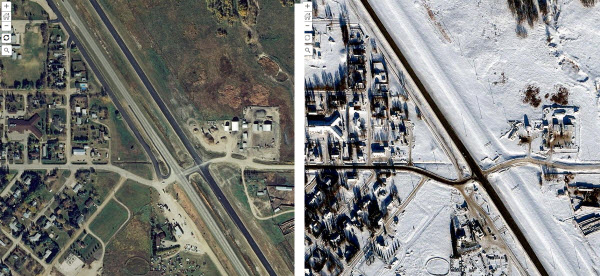 The complete list of updated areas in World Imagery for June 2016 is provided below and in this Story Map:
Community contributions:
County of Grande Prairie No. 1, Alberta, Canada *NEW*
Kitchener, Ontario, Canada *NEW*
Kodiak, Alaska, USA *NEW*
Province of Manitoba, Canada *NEW*
South Florida Water Management District, FL, USA *NEW*
Sudbury, Ontario, Canada *Update*
Inclusion of NAIP 2015 across all or parts of these 23 states:
Alabama
Arizona
Arkansas
Colorado
Florida
Georgia
Idaho
Illinois
Iowa
Kansas
Louisiana
Maine
Minnesota
Montana
Nevada
New York
North Dakota
Ohio
Oklahoma
Pennsylvania
Washington
Wisconsin
Wyoming
Living Atlas Community
How do I Use? Combine content from the Living Atlas with your own data. Create powerful new maps and applications!
How do I contribute? Join the growing community of Living Atlas of the World contributors. There are two ways to contribute!
Living Atlas Newsletter: This newsletter will keep you and other members of the Living Atlas user community informed through success stories, examples of applied use, visibility of new content, announcements about events, and other useful resources and information. Subscribe to the Esri News for the Living Atlas Community. You can have the newsletter sent right to your inbox by subscribing here.
Follow us on Twitter: @LivingAtlas
Share your story: How has contributing to the Living Atlas Community benefited your organization and community? Has your participation helped meet a particular challenge? Has your applied use of Living Atlas content solved a problem or help meet a goal? Email me at smatthews@esri.com so we can promote your success.
Feedback
If you have previously used these maps, you may need to clear your cache in order to see the updates.
If you have feedback  on content, try our Topographic Map Feedback web map or Imagery Map Feedback web map.
If you have other feedback or comments, please post them to the ArcGIS Online Discussion Group and the Living Atlas Discussion Group on GeoNet.