Today we're announcing the release of version 1.2 of the ArcGIS Maps SDKs for Unity and for Unreal Engine! Version 1.2 continues to build on our dual-purpose mission to bring accurate real-world geospatial data to game engines and to integrate GIS seamlessly with game engine app development. This release includes foundational support for the Building Scene Layer, plus the ability to combine multiple elevation sources, improvements to scene layer rendering and performance, and enhancements to the developer experience.
Building scene layers
Building scene layers enable you to visualize highly detailed, complex 3D models of buildings and interact with the individual components that make up the fabric of the building, such as windows, walls, and pipes. Using ArcGIS Pro, you can publish building scene layers from design files such as Autodesk Revit (.rvt) and then visualize and interact with them in Unity or Unreal Engine from services when online, or scene layer packages when you need to go offline.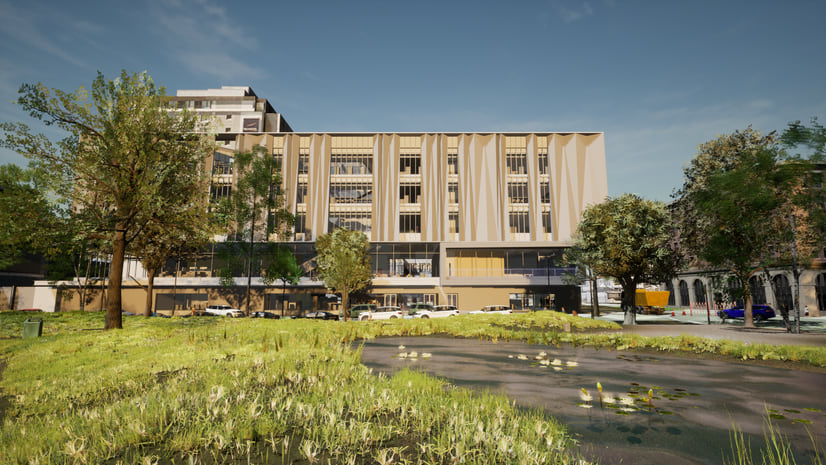 These layers are often created through Building Information Modeling (BIM) workflows and are commonly used in the architecture, engineering, construction, utility, and transportation industries. You can share one or many building scene layers and visualize them together in a scene. This allows you to bring multiple buildings together and view them in their spatial context and landscape. You can visualize different aspects of your building, such as the pipes, to better understand the internal and external systems of the building. To enable this interactive experience, building scene layers are structured as an overview (typically the exterior shell) and the full model, which can then be sub-divided into the different work disciplines such as architectural and electrical, and categories within disciplines such as walls and lighting.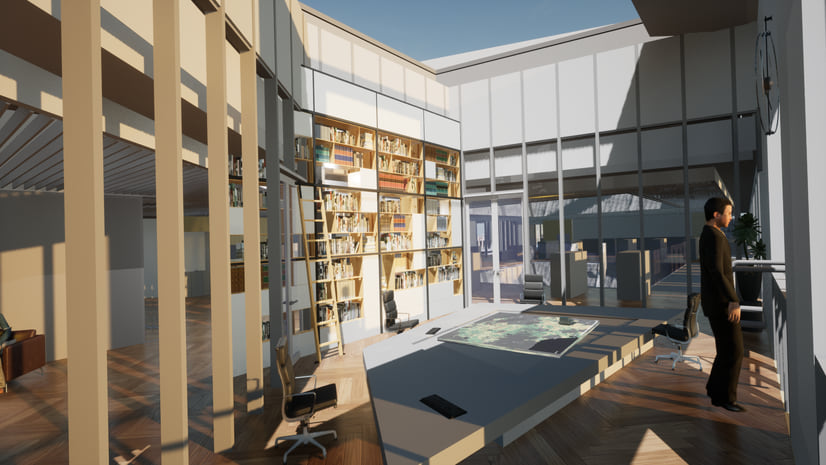 Depending on the workflow you follow to create your scenes in Unity or Unreal Engine, to support working with building scene layers you'll see updates to the Layers tab of the Map Creator UI (Unity) / Modes Panel UI (Unreal Engine), the Components view, and the API. Today you can use the API to build user experiences for interacting with the contents of a building scene layer, such as changing sublayer opacity or visibility via types including ArcGISBuildingSceneLayer, ArcGISBuildingSceneSublayer, and ArcGISBuildingSceneSublayerDiscipline. Future releases of the ArcGIS Maps SDKs for Game Engines will add support for sublayers represented by point scene layers and UI components that you can use in your apps for interacting with and filtering building scene layers.
Multiple elevation sources
You can now combine multiple elevation sources in your game engine scenes, enabling you to have both large-scale elevation layers with global coverage and higher resolution regional or local elevation layers that may be project- or site-specific. Elevation sources are supported from tiled image services and tiled image packages, compressed with LERC encoding. Depending on the workflow you follow to create your scenes, you'll see updates to the Elevation tab of the Map Creator UI (Unity) / Modes Panel UI (Unreal Engine), the Components view, and the API. When you have multiple elevation sources, the last item added to the collection will take precedence and will be displayed topmost in the Map Creator UI / Modes Panel UI.
Other enhancements
Scene layers (3D object, integrated mesh, and building) will now select higher resolution Level of Detail (LoD) texture data when available.
The default value of the Quality Scaling Factor in the ArcGIS Camera component has been changed from 2 to 1. The Quality Scaling Factor was introduced with version 1.1 to allow control of the quality of the GIS content being rendered.
On Android, web requests are now handled using the built-in HTTP stacks of the Unity and Unreal Engine IDEs. This removes the need for you to build and deploy binaries for OpenSSL when building apps for Android devices.
The Apple silicon architecture is now supported for both development and deployment when building apps with Unity.
Download and get started
To get your hands on version 1.2, go to the ArcGIS Developers web site, sign in, browse to the ArcGIS Maps SDK page of your choice, and download the SDK. If you're new to developing with our Game Engine Maps SDKs, simply sign up for a free ArcGIS Developer account then head over to the Get Started page in the ArcGIS Maps SDK for Unity or ArcGIS Maps SDK for Unreal Engine documentation.