Redistricting plans must comply with provisions of the federal Voting Rights Act of 1965 for covered jurisdictions and specific state laws regarding the creation of legislative, congressional, and other elective districts.
Esri Redistricting assists state and local governments in drawing legislative and congressional redistricting plans using Census data, including plans for data from the upcoming 2020 census. In addition, advocacy groups and the general public can use the online Redistricting solution to evaluate proposed plans, provide input to decision‐makers, and collaborate with others to develop alternative plans for consideration. You can rapidly and effectively create, edit, publish, review, and collaborate on redistricting plans that comply with federal law through a robust, easy-to-use web-based application.
Esri Redistricting addresses common needs and challenges related to redistricting at the state and local level within the U.S. The foundation of this product is Esri's proven ArcGIS platform and pertinent data set components. Powered by the ArcGIS platform, Esri Redistricting provides comprehensive features and functionality for plan management, visualization, editing and community collaboration.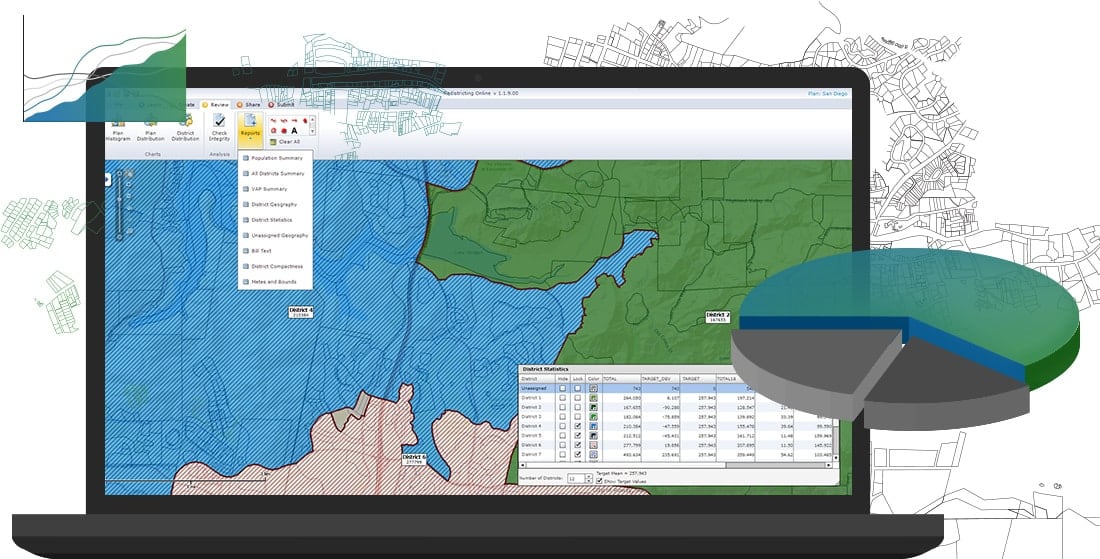 It can be used to develop district boundaries that are substantially equal in population based on race, existing communities, voting age population, and other data variables collected by the U.S. Census Bureau and local jurisdictions. It provides users with access to the 2010 and 2020 (when available) Census data required for redistricting, and allows for plan creation and editing, plan management, district reporting, district integrity checks, plan publishing and sharing, and other useful tools to support the redistricting process.
Benefits
Esri Redistricting provides a high value, cost effective alternative for many organizations.  The following are key differentiators and tangible benefits of using this product:
Reduces implementation time and cost. Redistricting capabilities and data is made accessible through a web browser which eliminates the need for software installation, or a high‐end desktop or laptop computer.
Increases collaboration, sharing, and consensus and community building by supporting multiple users in a flexible, highly scalable environment.
Reduces operational costs through the provision of a centrally managed IT infrastructure, application software, and redistricting data.
Eliminates the need for extensive GIS knowledge and experience.
Reduces training time and cost through the provision of an easy‐to‐use web interface, intuitive operation, and focused redistricting planning and evaluation functionality.
Increases deployment flexibility by offering multiple implementation options including (1) Managed Services, (2) On‐Premises, and (3) Software as a Service (SaaS) to meet specific customer financial considerations, policies, security, and IT standards.
Provides a cost-effective way for jurisdictions to make available access to the general public. This increases transparency, repeatability, and defensibility of proposed redistricting plans through the use of standard processes and analyses.
Esri Redistricting supports multiple deployment models:  Software‐as‐a‐Service (SaaS) through ArcGIS Marketplace, On‐premises, or hosted in the cloud using Esri Managed Cloud Services.
For more information, contact Esri at redistricting@esri.com.
Content contributed by Shree Rajagopalan.