The Runtime SDK group is excited to announce Example Applications!  We want to show you the power of ArcGIS and the Runtime SDKs by building cool and useful open applications. Example Applications are open source applications built with the Runtime SDK that address real world geospatial needs based on use cases we've collected from internal and external stakeholders.  These applications fill the gap between our SDK samples and Esri-supported production applications (e.g. Collector, Navigator, Survey 123).  Each example application comes with documentation on how it connects to the larger ArcGIS platform via the SDK, from preparing and styling your maps and data with ArcGIS Online or ArcGIS Pro to consuming them in the app itself.
Example Apps provide you with an easy starting point for developing your own app.  You can replace data and maps in the example app with your own maps and data or extend it and customize it for your own business needs.  Each example application has its own GitHub repo and some example apps are published in the store under the Esri Labs brand.
Here's a short preview of the example applications coming your way…
Maps App
The maps-app is an Android application built with ArcGIS Runtime SDK for Android that includes features like place search and routing capabilities using either ArcGIS Online's powerful services or your own services. The app also allows you to switch basemaps based on ArcGIS online defaults and shows authentication patterns to allow a user to log into ArcGIS Online and include configured basemaps which allow app users to switch between basemaps that are better contextualized for their needs. Originally written with the 10.2.x Runtime SDK to demonstrate to developers how to make a Google Maps type app with ArcGIS Android SDK, the maps app has evolved and added features to highlight major parts of the ArcGIS Android API. Most recently, the example apps team refactored the maps app to the latest version of ArcGIS Runtime SDK for Android 100.0.0 and can be used as an example for developers in refactoring similar apps. We encourage you to collaborate with us on GitHub in the continuing evolution of the maps app.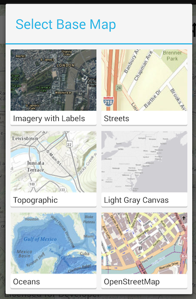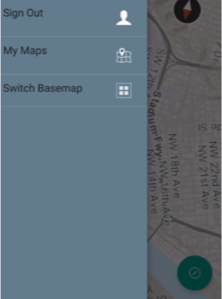 Nearby
Customize your exploration of places around you using Esri's World Geocoding Service or your own custom geocoding service with the Nearby example application. The app uses Esri's geocoding service to find hotels, restaurants or bars within a default radius of the device's current location and provides routing directions to a selected place of interest. The ArcGIS Android Geometry Engine API is used to sort the list of places based on distance and bearing from the device's location. The design concept of the nearby app started as a conference demo to highlight the ArcGIS Android Geometry Engine integrating with search capabilities and evolved into a more modern app that is now available own it's own on Github!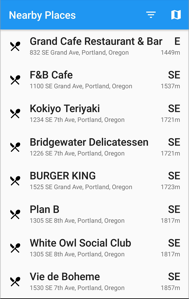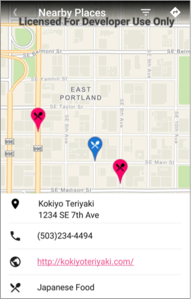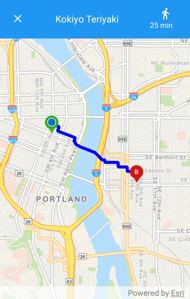 Meet The Example Applications Team
We're Runtime Product Engineers and Developer Advocates. What that means for you, the developer, is that you have someone within Esri that works with the Esri APIs just like you do. We build the apps you want to build, and we go through the same struggles you go through. And then we share all of our code and knowledge with you.
Dan O'Neill – ArcGIS Android Developer Team
Ask me about the Android and Java Runtime SDK's.
Twitter: @jdoneill
GitHub: @doneill
Mara Stoica – .NET Runtime Team
Ask me about .NET Runtime SDKs including WPF, UWP and Xamarin, transitioning from ArcObjects, geoprocessing with ArcPy, general GIS questions
Twitter: @codergrl
GitHub: @marastoica
Sandie Peters – Android Runtime Team
Ask me about Android Runtime SDKs
Twitter: @z1nfin
GitHub: @zinfin
Our team however is not yet complete. We're looking for an iOS developer to join our Example Applications team in Portland, OR.