Over the weekend and throughout this week you could find Esri's Startup and Developer Teams at TechCrunch Disrupt SF 2016 Hackathon and Conference. #TCdisrupt debuts revolutionary startups, introduces game-changing technologies, and discusses what's top of mind for the tech industry's key innovators.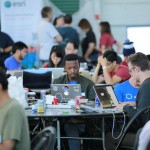 The hackathon took place September 10-11 at Pier 48 in San Francisco. It kicked off at 12:30 pm PT on Saturday, September 10, with networking and forming of the hackathon teams. Hackers spent the weekend hard at work coding, tinkering and hacking together some awesome apps. On Sunday, after a grueling 20-plus hours of developing, teams had only 60 seconds to present their projects to sponsors and a panel of judges on the Disrupt stage.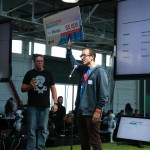 Esri, a product sponsor and exhibitor for both events, had the pleasure of judging hundreds of innovative (and sleep-deprived) hackers. Our goal, encourage developers to build the next great app using our ArcGIS technology stack. With access to a free ArcGIS for Developers account, we encouraged clever devs to quickly add geo to their apps using Esri's online services and SDKs. Or, develop in the API of their choice and deploy it to any device. The prize? Best use of Esri ArcGIS mapping technology won a $5,000 prize ($2500 cash, plus a $2500 ArcGIS Online subscription).
After judging over 100 impressive submissions, and following much deliberation, Esri selected a winner, WeAreTheSecret.Club! The Secret Club app is an emotion-oriented experience, encouraging people to get out and about while exploring fun new places, and participate in new activities. Built on iOS and Android, local's secrets are geotagged and a map node displays where the secret is located as well as level of interest via an animated size and color scoring tone. The user can then decide to physically go to the secret place to see for themselves the message from the locals.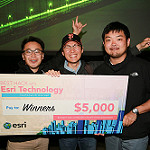 The team learned a lot about Esri's ArcGIS Platform, and are eager to explore more about mapping a combination of emotional, language style, and social analyses. In a next version they envision adding video secrets and push notification so that you can walk around and unlock secrets without having to constantly look at your phone.
With a variety of other impressive apps, Esri would like to provide an honorable mention to the all-girl hacking team formed on Friday outside of Twitter's San Francisco headquarters, where the girls had just finished participating in #BuiltByGirls, a pitch competition presented by Michelle Obama's Let Girls Learn initiative and AOL (the parent company of TechCrunch). These girls were inspired by Esri and the UN Foundation's Nothing But Nets campaign partnership to encourage developers to peruse a hack that focuses on making the world a better and healthier place. Their team built a prototype of their game in just 24 hours, gamifying malaria prevention to help halt the spread of the disease.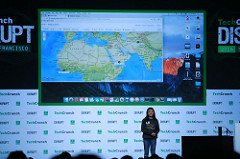 As TechCrunch explained, "Mapsquito is built on top of Esri maps, and shows which countries around the world are affected by malaria. A player starts by clicking on a country where the disease is less prevalent (she advances to countries where the disease is more common as she progresses through the game)…Then, the player enters a Tetris-like environment, where icons representing mosquitos, mosquito netting, medicine and rainfall shoot from the top of the screen, and the player navigates from left to right, trying to catch the netting and medicine while avoiding the mosquitos and raindrops. The player begins with the same chance of malaria contraction as a citizen of the country that the level is based on. Her odds of survival increase and decrease as the player catches medicine or mosquitos."
At Esri we're eager to see more developers and organizations team up to raise awareness, funds and voices against the preventable disease. A large part of Esri's corporate mission is to make a positive impact on people and the world around us. Technology is an excellent tool in developing these types of solutions that affect all of us.
Congratulations to the winners and other hacks. Supporting a hackathon requires a lot of energy, focus, and time, but is incredibly rewarding. Seeing eyes light up as people start to see what our GIS tools can do for them makes our work worthwhile, and at each hackathon we support, we see the work that's been leveraged from developers.arcgis.com really paying off with teams integrating more advanced geo development than they had previously.
Many thanks to the awesome team at TechCrunch, and especially to all the hackathon contestants and Disrupt attendees who chose to learn more about Esri and ArcGIS. We look forward to participating in TechCrunch Disrupt London in December and can't wait to see you there!