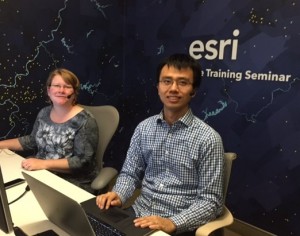 On March 31st, over 500 people tuned in hear Danielle Hopkins and Morgan Zhang present "Modernize Your Field Workflows Using Collector for ArcGIS".
Like all of our live training seminars, it was recorded, it's free and available in the course catalog here for your viewing pleasure!
A refresher for those familiar with Collector for ArcGIS with added highlights on how to:
Jump start your field work by using and customizing Feature Layer templates.
Optimize download and sync using new capabilities recently added in Collector
Streamline field collection using settings like Continuous Collect for repeats
Deploy Collector in your enterprise (via App Stores or in an MDM)
Demonstrating the recent add of Collector on the Windows 10 platform, mention of our upcoming high accuracy GNSS release (v10.4) and a great live Q & A session make it a must watch!
If you have deployed Collector within your organization and want to share your experiences with others, then please pay it forward! Reach out and let us know by sending an email to Collector4ArcGIS@esri.com.