I've been reading lots of informative Dev Summit 2018 blogs, helping our various developer communities plan their Dev Summit experience in Palm Springs, March 6-9.
So, here's another one that highlights the technical sessions, demo theaters, and special interest talks we have planned for our ArcGIS Runtime enthusiasts who build mobile and desktop native applications.
General architecture, patterns and best practices sessions
The following sessions cover important topics for building great native apps, for any platform or any device.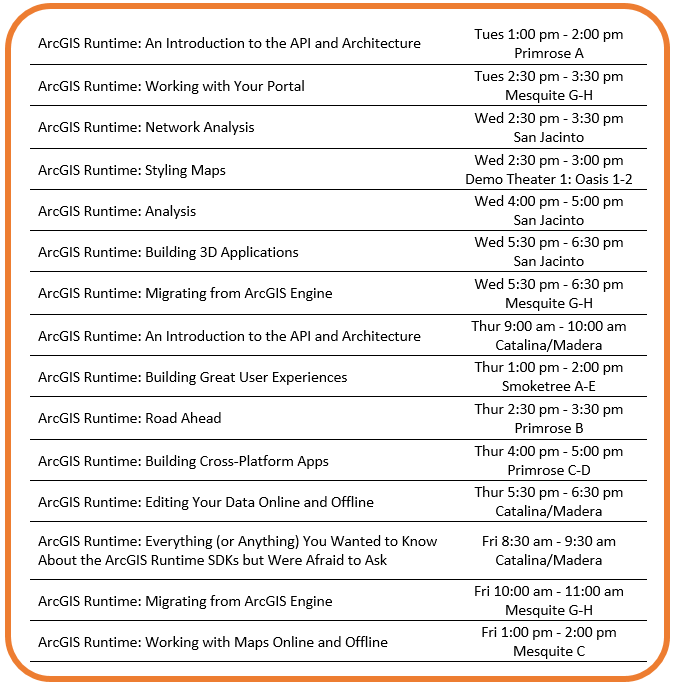 Deep dive sessions, user presentations, and more
Below you'll find a list of the SDK specific sessions that are designed for your API of choice, as well as some specialty sessions that cover even more Runtime goodness!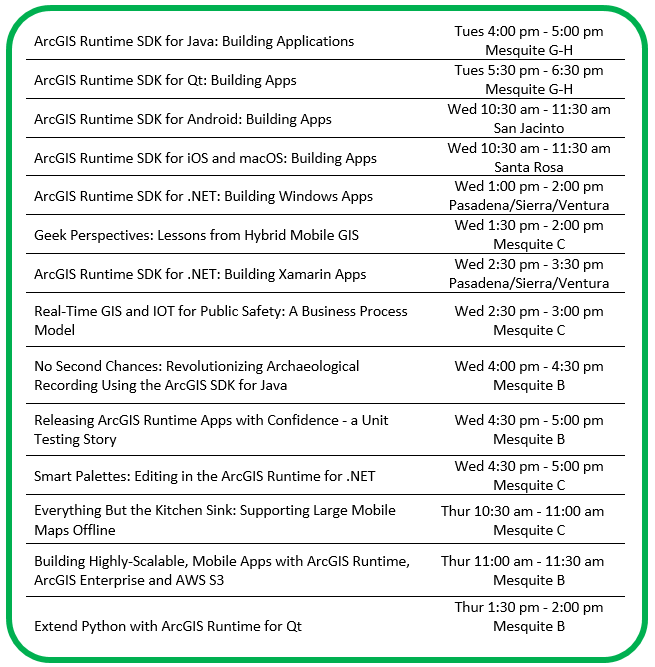 Demo theaters
Demo theaters are always great for getting those quick-hit bursts of "Wow"-ness. Here are the Runtime-oriented demo theaters that we know you'll really enjoy: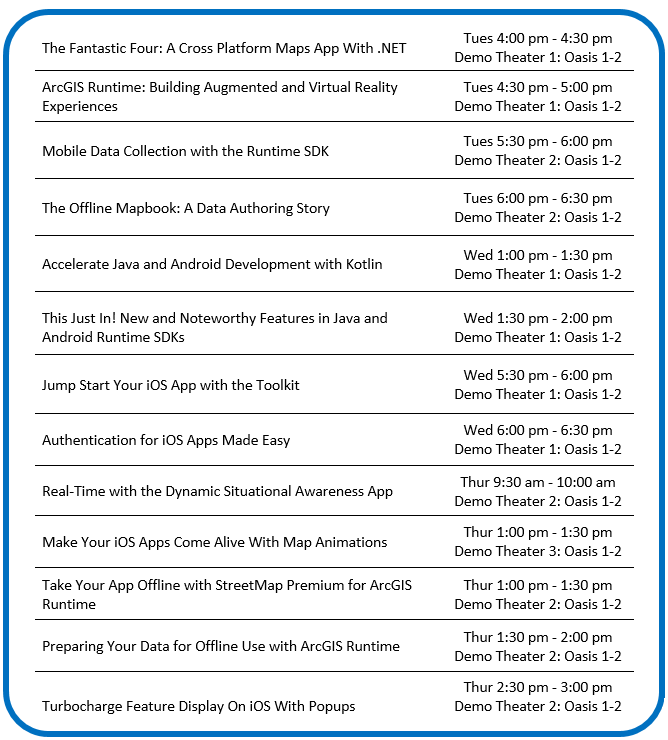 No need to worry about missing anything. All sessions and demo theaters will be recorded and made available after the conference. Check back on proceedings.esri.com.
The Esri Showcase
As always, we are looking forward to talking with you at the Esri Showcase in Oasis 1 & 2. Hearing about your developer journey is important to all of us on the Runtime product team.  Esri staff and Development leads will be there to answer your questions and share what's happening in 2018. In addition, you will discover opportunities to better leverage your investment in GIS and test-drive ArcGIS on a variety of devices.
The Esri Events App
The Esri Events App is a tremendous resource for helping you manage your experience at the Dev Summit! Personalize your schedule, get the daily agenda and up-to-the-minute info on session times and activities throughout the week, and rate the sessions you attend. And…it's powered by the ArcGIS Runtime!
See you there!
We're looking forward to coding under the Palms with you all! Safe travels to everyone.