Great news!! With the release of ArcGIS Enterprise 10.5.1, Web AppBuilder for ArcGIS embedded within the Portal for ArcGIS component now supports custom widgets. This means that you can now leverage custom widgets within the Web AppBuilder builder environment. Portal members will be able to access and use custom widgets in their apps without having to use Web AppBuilder Developer Edition. For some organizations, this provides a simpler user experience.

At the 10.5.1 release, a new Portal item type was introduced: Application Extension (App Builder) – which is meant for registering custom widgets for Web AppBuilder. Custom widgets are hosted on your own web server (e.g., IIS). Portal administrators would add each custom widget to Portal as a new application extension item, by referencing a URL to the widget's manifest.json file. The newly added custom widget needs to be shared (as appropriate) with other Portal members and/or groups so they can access and use it in Web AppBuilder in Portal for ArcGIS.

Custom widgets in Web AppBuilder are accessed in the builder environment on the Widgets tab. When you add a new widget, on the Choose Widget dialog, there is a new Custom tab which will display all of the custom widgets registered with Portal that you have permission to access. You can select the custom widget and use it in the builder environment like any other widget. This makes enabling new, custom functionality in Web AppBuilder in Portal for ArcGIS very easy and as a seamless user experience.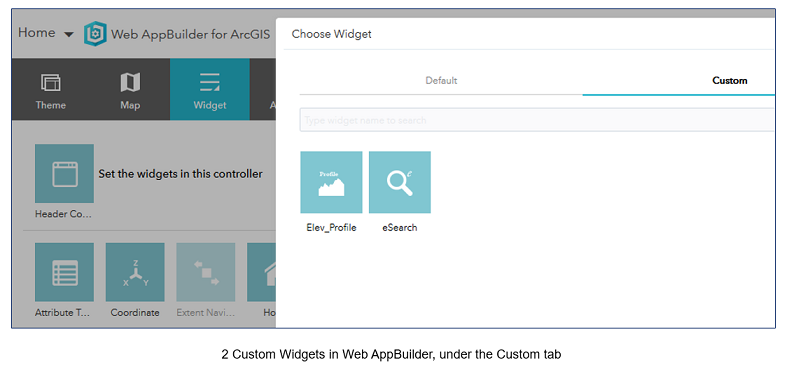 Learn more about this new capability in Portal for ArcGIS 10.5.1 here.
Sincerely,
The Web AppBuilder for ArcGIS Dev team
Commenting is not enabled for this article.