Updated December 8, 2017:  The Esri Vector Basemaps were recently updated to a new version (v2). The best way to access them in ArcGIS Online is through the Esri owned Vector Basemaps group, which contains the latest set of web maps and tile layers. See What's New in Esri Vector Basemaps (December 2017) for information related to this update.
—
As part of the March updates to ArcGIS Online, we released new content to the Esri Vector Basemaps twice in the past month.  Each release contained a variety of community contributions, covering geographic areas from cities to counties to countries worth of additional data. This is all part of our previously announced emphasis of actively maintaining the vector basemaps.
These improvements are published in our vector tile set which is accessed through any of the items in the Esri-owned Vector Basemap Group. This group will always include the latest tile layers and web maps. There are 9 different web map styles in this group. To keep current on the latest information on Esri vector basemap news, follow these blogs.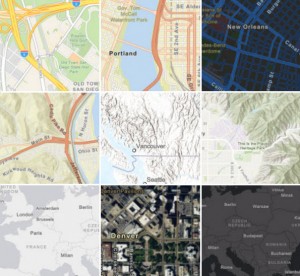 Customization
In addition to updated data in the basemaps, another benefit of the vector maps is the ability to customize both the map style and map content. Users that want to customize the Esri vector basemaps can take a copy of an existing tile layer (e.g., Light Gray Canvas) and update and save the style as a new tile layer. Details and examples on the tools and procedures for doing this customization are available in this post on How to Customize Esri Vector Basemaps.  Additional information is also available on how to Customize Esri Vector Basemap Boundaries and Labels and Understanding Esri Vector Basemap File Structure.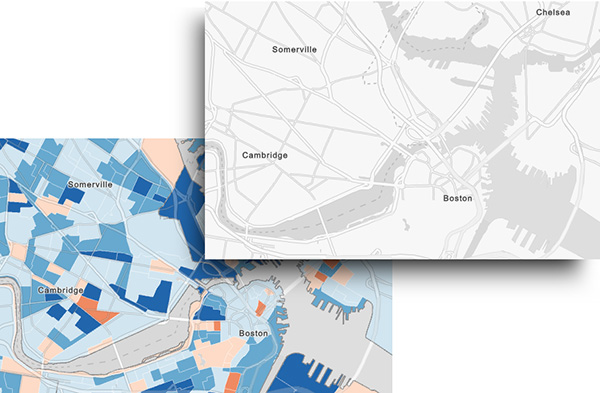 One of the newest customized vector basemaps is the Human Geography Basemap, described here and seen above. This sample style is intended to provide users with a simple, yet mutli-functional basemap to easily display thematic maps of statistical data, demographics, etc. You can use the Human Geography Basemap web map with your data today. There are many other sample styles available for you to use or to become inspired to create your own custom basemap design. Check out other varieties of vector basemaps in the Sample Vector Tiles Layers group that range from more simple color changes to more involved cartographic redesign.

Community Contributions
These communities had new and updated added in the vector basemaps last month:
Buckeye, AZ
Chesapeake, VA
Dakota County, MN
Iceland
Iredell County, NC
Josephine County, OR
Kane County, IL
Mesa, AZ
Netherlands
Renton, WA
Riley County, KS
Rockingham County, NC
Salt Lake City, UT
St. Charles, IL
Stanly County, NC
Teton County, ID
Through Esri's Community Maps Program your organization can contribute its local geographic content to Esri's Living Atlas of the World. The data will be published and hosted by Esri as part of ArcGIS Online maps and layers.